An international evaluation of the educational program "Journalism and the New Media" was held at the National Research Tomsk State University at the end of 2018. The procedure was carried out jointly by two accreditation agencies: the National Centre for Public Accreditation and the Higher Education Evaluation Center of the Ministry of Education, P. R. China. Within the framework of mutual cooperation, this is the third accreditation site visit of the Chinese colleagues to Russia. HEEC was represented by the new director, Ms. FAN Wei, who kindly agreed to answer the questions of Accreditation in Education journal.
The Russian and Chinese experts met with teachers, students and graduates, visited television studios, photo labs and printing houses, conducted an information seminar on the export of education - these and other events were held as part of the international evaluation of the educational program "Journalism and the New Media" held at the National Research Tomsk State University October 31 – November 2, 2018. According to the official website of the TSU, this is the first Russian educational program for the journalists training, which was evaluated by the international experts.
- In 2016, within the framework of joint accreditation, the Russian experts visited one of the best Chinese universities - Jinan University. Our delegation has a lot of positive impressions from the visit: a modern university campus, high professionalism of teachers, and excellent organizational preparation of the host country. Experts pay special attention to the highest motivation of the Chinese students to study: "They are real fans of knowledge!", – the Russian experts noted. In connection with this observation, the question is: what is the secret of such a high motivation, the desire of the young Chinese generation for knowledge? Is it the result of upbringing in the family, the school or some kind of comprehensive measures taken jointly by the society and the state?
Indeed, the younger generation in China is eager for knowledge due to multiple and quite complicated factors, such as inheritance of tradition and culture, and impellent of social and economic development, of course, there are also competitive pressures and social assessment systems.
First, knowledge respecting and hard working highlight the Chinese traditional culture. As a great country with a history of about 5,000 years, China has focused on the fine tradition of respecting knowledge and reading since ancient times. Classical Chinese idioms such as "tieing the hair on the beam and jabbing the side with an awl to keep awake" and "boring a hole on the wall to make use of the neighbour's light to study" are used vividly to describe hard working and knowledge obtaining.
Second, national rejuvenation promote historical responsibility and sense of mission. Zhou Enlai, one of the founders of New China, established the grand ambition of "Reading for the Rise of China" in his youth, inspiring generations of Chinese to study hard to achieve great national rejuvenation.
Third, in the past four decades of reform and opening up, China's rapid economic and social development has called for talents, objectively driving the younger generation to learn. Especially in recent years, high-speed railways, and manned space flight have spawned multiple projects and industries attracting worldwide attention, urgently requiring numerous talents in various fields, objectively promoting the younger generation to obtain knowledge and talents.
- You visited Tomsk for site accreditation. Tomsk has a reputation as one of the best Siberian higher education development centers in Russia. What strengths of the visited university would you highlight?
Since I entered Tomsk State University, I have admired it as one of the top 4 national universities in Russia, with profound historical heritage, competitive faculty, diverse and inclusive campus culture, sufficient dedicated professional teaching experts, and lively and motivated students, highlighting study and research, dedication and truth seeking in the fertile soil.
Further inspection has enlightened my awareness. First of all, this is a university highly integrated with the city. Tomsk is a university city. 30% of the population is engaged in higher education. As the best university in the city, Tomsk State University has developed together with the city, sharing development resources. Second, history and modernity are harmonious in this university, witnessing various museums, modern labs, modern equipment, cutting-edge knowledge and quaint teaching buildings. Third, it centers on rapid development. Tomsk University takes lead in Russian universities, selected in the first group of 5-100 universities, with high-quality faculty, rational resource allocation, excellent students, and professional management ensuring its great development potentials.
- In general, as the representative of the Chinese higher education, what interests you most in the Russian higher education system? What perspective areas and formats of partnership between universities of our countries would you name?
Such classical Chinese idioms, as "tieing the hair on the beam and jabbing the side with an awl to keep awake" and "boring a hole on the wall to make use of the neighbour's light to study" clearly describe how hardworking and aspiring to acquire knowledge should a student be.
Higher education in Russia has a history of about 100 years, with a fine tradition and a high international reputation, especially its education model combines theory and practice, solid science and technology, basic theory education, all leaves a deep impression on me.
What impresses me most is Russian higher education highly focuses on talent cultivation. Faculty members and students are extremely serious. Teachers are dedicated in teaching, while students studying hard. In particular, Russian universities excel in the most critical classroom teaching, witnessing active classroom atmosphere. Similar to educational methods of most Western countries, their teaching methods are flexible, emphasizing ability development and training. There are a lot interactions and communication between teachers and students. Lectures are not limited to classrooms. The students also have multiple practical teaching opportunities.
In terms of future Sino-Russian cooperation, I think the following should be strengthened: Firstly, expend the scope of mutual recognition of evaluation and accreditation result. Secondly, strengthen different work and academic exchanges. Thirdly, strength literal education exchange and cooperation between countries along the The Belt and Road, promoting mutual recognition of academic qualifications and talent exchange. On September 12, President Xi Jinping participating in the 4th Eastern Economic Forum Plenary Conference in Vladivostok, delivered a speech entitled "Sharing New Opportunities in the Far East Development and Creating a Bright New Future in Northeast Asia", centering on promotion and development of education cooperation, facilitating exchanges between people of various countries and ages. Fourthly, expand the student exchange and visit or the range of joint cultivation;
– In connection with the development of promising new technologies and the global digital revolution, higher education throughout the world is undergoing a profound transformation or, at least, stands on the threshold of change. Such a dynamic university transformation is becoming a serious challenge for the accreditation system, both national and international, isn't it?
In fact, higher education adapts to and leads social economic development. Development and change are inevitable and always exist, whether it is higher education object, implementation or education evaluation, it constantly changes with social development. In particular, information technology development causes higher education fast and revolutionary changes. Thus, it is necessary for the higher education quality evaluation system to witness constant adjustment with higher education development. In this process, application of information technology is undoubtedly one of the key points. Against the new evaluation system, combination of quantitative monitoring and peer expert qualitative judgments will make higher education quality evaluation become normal, objective and credible. It is undeniable that education quality and its evaluation system are subject to constant improvement, adjustment and update with external demands.
- An important topic is the information transparency of higher education. How is the problem of transparency being solved in the Chinese universities?
The university is not an ivory tower in the traditional sense. It should be an open system. To this end, it is necessary to enhance the public's right to know about higher education, attract external stakeholders to participate in its implementation and evaluation, and share its resources.
In terms of expanding the public's right to know, the Chinese universities are pursuing and improving the annual quality report disclosure system. Especially for public universities, there is specifically information disclosure in the NCPA accreditation standards. I believe we should have more common understanding.
In attracting stakeholders to participate in higher education, China is striving to promote enterprises and industries to participate in cultivation, providing faculty and practical centers, improving the quality evaluation system, establishing the mechanism of stakeholder participating in education quality evaluation.
In terms of sharing university resources with the society, it is necessary to have university industry and scientific research, culture, and tourism serve the educated on campus, open to the society, sharing and applying campus resources with the society, maximizing service of educational resources to civilians.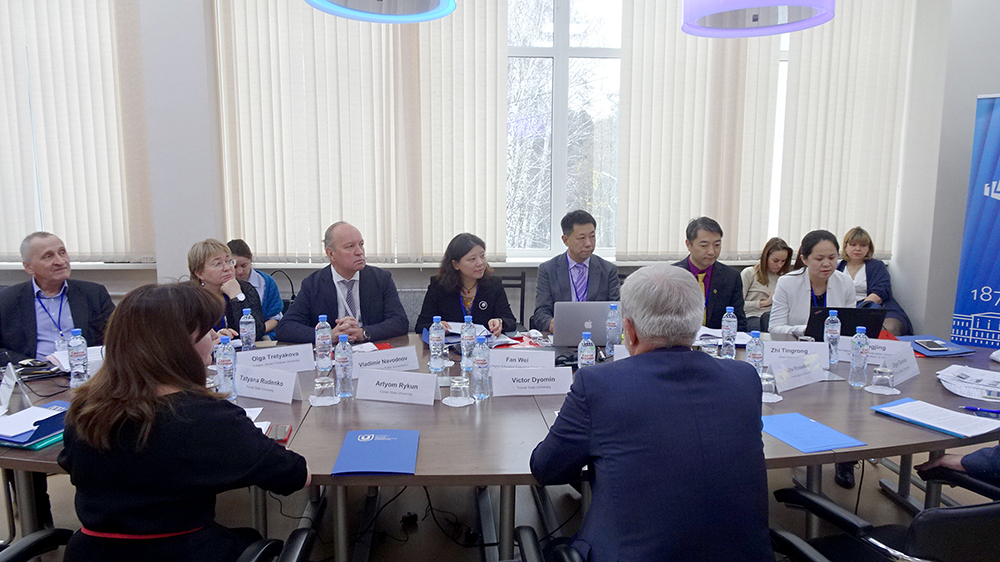 - In 2019, the Higher Education Evaluation Center of the Ministry of Education, P. R. China celebrates the 15th anniversary of foundation.  Great experience was gained: personnel, methodical, organizational. Which of this significant knowledge would you define as the most valuable? What are the strategic objectives of HEEC for the next decade - the 20s of the XXI century?
Since its establishment 15 years ago, HEEC has focused on establishment of an external quality assurance system characterized by diversity, openness and higher education quality development. Relying on various external quality assurance methods such as college teaching evaluation, program accreditation and statistical monitoring, it drives colleges to realize its quality assurance effect, promoting colleges to establish the internal quality assurance system, achieving the ultimate goal of the fine college quality culture.
In HEEC's development, we work on cohesion of education administrative departments, other educational evaluation agencies, universities, experts and other resources, forming sound mechanisms and environments, to strive for the common goal.
Development in the past 15 years has proven an institution relies on the professional team and efficient management system. It is necessary to constantly improve employee professional quality, establish the core reliable expert team, advanced and clear management system and effective implementation. Only by grasping these priorities can an institution develop extensively and smoothly.
In the next decade, HEEC will continue to provide professional and effective external quality assurance services, focusing on specialization, informatization and internationalization. HEEC will continue applying information technology to higher education quality monitoring and external investigation, enhancing data analysis, mining and processing, strengthening international exchanges and cooperation, constantly tracking and correspondingly applying progress in international higher education quality assurance. At the same time, it will share China's higher education quality assurance experience and excellent cases with the rest of the world, contributing to international higher education.
- Russian Sinologist and translator Bronislav Vinogrodsky, studying the traditional Chinese education system, summarizes: at the heart of the entire education of the country lays the idea of permanent self-development, which is expressed in hieroglyphs meaning "correcting oneself". What new accents, new content has the modern rapid development of your country introduced in this traditional semantic formula?
Chinese President Xi Jinping recently published the viewpoints of "quality relies on standards, high standards result in high quality", stressing the decisive role of standards in quality.
Quality of higher education highlights achievements of student transformation process and satisfaction of fitness for purposes. With the development of China's economy and society, higher education transited from the Elite Education period to the mass education period, more and more people have gained a chance to receive higher education. The connotation of higher education quality is also changing. Like other products and services, higher education witnesses multiple types and interested parties, and diverse standards. Different standards are set up for different purposes and needs, assessing and upgrading quality.
Universities focus on talent cultivation, scientific research, social services, cultural heritage innovation, international exchange and cooperation. Different universities have different orientations and priorities. China focuses on higher education, with talent cultivation as the primary mission, receiving unprecedented concern, highlighting initial intentions, emphasizing student learning experience and results, concentrating energy and resources, establishing evaluation and improvement systems, constantly improving talent cultivation quality.