Topic: My sustainable eco-friendly future starts at SibFU
Majors:
Economy
Computer technologies
Biotechnologies
Culinary art
Sociology
Civil construction
Architecture
Languages and cultures
Engineering sciences
Trade and services
NOTE
Participants are expected to write an essay or make a video about their personal sustainable eco-friendly future which will start after graduating from one of the listed schools at SibFU.
If you don't know where to search for information, we've collected everything you need! Click the links below to immerse yourself in the wonderful world of SibFU and make your competition entry the most outstanding and award-worthy!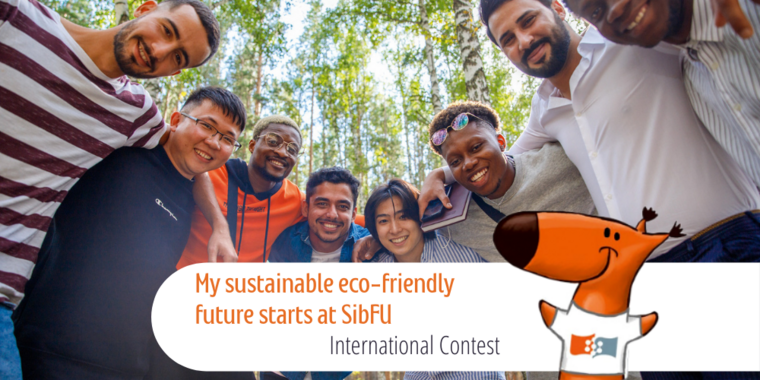 Competition regulations
Register for the competition.
Send your contest work to the competition by email hed.contest@gmail.com.
Subscribe to the SibFU Telegram channel https://t.me/SibFU_admission.
Wait to be contacted!
Compulsory participation requirements
Subscribe to the SibFU Telegram channel.
The working language: English
Essay:
present not less than three facts about SibFU which make the University stand out
discuss the facts thoroughly
type about 200-400 words
remember to include evaluation, personal opinion
Video:
not less than three facts about SibFU which make the University stand out
quality
length (from 1 to 2 minutes)
the facts discussed thoroughly
using brand marks and/or corporate colors of SibFU
*Terms and conditions of participation for citizens of China:
Sign up.
Post your competition entry on social media. Weibo network using the contest hashtag #HED_contest and SibFU hashtag #SibFU_HED.
At the end of the publication of the competitive work, you need to tag a friend and invite to participate. It is also necessary to note the SibFU account on Weibo:
Send an email to hed.contest@gmail.com. Attach a link to your competition entry posted on Weibo and its text file. Wait for the result!
The entry may be published in Chinese.
Awards
1st place – Russian as a Foreign Language one-year course (80% discount)
2nd place – Russian as a Foreign Language one-year course (50% discount)
3rd place – Russian as a Foreign Language one-year course (25% discount)
Need help? Feel free to contact us
Maria Buklaeva
HED project coordinator