Universidad Nacional de Investigaciones Médicas de Rusia. Campaña de admisión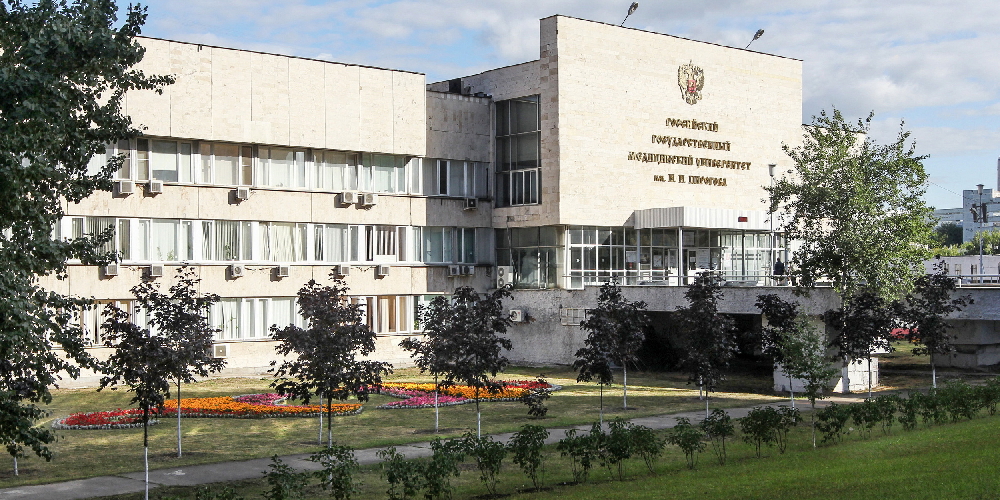 2
programas de Licenciatura
8
programas de especialidad
59
especialidades de residencia
11
comités de tesis doctorales en 27 especialidades
> 700
estudiantes extranjeros de 50 países
≈ 2,100
médicos residentes y estudiantes de postgrado
2
programas de Licenciatura
8
programas de especialidad
59
especialidades de residencia
11
comités de tesis doctorales en 27 especialidades
> 700
estudiantes extranjeros de 50 países
≈ 2,100
médicos residentes y estudiantes de postgrado
Un centro líder en investigación y educación, que ofrece formación a médicos, farmacéuticos, psicólogos clínicos, trabajadores sociales, así como a personal científico especializado (bioquímica médica, cibernética médica, biofísica médica).
Figura en el listado de organismos internacionales que reconocen el certificado IELTS. Posee los derechos exclusivos para realizar las pruebas IMAT (International Medical Admissions Test, Cambridge) y BMAT (BioMedical Admissions Test) en el territorio de Rusia y de la CEI.
Infraestructura
Complejo de formación
Campus universitario "Medik"
Hotel Universitario "Bogorodskoye"
Biblioteca científica
Bases clínicas en hospitales y centros de salud
Complejo deportivo
Campamento estudiantil "Konakovo"
Residencias
Cuatro edificios de residencias universitarias de 18 plantas con 3.280 plazas a 10 minutos a pie del edificio principal de la universidad y de la estación de metro "Konkovo"
Los estudiantes son recibidos por un miembro del personal de la residencia que les ayuda con el registro, el papeleo necesario y la orientación inicial.
Clústers
Clúster Médico Científico y Educativo de Europa del Este
Clúster "Yuzhny" de Tecnología Médica de Moscú
VK – @rnimu
Instagram – @rnimu_2med (Meta es reconocida como organización extremista en Rusia)
Facebook – @rnimu2med (Meta es reconocida como organización extremista en Rusia)
Precios de la matrícula por año
Grados y especialización 280.000 — 460.000 RUB
Maestría 130.000 — 220.000 RUB
Los candidatos que hayan superado el Examen Estatal Unificado podrán obtener descuentos en función de la puntuación obtenida.
Acceso a plazas presupuestarias
Ciudadanos de Bielorrusia, Kazajistán, Kirguistán y Tayikistán
Ciudadanos de Armenia, Uzbekistán, Ucrania, Moldavia, Turkmenistán, Georgia, que residen permanentemente en el territorio de Rusia (tienen un permiso de residencia en la Federación Rusa)
Por orden del Ministerio de Educación Superior y Ciencia de la Federación Rusa
Los ciudadanos extranjeros que accedan a la enseñanza mediante el uso de la lengua intermedia pueden, si lo desean, realizar de forma independiente las pruebas de acceso que organiza la Universidad Nacional de Investigaciones Médicas de Rusia en inglés.
Secretaria Ejecutiva
Nadezhda Bylova
+7 903 763-13-97
prk@rsmu.ru
n_bylova@mail.ru
c/ Ostrovitiánova, 1, 117997, Moscú
Antes de entrar en el territorio de Rusia, un estudiante extranjero deberá:
Obtener una invitación
Tramitar un visado (si es necesario)
Tramitar un seguro médico
Comprar billetes para viajar a Rusia
Se recomienda llegar a Moscú 1-2 días antes del comienzo de los estudios.
Equipo de asistencia en cuestiones de visados y migración
Jefe de equipo – Georguiy Bespalyuk
+7 495 434-10-44
visacontrol@rsmu.ru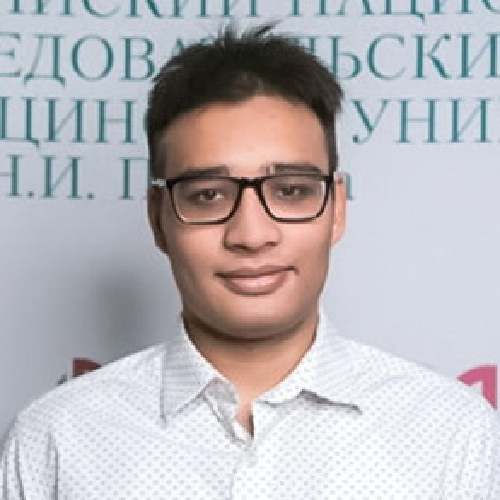 Before applying to the university, I asked around, looked through testimonials about universities. I decided on RNRMU, and I don't regret it. I like studying here. I noticed that much depends on the teacher. If they can get you interested, the subject becomes really exciting, and you'll try to study hard. Physiology and physiopathology, microbiology were very interesting. I also have a hobby — I am fond of history. I have tentative plans to choose virology and bacteriology as my future specialization. Now we have cycle training, and I choose the disciplines I like more. In my spare time, I meet my fellow students, go to the gym. I'd like to become a good doctor and work at a high-profile clinic, but, most of all, be of use to people. There are things that are much more important than material wealth. Health and life are priceless, and money comes and goes.
Rahman Sheikh Sabih
Bangladesh. Fourth-year student
Facultad Internacional
Formación de estudiantes extranjeros en los programas educativos de la Universidad Nacional de Investigación Médica de Rusia
Formación de ciudadanos rusos y extranjeros en programas de doble grado con universidades asociadas de la UE
La enseñanza se imparte en inglés o utilizando el inglés como lengua intermedia.
Cursos de preparación para estudiantes extranjeros
Curso exprés 4 meses, a partir de febrero
Curso completo 10 meses, a partir de octubre
Asignaturas: Ruso (curso de lengua general y terminología), Química, Física, Matemáticas, Biología
Lengua de enseñanza: ruso (utilizando el inglés como lengua intermedia)
Costo: 145.000 RUB/290.000 RUB
Los documentos necesarios para la admisión al curso:
Solicitud personal
Original y copia de los documentos académicos acompañados de su traducción al ruso legalizada por un notario
Certificado médico que confirme la ausencia de contraindicaciones médicas para estudiar en Rusia
Decana: Nadezhda Vladímirovna Bylova
+7 495 434-22-66, ext. 23-60
ims@rsmu.ru
Escuela de verano para jóvenes cirujanos
Un proyecto educativo único que permite a los escolares convertirse por un tiempo en médicos cirujanos, genetistas, neurólogos, dentistas, programadores genéticos, farmacólogos, cibernéticos y otras profesiones médicas.
Inmersión interactiva en el trabajo de un profesional médico moderno
Conocimiento de soluciones innovadoras en medicina
Perfeccionamiento de habilidades de trabajo práctico con equipos modernos de diagnóstico, terapéuticos y quirúrgicos, investigación científica propia
Sociedad Científica Estudiantil
> 80 clubes estudiantiles de investigación: pediatría, terapia, ciencias fundamentales, cirugía
VK – @sno_rnrmu
Sector de las competencias personales
Centro de entrenamiento
Escuela de medios de comunicación
Centro de Socios
Desarrollo de habilidades blandas: cursos de formación en motivación, liderazgo, gestión, trabajo en equipo, gestión del tiempo, presentación, desarrollo personal.
Escuela de Formación Continua "Quim*bio*plus"
Programas educativos adicionales para estudiantes de secundaria en química, biología, física y matemáticas
Conferencias, coloquios, tests informáticos y clases prácticas en los laboratorios de la universidad
Preparación para la participación en las Olimpiadas Escolares de Moscú, interregionales y nacionales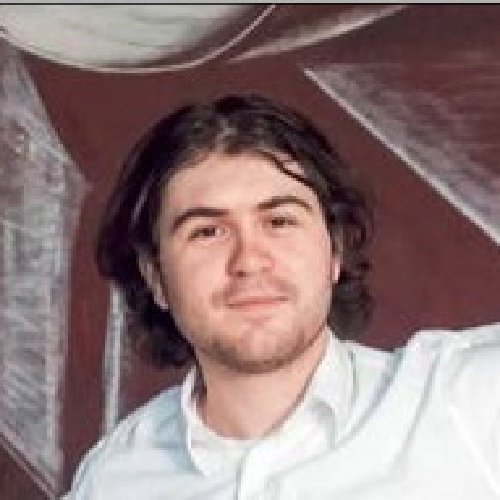 I chose medicine because the medical profession really allows us to help people. When I was choosing a university, I decided on two universities with medical faculties: RUDN and RNRMU. I was sent to RNRMU. And I've never regretted it. In my studies, I like the systematic program. The department of biochemistry offered us a list of issues to study. And we strictly adhere to the curriculum. I have no language barrier while studying academic disciplines, quite the contrary. It's easier for me to perceive medical information and talk about science. I also take part in the university's extracurricular projects. I've recently joined a rescue team. They teach us to give first aid in accidents. Besides going to university, I work as a male nurse at an outpatient clinic. As to my specialization, I'll probably choose surgery. Anatomy comes easily to me. My goal for the future is to make a personal contribution to science. Certainly, I must study hard and spare no pains in my work.
Ait Aissa Jelal-Eddin
Algeria. Fourth-year student
Institutos y laboratorios
Instituto de Investigación Científica de Medicina Traslacional
Instituto de Investigación en Cirugía Clínica
Centro de Investigación Científica de Oftalmología de la Universidad Nacional de Investigaciones Médicas de Rusia "N.I. Pirogov"
Centro de Investigación Clínica Gerontológica de Rusia
Instituto Clínico de Investigación Científica de Pediatría "Académico Y.E. Veltishchev"
Laboratorio Científico de Investigación Biomédica en Neurología
Laboratorio de Investigación de Glaucoma y Enfermedades Oculares Distróficas
Laboratorio de investigación de enfermedades reumáticas
Laboratorio de investigación de enfermedades vasculares cerebrales
Perfiles de formación
Medicina general (RU/EN)
Biología (RU/EN)
Pediatría
Odontología (RU/EN)
Bioquímica médica
Biofísica médica
Cibernética médica
Psicología clínica
Trabajo social
Farmacia
Programas de doble titulación
Especialidad Medicina general
Universidad de Perugia, Italia
Universidad de Milán, Italia
Instituto Estatal de Medicina "Abu Ali Ibn Sino Bukhara", Uzbekistán
Licenciatura Biología, perfil Biomedicina
Universidad de Turín, Italia
Para ser admitidos, los candidatos deben realizar la prueba de acceso BMAT o IMAT.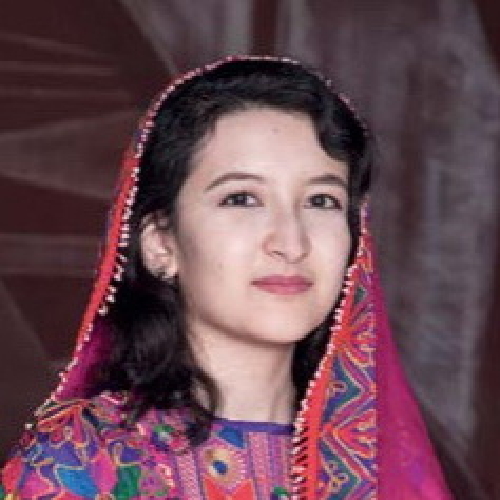 When I came to apply to RNRMU, the admission office staff were so nice to me and told me about everything I was interested in at that time, and I decided to stay here. I like studying medicine very much. The clinical disciplines that we've been mastering since our third year are particularly interesting. But then the pandemic broke out, and, unfortunately, we had to miss some courses. Our teachers' high proficiency comes to help. Even during online classes, they try to convey all necessary information to us. I study at the international faculty and major in General Medicine. I've realized that I don't want to be a surgeon. I like therapeutic specialties more, but I haven't decided yet which one to choose. Now I attend classes of the neurology scientific circle. I am interested in this discipline and its issues. I'll probably choose this major in the future. I've never regretted entering RNRMU. Even in my third year, when I had a hard time mastering the program and coping with an array of information, I never had any doubts about my choice.
Tabasom Ahmadi
Afghanistan. Fifth-year student
Consejo de Estudiantes
12 áreas de actividades públicas
Sector cultural y creativo
Centro de voluntarios
Sociedad Científica Estudiantil
Unión Sindical de Estudiantes
Movimiento tutorial
Consejo de las Asociaciones de Compatriotas y otros
VK – @studentsrnrmu
Tutorización
Tutor del curso (ayuda para la adaptación a la vida universitaria)
Tutor profesor (ayuda en el aprendizaje de nuevas asignaturas)
Tutor de estudiantes extranjeros (ayuda para la adaptación a la vida social y cultural)
Consejo de las Asociaciones de Compatriotas
20 asociaciones nacionales: asociaciones de compatriotas, clubes y comunidades
Divulgación de culturas de diferentes países y fortalecimiento de la amistad internacional
VK – @zemlyachestva_rnimu
10.09.2021