L'Université nationale russe de recherche médicale N.I.Pirogov. Campagne d'admission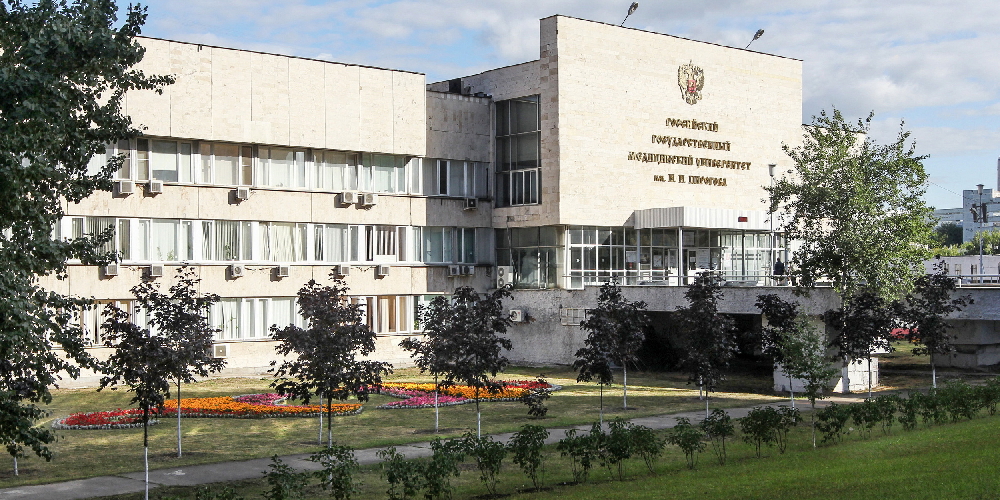 2
programmes de baccalauréat
8
programmes de la spécialité
7
programmes de troisième cycle
11
conseils de thèse en 27 spécialités
> 700
étudiants étrangers de 50 pays du monde
≈ 2,100
internes et étudiants diplômés
2
programmes de baccalauréat
8
programmes de la spécialité
7
programmes de troisième cycle
11
conseils de thèse en 27 spécialités
> 700
étudiants étrangers de 50 pays du monde
≈ 2,100
internes et étudiants diplômés
Un centre scientifique et éducatif de premier plan offrant une formation aux médecins, pharmaciens, psychologues cliniciens, travailleurs sociaux et personnel scientifique unique (biochimie médicale, cybernétique médicale, biophysique médicale).
Elle figure sur la liste des organisations internationales qui reconnaissent le certificat IELTS. Elle détient les droits exclusifs d'accueillir IMAT (International Medical Admissions Test, Cambridge) et BMAT (BioMedical Admissions Test) sur le territoire de la Russie et des pays de la CEI.
Infrastructure
Complexe éducatif
Campus «Medik»
Hôtel universitaire «Bogorodskoïe»
Bibliothèque scientifique
Bases cliniques dans les hôpitaux et les cliniques
Complexe sportif
Camp étudiant «Konakovo»
Résidences étudiantes
4 bâtiments de 18 étages de 3280 places en 10 minutes à pied du bâtiment principal de l'université et de la station de métro «Konkovo»
Les étudiants sont accueillis par un responsable de l'auberge qui les aide à trouver un logement, à traiter les documents nécessaires et à fournir l'enseignement primaire.
Clusters
Cluster médical de formation scientifique en Europe de l'Est
Cluster des technologies médicales de Moscou «Youjni»
VK – @rnimu
Instagram – @rnimu_2med (Meta is recognized as an extremist organization in Russia)
Facebook – @rnimu2med (Meta is recognized as an extremist organization in Russia)
Frais de scolarité par année
Baccalauréat et spécialité 280 000 – 460 000 RUB
Maîtrise 130 000 – 220 000 RUB
Des candidats, qui ont passé l'examen d'État unifié, ont des reductions, qui dépendent du nombre de points
Formation budgétaire
Citoyens de la Biélorussie, du Kazakhstan, du Kirghizistan, du Tadjikistan
Citoyens de l'Arménie, de l'Ouzbékistan, de l'Ukraine, de la Moldavie, du Turkménistan,de la Géorgie résidant en permanence sur le territoire de la Fédération de Russie (avec un permis de séjour dans la Fédération de Russie)
Avec l'envoi du Ministère de l'Enseignement supérieur et des Sciences de la Fédération de Russie
Les ressortissants étrangers qui utilisent la langue d'enseignement par l'intermédiaire peuvent, s'ils le souhaitent, passer des tests d'admission en anglais, qui sont conduits par l'Université elle-même.
Secrétaire responsable Bylova Nadejda Alexandrovna
+7 903 763-13-97
prk@rsmu.ru
n_bylova@mail.ru
117997, Moscou, rue Ostrovitianova, 1
Avant de venir en Russie, un étudiant étranger doit:
Obtenir une invitation
Délivrer un visa (si nécessaire)
Obtenir une assurance maladie
Acheter des billets pour Russie
Il est recommandé d'arriver à Moscou 1-2 jours avant le début des études
Groupe du soutien de visa et de migration
Responsable du groupe Bespaluk Georgi Nikolaevitch
+7 495 434-10-44
visacontrol@rsmu.ru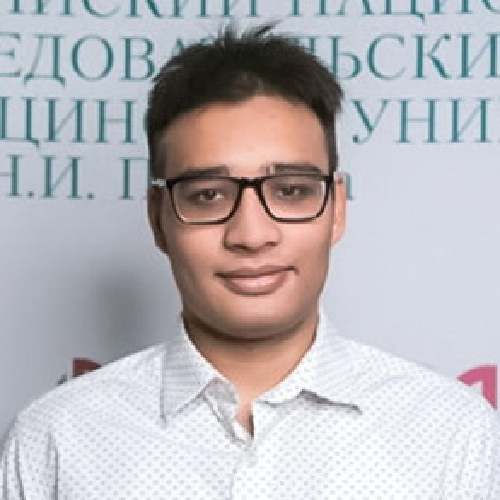 Before applying to the university, I asked around, looked through testimonials about universities. I decided on RNRMU, and I don't regret it. I like studying here. I noticed that much depends on the teacher. If they can get you interested, the subject becomes really exciting, and you'll try to study hard. Physiology and physiopathology, microbiology were very interesting. I also have a hobby — I am fond of history. I have tentative plans to choose virology and bacteriology as my future specialization. Now we have cycle training, and I choose the disciplines I like more. In my spare time, I meet my fellow students, go to the gym. I'd like to become a good doctor and work at a high-profile clinic, but, most of all, be of use to people. There are things that are much more important than material wealth. Health and life are priceless, and money comes and goes.
Rahman Sheikh Sabih
Bangladesh. Fourth-year student
Faculté internationale
Etudiants étrangers sont enseignés par des programmes éducatifs de l'Université nationale russe de recherche médicale N.I.Pirogov
Formation des citoyens russes et étrangers dans des programmes de double diplôme avec des universités partenaires de l'UE
L'enseignement est donné en anglais ou en utilisant l'anglais comme langue de médiation
Cours préparatoires pour les étrangers
Cours express - 4 mois, à partir de février
Cours complet -10 mois, à partir d'octobre
Matières: russe (langue générale et terminologie), chimie, physique, mathématiques, biologie
Langue d'enseignement - Russe (en utilisant l'anglais comme intermédiaire)
Coût 145 000 RUB/290 000 RUB
Documents requis pour l'admission au cours:
Déclaration personnelle
Original et copie des documents éducatifs avec une traduction notariée en russe
Certificat médical attestant l'absence de contre-indications médicales pour l'étude en Russie
Doyenne Bylova Nadejda Alexandrovna
+7 495 434-22-66, poste. 23-60
ims@rsmu.ru
L'Ecole d'été du jeune chirurgien
Un projet éducatif unique qui permet aux écoliers de faire l'expérience des chirurgiens, généticiens, neurologues, dentistes, IT-généticiens, pharmacologistes, cybernétiques médicales et autres spécialités médicales.
Immersion interactive dans le travail d'un médecin moderne
Introduction aux solutions innovantes en médecine
Compétences pratiques dans le matériel diagnostique, thérapeutique et chirurgical moderne, recherche interne
Société scientifique des étudiants
> 80 cercles scientifiques pour les étudiants: pédiatrie, thérapie, sciences fondamentales, chirurgie
VK – @sno_rnrmu
Secteur des compétences suprofessionnelles
Centre de formation
Ecole de média
Centre de partenariat
Développement des compétences générales: formations sur la motivation, le leadership, la gestion, le travail d'équipe, la gestion du temps, les présentations, le développement personnel.
Ecole de formation complémentaire Chimie*bio*plus
Programmes éducatifs supplémentaires pour les lycéens en chimie, biologie, physique et mathématiques
Conférences, colloques, tests informatiques et exercices pratiques dans les laboratoires universitaires
Préparation à la participation aux Olympiades de Moscou, interrégionales et de toute la Russie pour les écoliers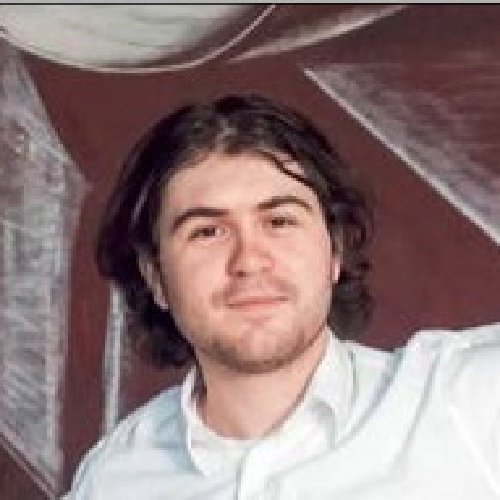 I chose medicine because the medical profession really allows us to help people. When I was choosing a university, I decided on two universities with medical faculties: RUDN and RNRMU. I was sent to RNRMU. And I've never regretted it. In my studies, I like the systematic program. The department of biochemistry offered us a list of issues to study. And we strictly adhere to the curriculum. I have no language barrier while studying academic disciplines, quite the contrary. It's easier for me to perceive medical information and talk about science. I also take part in the university's extracurricular projects. I've recently joined a rescue team. They teach us to give first aid in accidents. Besides going to university, I work as a male nurse at an outpatient clinic. As to my specialization, I'll probably choose surgery. Anatomy comes easily to me. My goal for the future is to make a personal contribution to science. Certainly, I must study hard and spare no pains in my work.
Ait Aissa Jelal-Eddin
Algeria. Fourth-year student
Instituts et laboratoires
Institut de recherche en médecine translationnelle
Institut de recherche en chirurgie clinique
Centre de recherche en ophtalmologie de l'Université nationale russe de recherche médicale N.I.Pirogov
Centre scientifique clinique de recherche en gérontologie
Institut de recherche clinique en pédiatrie du nom d'académicien Y. E. Veltischev
Laboratoire de recherche biomédicale en neurologie
Laboratoire de recherche en glaucome et dystrophie oculaire
Laboratoire de recherche en maladies rhumatismales
Laboratoire de recherche en maladies cérébrovasculaires
Orientations de la formation
Sciences médicales (RU/EN)
Biologie (RU/EN)
Pédiatrie
Dentisterie (RU/EN)
Biochimie médicale
Biophysique médicale
Cybernétique médicale
Psychologie clinique
Travail social
Pharmacie
Programmes de double diplôme
Spécialité, Sciences médicales
L'université de Pérouse, Italie
L'université de Milan, Italie
Institut d'Etat de medicine Abu Ali Ibn Sino de Boukhara , Ouzbékistan
Baccalauréat «Biologie», profil Biomédicine
L'université de Turin, Italie
Les candidats passent le test d'entrée BMAT ou IMAT.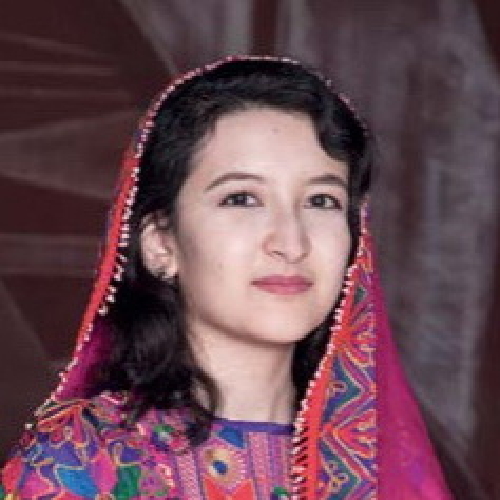 When I came to apply to RNRMU, the admission office staff were so nice to me and told me about everything I was interested in at that time, and I decided to stay here. I like studying medicine very much. The clinical disciplines that we've been mastering since our third year are particularly interesting. But then the pandemic broke out, and, unfortunately, we had to miss some courses. Our teachers' high proficiency comes to help. Even during online classes, they try to convey all necessary information to us. I study at the international faculty and major in General Medicine. I've realized that I don't want to be a surgeon. I like therapeutic specialties more, but I haven't decided yet which one to choose. Now I attend classes of the neurology scientific circle. I am interested in this discipline and its issues. I'll probably choose this major in the future. I've never regretted entering RNRMU. Even in my third year, when I had a hard time mastering the program and coping with an array of information, I never had any doubts about my choice.
Tabasom Ahmadi
Afghanistan. Fifth-year student
Conseil des étudiants
12 domaines d'activité sociale
Secteur culturel et créatif
Centre des bénévoles
SSE (Société scientifique des étudiants)
*Union étudiante
Le mouvement de tutorat
Conseil des amicales et autres
VK – @studentsrnrmu
Tutorat
Tuteur de groupe académique (aide à l'adaptation à la vie universitaire)
Tuteur enseignant (aide à la maîtrise de nouveaux matériaux)
Tuteur pour les étudiants étrangers (aide à l'adaptation sociale et culturelle)
Conseil des amicales
20 associations nationales - amicales, clubs et communautés
Popularisation des cultures et promotion de l'amitié internationale
VK – @zemlyachestva_rnimu
10.09.2021