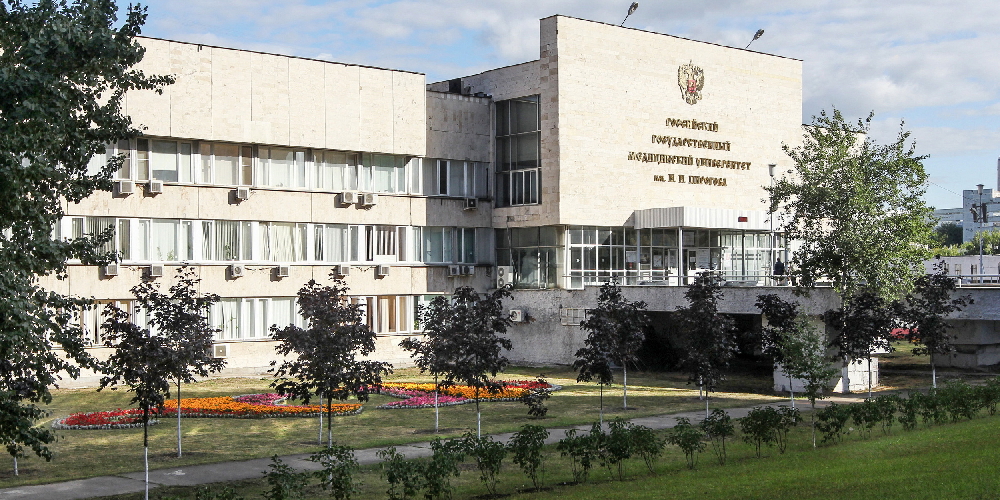 > 700
50 个国家/地区的 > 700 名外国学生
> 700
50 个国家/地区的 > 700 名外国学生
一个领先的科学和教育中心,为医生、药剂师、临床心理学家、社会工作者以及独特的科学人员(医学生物化学、医学控制论、医学生物物理学)提供培训。
列入承认雅思证书的国际组织名单。 拥有在俄罗斯和独联体国家进行 IMAT(International Medical Admissions Test,剑桥)和 BMAT(BioMedical Admissions Test)的独家权利。
基础设施
教育综合体
"医生"校园
"博戈罗茨科叶"大学酒店
科学图书馆
医院和综合诊所的临床基地
综合运动场
"科纳科沃"学生营
宿舍
四栋18层宿舍楼,可容纳3280人,离大学主楼和孔科沃地铁站步行10分钟
宿舍一名员工接待学生,帮助他们安顿下来、办理必要的文件并进行初步简报
集群
VK – @rnimu
Instagram – @rnimu_2med (Meta is recognized as an extremist organization in Russia)
Facebook – @rnimu2med (Meta is recognized as an extremist organization in Russia)
一年学费
学士和专家学位 280,000 — 460,000 卢布
硕士 130,000 — 220,000 卢布
通过国家统一考试的人根据分数给予折扣
公费名额
白俄罗斯、哈萨克斯坦、吉尔吉斯斯坦、塔吉克斯坦的公民
在俄罗斯永久居住(在俄罗斯联邦有居留许可)亚美尼亚、乌兹别克斯坦、乌克兰、摩尔多瓦、土库曼斯坦、格鲁吉亚的公民
据俄罗斯联邦高等教育和科学部的派遣
使用中介语言申请培训的外国公民,如果愿意,可以单独参加由俄罗斯国立研究医科大学进行的英语入学考试。
贝洛娃·娜杰日达·阿列克桑德罗弗纳执行秘书
+7 903 763-13-97
prk@rsmu.ru
n_bylova@mail.ru
117997,莫斯科,奥斯特罗维佳诺娃街,1号楼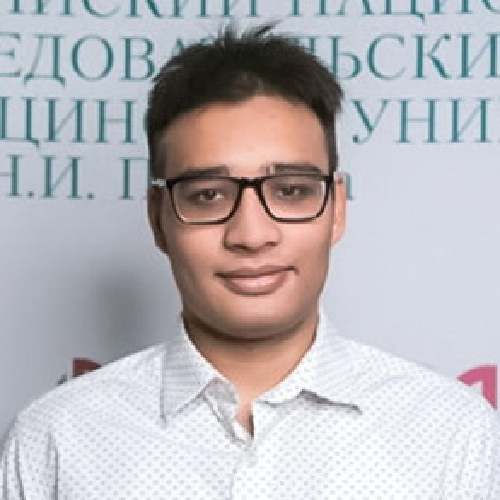 Before applying to the university, I asked around, looked through testimonials about universities. I decided on RNRMU, and I don't regret it. I like studying here. I noticed that much depends on the teacher. If they can get you interested, the subject becomes really exciting, and you'll try to study hard. Physiology and physiopathology, microbiology were very interesting. I also have a hobby — I am fond of history. I have tentative plans to choose virology and bacteriology as my future specialization. Now we have cycle training, and I choose the disciplines I like more. In my spare time, I meet my fellow students, go to the gym. I'd like to become a good doctor and work at a high-profile clinic, but, most of all, be of use to people. There are things that are much more important than material wealth. Health and life are priceless, and money comes and goes.
Rahman Sheikh Sabih
Bangladesh. Fourth-year student
国际系
据皮罗戈夫俄罗斯国立研究医科大学教育项目中培训外国学生
据跟欧盟大学合作的双证课程中对俄罗斯和外国公民进行培训
教学以英语或使用英语作为中介语言进行。
外国公民预科系
速成班4 个月,从 2 月开始
10 个月完整课程,从 10 月开始
科目:俄语(普通语言课程和术语)、化学、物理、数学、生物
教学语言——俄语(使用英语作为中介语言)
成本 145,000 卢布/290,000 卢布
入学所需的文件:
个人申请
经过公证的俄语翻译教育文件的原件和复印件
证明在俄罗斯学习没有医疗禁忌症的医疗证明
拜洛娃·娜杰日达·亚历山德罗夫娜系主任
+7 495 434-22-66, 分机。23-60
ims@rsmu.ru
生暑期学校
一个独特教育项目,允许中学生测试自己作为外科医生、遗传学家、神经学家、牙医、IT 遗传学家、药理学家、医学控制论和其他医学专业。
交互式沉浸在现代医生的工作中
了解医学的创新解决方案
发展现代诊断、医疗和外科设备的实际工作技能,开展自己的科学研究
学生科学协会
> 80 个学生科学圈:儿科、治疗、基础科学、外科
VK – @sno_rnrmu
超专业技能部门
软技能发展:激励、领导力、管理、团队合作、时间管理、演讲、个人发展的培训。
化学*生物*plus附加教育学院
为高中生提供化学、生物、物理和数学方面的额外教育课程
大学实验室的讲座、座谈会、计算机测试和实践练习
准备参加莫斯科、地区间和全俄的学童奥林匹克运动会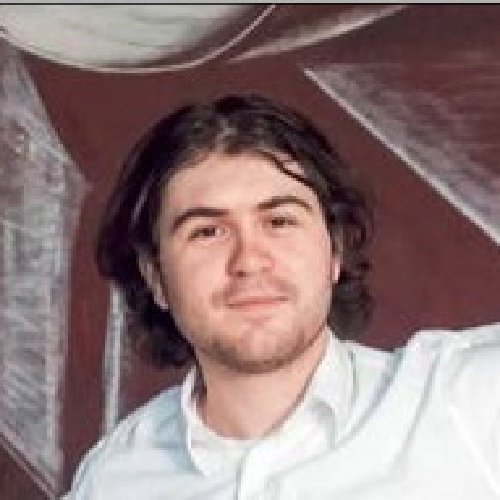 I chose medicine because the medical profession really allows us to help people. When I was choosing a university, I decided on two universities with medical faculties: RUDN and RNRMU. I was sent to RNRMU. And I've never regretted it. In my studies, I like the systematic program. The department of biochemistry offered us a list of issues to study. And we strictly adhere to the curriculum. I have no language barrier while studying academic disciplines, quite the contrary. It's easier for me to perceive medical information and talk about science. I also take part in the university's extracurricular projects. I've recently joined a rescue team. They teach us to give first aid in accidents. Besides going to university, I work as a male nurse at an outpatient clinic. As to my specialization, I'll probably choose surgery. Anatomy comes easily to me. My goal for the future is to make a personal contribution to science. Certainly, I must study hard and spare no pains in my work.
Ait Aissa Jelal-Eddin
Algeria. Fourth-year student
研究所和实验室
转化医学科学研究所
临床外科科学研究所
皮罗戈夫俄罗斯国立研究医科大学眼科研究中心
俄罗斯老年学研究和临床中心
韦利季谢夫院士儿科临床科学研究所
神经病学生物医学研究实验室
青光眼和营养不良性眼科疾病研究实验室
风湿性疾病研究实验室
脑血管疾病研究实验室
专业方向
医务 (RU/EN)
生物学 (RU/EN)
儿科
牙科 (RU/EN)
医学生化
医学生物物理学
医学控制论
临床心理学
社会工作
药学
俄中双证学习计划
专家 "医务"
鲁贾大学
意大利米兰大学
阿布阿里伊本西诺布哈拉国立医学研究所,乌兹别克斯坦
本科 "生物学","生物医学"专业
入学时,考生参加 BMAT 或 IMAT 入学考试。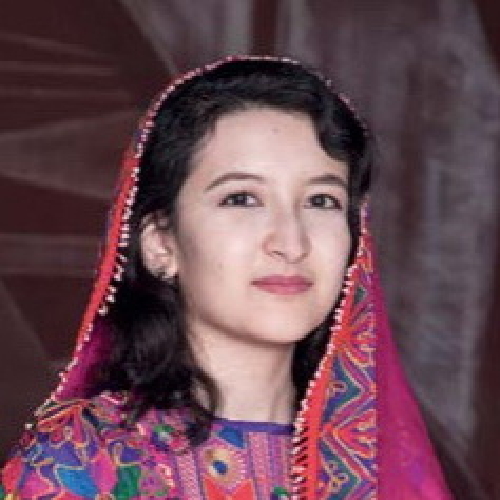 When I came to apply to RNRMU, the admission office staff were so nice to me and told me about everything I was interested in at that time, and I decided to stay here. I like studying medicine very much. The clinical disciplines that we've been mastering since our third year are particularly interesting. But then the pandemic broke out, and, unfortunately, we had to miss some courses. Our teachers' high proficiency comes to help. Even during online classes, they try to convey all necessary information to us. I study at the international faculty and major in General Medicine. I've realized that I don't want to be a surgeon. I like therapeutic specialties more, but I haven't decided yet which one to choose. Now I attend classes of the neurology scientific circle. I am interested in this discipline and its issues. I'll probably choose this major in the future. I've never regretted entering RNRMU. Even in my third year, when I had a hard time mastering the program and coping with an array of information, I never had any doubts about my choice.
Tabasom Ahmadi
Afghanistan. Fifth-year student
学生会
12个社会活动领域
文化创意产业
志愿者中心
学生科学协会
学生工会
辅导运动
同乡会委员会等
VK – @studentsrnrmu
辅导
学术团体辅导(协助适应大学生活)
教师辅导(协助掌握新材料)
留学生辅导(社会文化适应协助)
VK – @rnimu_pirogov_tutors
同乡会
20个国家协会——同乡会、俱乐部和会社
弘扬各国文化,增进国际友谊
VK – @zemlyachestva_rnimu
10.09.2021