Kazan State University of Architecture and Engineering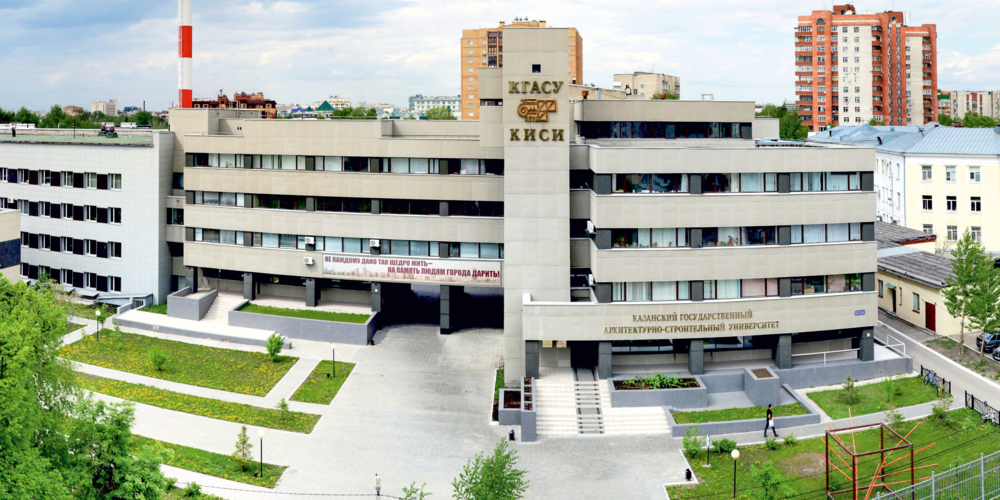 250
international students
250
international students
Kazan State University of Architecture and Engineering is a modern center for education, research and innovation with high creative potential. It trains highly qualified specialists for architecture and civil engineering, the housing and utility sector, and the road transport industry of the Republic of Tatarstan and the Volga Region.
Civil engineering is one of the most dynamically developing economic sectors.
The large-scale projects are implemented in Russia and worldwide today to build modern facilities of industrial and civil engineering, networks of oil refineries and chemical factories, transportation infrastructure facilities. It means that KSUAE graduates will always have interesting and well-paid jobs.
www.kgasu.ru
VK – @ksuae
Telegram – @kazgasu
youtube.com
Tuition fees per year
130,000 – 193,472 RUB
Entrance exams for foreign citizens
Architecture programs
State-funded places. Mathematics, Russian language, creativity exams—natural light-tone drawing, composition of geometric bodies (partially inserted, "cut" into each other), technical drawing, composition
Fee-paying places. Russian language, natural light-tone drawing, composition of geometric bodies (partially inserted, "cut" into each other)
Civil Engineering programs
State-funded places. Mathematics, Russian language, elective exam (computer science and ICT, physics, or chemistry)
Fee-paying places. Russian language
Economics programs
State-funded places. Mathematics, Russian language, elective exam (computer science and ICT, social science, history, or English language)
Fee-paying places. Russian language
Admission Office
Fields of study
Architecture
Reconstruction and Restoration of Architectural Heritage
Design of Architectural Environment
Urban Planning
Design
Landscape Architecture
Civil Engineering
Information Systems and Technologies
Technosphere Safety
Land Management and Cadastres
Technology of Transport Processes
Heat Power Engineering and Heat Engineering
Management
Land Transportation and Technological Complexes
Construction of Unique Buildings and Structures
Association of Foreign Students
Assistance in social adaptation to Russia
Legal and social support
Cultural and sports events
Pre-university training center for foreign citizens
Russian as a Foreign Language course
Duration November-July
Tuition fee 100,000 RUB
International Students Department
Why is KSUAE an excellent choice?
High-quality field-specific education
Fields of study which are in demand on a long-term horizon
The university teachers are leading scientists and scholars successfully combining practical, teaching and research activity
The graduate employment rate is 100%
The excellent study and living environment: the cozy campus in the city center meeting the highest quality standards
Interesting and exciting extracurricular student life
A special spirit of corporate relations between students and teachers
Campus
Cozy European-style campus in the city center
Comfortable dormitories: rooms accommodate two or three persons, shower and toilet rooms are located in blocks, the kitchen is on the floor
Modern research and education centers for all fields of study
The KSUAE multifaceted sports center is the 2013 Summer Universiade facility
The Mesha sports and recreation camp
The canteen is one of the coziest places in the university, where you can have tasty and cheap meal
A comfortable, light, and spacious assembly hall for student events
A parking lot for students and staff
Graduates and students' works
Kul Sharif Mosque
The Lazurnye Nebesa (Blue Skies) residential estate
The Korston hotel, shopping and entertainment Center
The Basket Hall sports center
The GUM shopping center in Kazan
Improvement of the garden square near the Civil Acts Registration Office in the Kirovsky District as part of the 100 Garden Squares program
Examination of the Kazan Arena stadium foundation
Designing building structures of the Kazan international airport terminal
Designing reinforced concrete rings for building the Kazan metro
Designing the Mordovia Arena stadium stands for the FIFA World Cup
Design of the temporary roof of the Kazan Arena stadium for the 16th FINA World Championships
Installation of polymer composite reinforcement at the Kazan airport ramp
Restoration of Merchant Sergei Zemlyanov House
Restoration of the Pentecost Church in Sukonnaya Sloboda (Cloth Settlement) in Kazan
Sports
KSUAE students are winners of the University Spartakiad that includes 31 sports, international competitions
The Tozuche sports center includes a hall for sports games, a wrestling hall, a strength sports gym, a boxing hall, an aerobics hall, a table tennis hall
KSUAE offers the opportunity to work out and play sports for both professional athletes and those wishing to improve their health.
20 professional coaches, over 30 sports, first-rate equipment confirm a high level of physical education and sport development at the university.
26.12.2022