L'Université d'Etat de Daghestan. Connaissance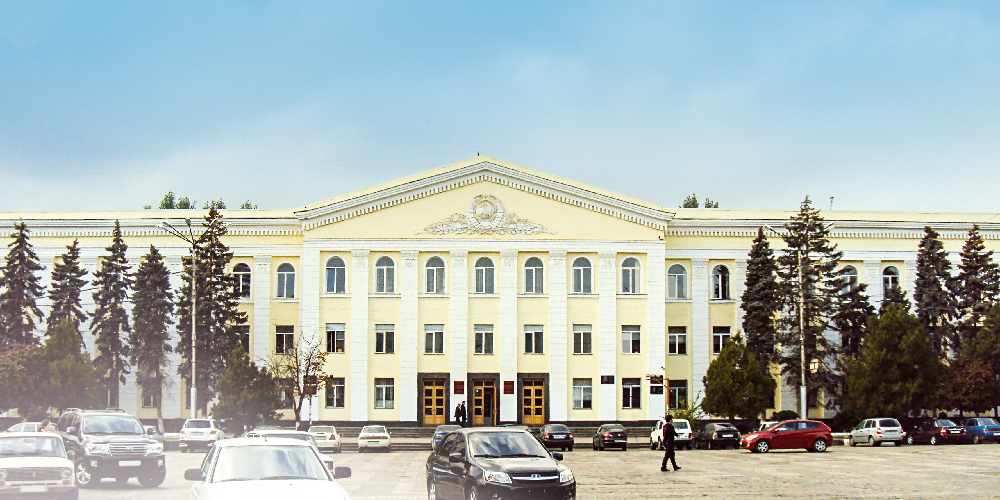 5
formations de spécialités
16
centres scientifiques éducatifs
41
formations de baccalauréat
14
centres d'innovation scientifiques
16
formations de troisième cycle
5
formations de spécialités
16
centres scientifiques éducatifs
41
formations de baccalauréat
14
centres d'innovation scientifiques
16
formations de troisième cycle
Un grand centre éducatif, scientifique et culturel du Caucase du Nord. Fondé en 1931.
Les diplômés de l'Université sont hautement qualifiés en économie, droit, sciences humaines, sciences naturelles, sciences techniques.
4 dortoirs confortables
19 sections sportives, le camp de sport et santé « Kaspiy « , le Palais des Sports
Le Jardin botanique, le vivarium, le complex aquatique, le musée zoologique, le musée historique, le planétarium, la chaire UNESCO
I graduated from the Faculty of Mathematics and Computer Science of DSU in 2012. Now I'm working at Al-Mustansiriya University in Baghdad. I learned Russian at the preparatory department and I'm glad that I had wonderful teachers. I'd like to kindly thank them. I miss Dagestan and Makhachkala.
Cinq projets de recherche de troisième cycle des facultés de physique, de chimie, de biologie et de langues étrangères de l'Université d'Etat de Daghestan sont les lauréats du concours de la Fondation russe pour la recherche fondamentale..
Les physiciens de troisième cycle de l'Irak et du Yémen — lauréats de la VIII сoncours panrusse des travaux scientifiques et créatifs des étudiants étrangers et des étudiants de troisième cycle des universités russes.
Des projets innovants de l'Université d'Etat sont récompensés par de prestigieux concours internationaux.
Société d'étudiante scientifique
Cours universitaires de vulgarisation scientifique « DSU Talks « (n'importe qui peut être un conférencier)
vk.com/snodgu
We study maths at DSU. It turned out that we can not only get a good education in Russia but also travel a lot and enjoy wonderful places.
Glorius and Julien
Côte d'Ivoire
Frais de scolarité
Programmes de base 74 000 — 157 000 roubles
Département préparatoire des ressortissants étrangers 62 000 roubles
Cours de russe et stages pour étrangers — 7 000 roubles par mois
Formations populaires
Mathématiques
Électronique
Jurisprudence
Économie
Management
Langues étrangères
Journalisme
Psychologie
Écologie et gestion de l'environnement
Programmes bilingues
Maitrise
Problèmes actuels en droit international et européen
Psychologie du conseil et psychotechnologie du développement
Informatique de base et technologies de l'information
Langues étrangères et dialogue intercultural
Politique économique de l'État
Réglementation de l'économie par l'Etat
Gestion d'entreprise
> 300
étudiants des pays proches et lointains
> 300
étudiants des pays proches et lointains
Programmes de double diplôme
Maȋtrise
« Gestion d'entreprise », « Psychologie du conseil et psychotechnologie du développement »
Université de Rome la Sapienza, Italie
« Environnement et santé humaine », « Ecologie appliquée », « Pétrochimie »
L'Université d' Etat, Atyrau H. Dosmukhametova, Kazakhstan
Université du pétrole et du gaz d' Atyrau, Kazakhstan
« Langue et littérature russes »
Université d'Allame Tabatabai, Iran
« Journalisme », « Journalisme Politique », « Journalisme international »
Université d'Etat des langues du monde, Ouzbékistan
Les diplômés étrangers de l'Université travaillent comme des chefs d'entreprise, des ministères, des enseignants des universités dans leurs pays.
Faculté de l'éducation internationale
Inscription et accueil des étudiants étrangers à toutes les formes de formation
Formation préuniversitaire des ressortissants étrangers dans le département préparatoire
Formation des bacheliers, spécialistes et masters
Département préparatoire pour les ressortissants étrangers
Inscription — du 5 juillet au 1er décembre.
La durée de la formation — 1 année académique.
Début des cours à partir du 1er septembre.
Le coût de la formation est 62 000 roubles.
Programme de formation réduit — 6 mois.
Frais de scolarité-70 % du paiement de base
Now I am a postgraduate student specializing in the Caucasus History at Tula State University. But I don't fall out of touch with DSU and often send cards and greetings to my teachers whom I love greatly. I'm sure that DSU gives excellent knowledge of many subjects necessary for further education and I'd recommend it to everyone who wants to study in Russia.
22.09.2020