Dagestan State University. Acquaintance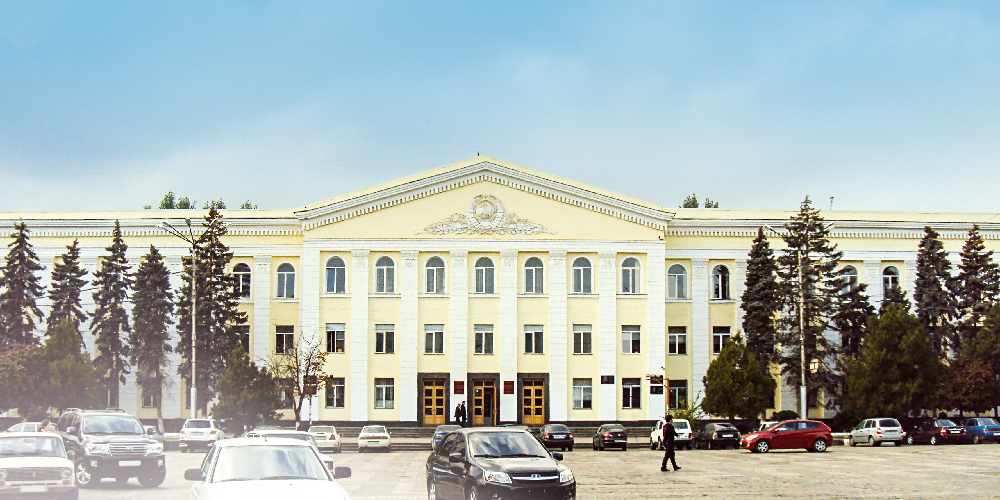 16
research and education centers
14
science and innovation centers
16
research and education centers
14
science and innovation centers
DSU is a major educational, scientific and cultural center of the North Caucasus. It was founded in 1931.
The university trains top-ranked specialists in economics, law, humanities, natural sciences, engineering.
4 comfortable dormitories
19 sports clubs, the Caspian Sports and Recreation Camp, the Sports Palace
A botanic garden, a vivarium, an aquatic complex, a zoological museum, a historical museum, a planetarium, the UNESCO Department
I graduated from the Faculty of Mathematics and Computer Science of DSU in 2012. Now I'm working at Al-Mustansiriya University in Baghdad. I learned Russian at the preparatory department and I'm glad that I had wonderful teachers. I'd like to kindly thank them. I miss Dagestan and Makhachkala.
Five research projects of postgraduate students of the Faculties of Biology, Physics, Chemistry, and the Faculty of Foreign Languages are the winners of the competition held by the Russian Foundation for Basic Research in 2020.
Postgraduate Physics students from Iraq and Yemen are the winners of the VIII All-Russian Contest of Scientific and Creative Works of International Students and Postgraduates of Russian Universities.
DSU researchers receive prestigious international awards for their innovative projects.
Student scientific society
University popular scientific lectures "DSU Talks" (everyone can become a lecturer!)
VK – @snodgu
We study maths at DSU. It turned out that we can not only get a good education in Russia but also travel a lot and enjoy wonderful places.
Glorius and Julien
Côte d'Ivoire
Tuition fees
Degree programs 74,000 — 157,000 RUB
Preparatory department for foreign citizens 62,000 RUB
Russian language courses and study placement for foreign citizens 7,000 RUB/month
Popular fields of study
Mathematics
Electronics
Law
Economics
Management
Foreign Languages
Journalism
Psychology
Environmental Studies and Natural Resources
Management
Bilingual programs
Master's programs
Current Issues in International and European Law
Counseling Psychology and Development Psychotechnology
Fundamental Computer Science and Information Technology
Foreign Languages and Intercultural Dialogue
State Economic Policy
State Regulation of Economy
Business Management
> 300
students from the CIS and other countries
> 300
students from the CIS and other countries
Double degree programs
Master's programs
Business Management, Counseling Psychology and Development Psychotechnology
Sapienza University of Rome, Italy
Environmental protection and Human Health, Applied Ecology, Petroleum Chemistry
Atyrau University, Kazakhstan
Atyrau University of Oil and Gas, Kazakhstan
Russian Language and Literature
Allameh Tabataba'i University, Iran
Journalism, Political Journalism, International Journalism
Uzbekistan State University of World Languages, Uzbekistan
Foreign graduates of DSU work as heads of enterprises, ministries, university teachers in their home countries.
Faculty of international education
Registration and enrollment of international students in all study programs
Pre-university training for foreign citizens at the preparatory department
Training for Bachelor, Specialist and Master students
Preparatory department for foreign citizens
Students are enrolled from July 05 till December 01.
Duration of study is 1 academic year.
The starting date is September 01.
Tuition fee is 62,000 rubles.
The shortened study program lasts 6 months.
Tuition fee is 70 % of the main payment.
Now I am a postgraduate student specializing in the Caucasus History at Tula State University. But I don't fall out of touch with DSU and often send cards and greetings to my teachers whom I love greatly. I'm sure that DSU gives excellent knowledge of many subjects necessary for further education and I'd recommend it to everyone who wants to study in Russia.
22.09.2020