Belgorod State University. Acquaintance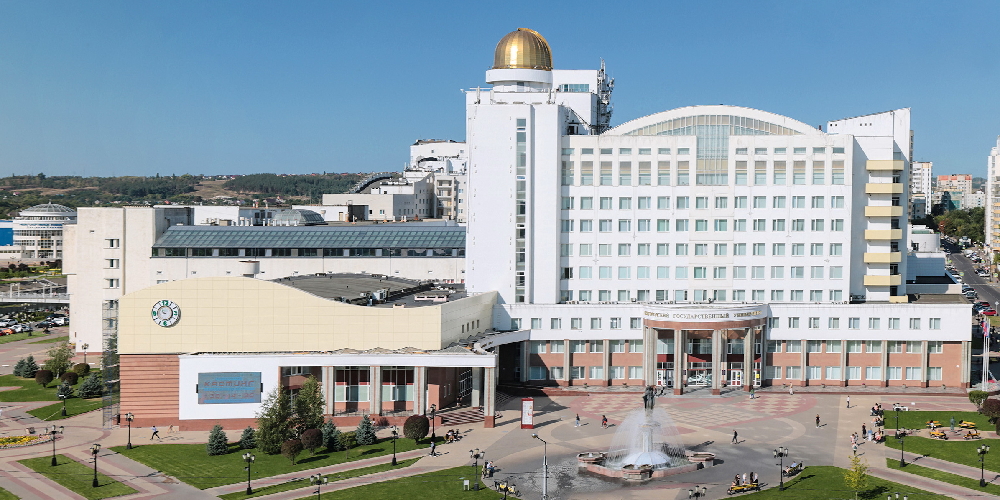 63
scientific centers and laboratories
>23,000
students, including > 3, 000 –from 92 countries
>5,000
research projects over 10 years
63
scientific centers and laboratories
>23,000
students, including > 3, 000 –from 92 countries
>5,000
research projects over 10 years
The university trains top-class specialists in natural sciences, humanities, engineering sciences, pedagogy, and medical sciences.
Lifelong learning starts with pre-university training and continues in academic staff development under postgraduate and doctoral programs.
Belgorod State University is the head university of SCO (Shanghai Cooperation Organization) Network University.
22 academic buildings
5 museums, the Botanic Garden
The Svetlana Khorkina Sports Complex, The "Burevestnik" (Shearwater) Sports Center, the Equestrian School
The Pegasus e-learning system
The Youth Cultural Center, 24 student societies, the Center for Cross-Cultural Communication, the Chinese Language and Culture Center
Tuition fee
Higher education programs: 2,380 — 4,900 usd per year.
Preparatory department for foreigners: 1,800 usd per year.
Achievements
The head university of the world-class research and education center "Innovative Solutions in the Agro-Industrial Complex"
A participant of the project for the creation and development of the NICA ion accelerator complex, one of the six MegaScience projects in Russia
The leading Russian Technology Support and Innovation Center
The author of advanced research
Scientists from BelSU are among the most cited and published scientists in Russia and are winners of the Scopus Awards Russia
22
joint educational programs
371
higher education programs
319
continuing professional education programs
30
advanced education programs
22
joint educational programs
371
higher education programs
319
continuing professional education programs
30
advanced education programs
Double degree programs
Bachelor's program (2+2) in Biotechnology with Dezhou University (China)
Master's program in Romano-Germanic Philology with University of Ss. Cyril and Methodius in Trnava (Slovakia)
Master's program in STEM Teacher Training for primary school teachers and high school STEM teachers with support from Erasmus+ program
Popular fields of study
Pharmacy
Economics
International Relations
Pedagogical Education
Journalism and Media Communications
Law
IT and Robotics
Environment
English-taught programs
Bachelor's degree
Specialist degree
Master's degree
Environmental Studies and Natural Resources Management
Economics
Mathematics
Physics
Materials Science and Engineering
In Afghanistan, Russian education is considered to be of top quality, and we highly value it. I found out about BelSU long ago. I examined the information about the university and Belgorod in general, and what I liked most was the city's appearance. That's how I decided on this university. BelSU provides plenty of opportunities and platforms for self-fulfillment so that every student can achieve success and reach their inner potential.
Sajid Kadiri -
The winner of the universitywide competition "Best Foreign Student", Afghanistan
Winter School For Future Postgraduate Students
interesting lectures, master classes, foresight sessions, workshops, and informal communication with lecturers
a unique chance to see the prospects of the research field that you have chosen and to get the latest information concerning science trends straight from the leading scholars of the university
a great opportunity to get information on postgraduate training programs and application requirements
Every international student will probably agree with me that poor language proficiency is the greatest challenge of studying in Russia. However, communication with my Russian friends helped me master the language soon. BelSU made a good impression on me. It's a real sanctuary of sciences where students get a good professional background. In 2014, I graduated from the Institute of Law with honors, and a year later, being a postgraduate student, I worked as an assistant at the Department of Constitutional and International Law. After completion of postgraduate studies in 2017 I was awarded the qualification of research teaching fellow, and my greatest achievement is a PhD in law that I obtained after defending a thesis under the agreement of cooperation between BelSU and University of Warmia and Mazury in Olsztyn (Poland).
Carlos Jorge Quete -
graduate of BelSU, Professor at two top universities of Angola
Preparatory Department
Pre-university training for foreign citizens in Russian (humanities, economics, engineering sciences, natural sciences, medicine and biology)
Training for Bachelors and Masters in Philology (Russian as a Foreign Language)
Exchange education for foreign citizens in joint educational programs
Courses of Russian as a foreign language (including online)
Professional development programs: Particular Characteristics of Work with International Students Taking into Account their National Peculiarities, Russian as a Foreign Language, Modern Russian Language
International summer language school
22.09.2020