Discovering Russia. Moscow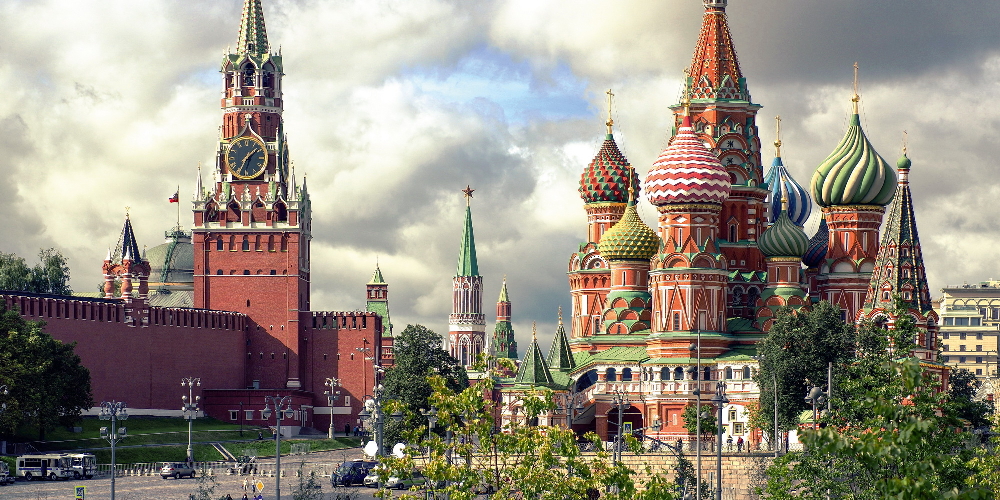 > 200
higher education institutions
> 500
museums and galleries
700
clubs and concert venues
1,000
churches of different religions
> 200
higher education institutions
> 500
museums and galleries
700
clubs and concert venues
1,000
churches of different religions
Moscow Kremlin
It is the largest active fortress in Europe and is considered one of the world's largest museums. The city's oldest part occupies an area of 27 ha and strikes with the beauty of towers, cathedrals and palaces. Red Square lies east of the Kremlin.
The most convenient way to get here is by metro — four minutes' walk from the Alexandrovsky Sad (Alexander Garden) station, 5–10 minutes' walk from stations such as Biblioteka Imeni Lenina (Lenin Library), Borovitskaya, Arbatskaya, Teatralnaya. Leaving the metro, navigate using the Alexandrovsky Sad sign. You can buy entrance tickets not far from Kutafia Tower.
Vorobyovy Gory (Sparrow Hills)
It is the main observation deck in the Russian capital. From the top of the hill, a picturesque view of the forest and park area opens up, and architectural buildings, facilities and churches can be seen. Plenty of ceremonial and cultural events are held there. It's a place for relaxing, taking photos, doing sports, meditating. There is a conservation park with an ecological path, a ropeway working all year round, ski slopes with springboards and a chair lift.
The exit from the Vorobyovy Gory metro station is located 80 meters from the observation terrace. You can get there by water tram along the Moscow River and by bus to the Moscow State University stop.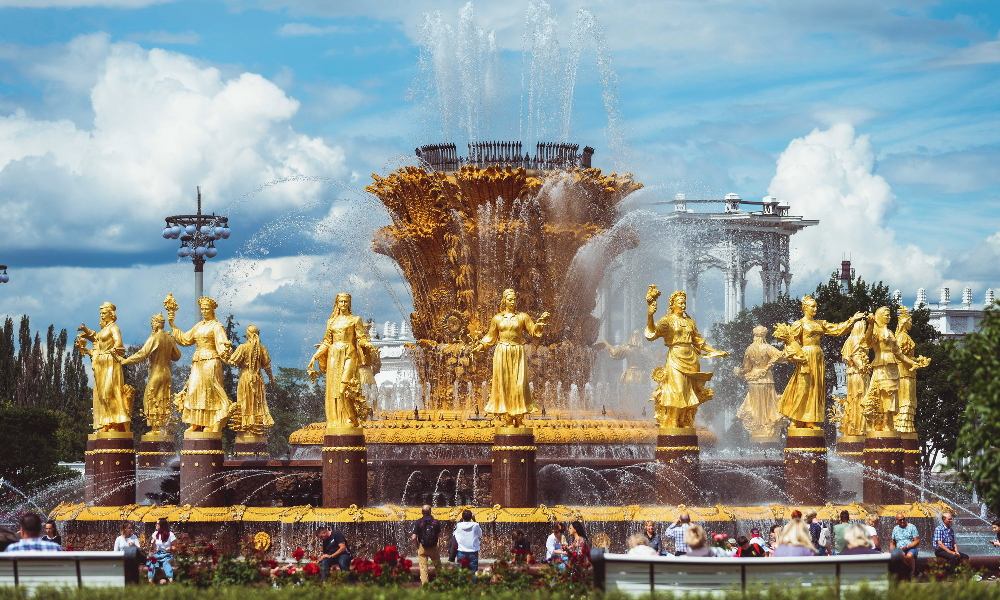 VDNKH
National Economy Achievement Exhibition. It is one of the most amazing tourist attractions in the Russian capital and ranks among the world's top 50 largest exhibition centers. There are plenty of architectural masterpieces in the territory of the Exhibition — 49 VDNKh facilities have the status of cultural heritage landmarks.
You can enter the territory free of charge, but you must buy a ticket to visit the exhibition pavilions.
Main Botanical Garden of the Russian Academy of Sciences in Moscow
It is the largest botanical garden in Europe. It offers an amazing view of the Academy of Sciences, St. Andrew's Monastery, Monument to Yuri Gagarin, the Moskva River embankments, the business center skyscrapers (Moscow City and MSU Steeple), Christ the Saviour Cathedral, Moscow Kremlin.
A view of the city from the deck near the RAS is amazing. The number of visitors is relatively small. You can visit the deck 24/7, free of charge. It's easy to get to the observation deck. You should walk around 700 meters from the Leninskiy Avenue metro station towards the Russian Academy of Sciences, passing the tall Monument to Yuri Gagarin.
Concept Venues Of Moscow
It used to be Russia's largest confectionery. Today it is a popular art venue and one of the most fashionable places in Moscow.
It is a unique monument of Moscow industrial architecture comprising over 20 red-brick buildings. You'll never get bored here. Something happens all the time. You can go to concerts, exhibitions, various studios, cafés, restaurants, rent an office — everyone will find an occupation to their liking.
6, Bersenevskaya Embankment
It is one of Moscow's most attractive tourist destinations, with its exciting past, remarkable architecture, and inimitable atmosphere. Old Arbat is a convenient pedestrian street with numerous stores, restaurants, museums, theaters and amusements, a destination of choice for street musicians and artists.
There are a lot of places of interest in Arbat: Museums of Andrei Bely, Marina Tsvetaeva, Mikhail Lermontov, Alexander Pushkin, Monument to Bulat Okudzhava, Vakhtangov Theater, Tsoi Wall, and many others.
It is the world's only museum dedicated to the Cold War between the Soviet Union and the USA. It is also a unique military historic site, accessible to visitors, which exhibits nuclear weapon mock-ups. It is located at a depth of 65 meters (which is approximately equal to a 20-story building).
Besides the museum, the bunker comprises the deepest restaurant in Moscow, banquet halls, areas for various quests, laser tag, airsoft, conference halls. The bunker is located in the city center, near the Taganskaya metro station.
11, 5th Kotelnicheskiy Lane
Massive chandeliers, stucco work, gold plating — all this makes the grocery store's interior at least unusual. At the end of the 19th century, it was set up by entrepreneur Grigory Eliseev. He wanted to surprise the Moscow audience: even the store entrance was wide enough to allow a carriage to enter the store.
Now the main Soviet grocery store looks more like a museum than a department store. Visitors come here to admire the interiors, rather than just buy food.
14, Tverskaya Street
A Bad Apartment. Bulgakov House Museum
Bulgakov Museum is the world's only memorial showroom dedicated to the life and work of the great writer.
This apartment was called a bad one after The Master and Margarita novel had come out because Satan's Grand Ball in the book took place at almost the same address.
Now the area of the entire communal apartment is occupied by the museum theater. It's a place for tours, exhibitions, and theater performances. Outside, at the entrance to the museum, there are bronze sculptures of the characters from the novel — Korovyev and Behemoth. Visitors leave their inscriptions and wishes in the entranceway. People believe that everything that is written there is bound to happen.
10, Bolshaya Sadovaya Street, apartment No. 50
Winzavod. Contemporary Art Center
It is the first and largest center of contemporary art in Russia. Beginning artists and designers from the regions take part in exhibitions and professional competitions. The former shops of the winemaking factory comprise over a dozen galleries, stores, education and development centers, cafés and bars, world-class lecture and exhibition halls.
The center is open every day from midday till 8 p.m. like most galleries. Exhibition halls and galleries of Winzavod are closed on Mondays, but stores are usually open at this time. Photo and video recording are allowed with restrictions.
4th Syromyatnicheskiy Lane, 1/8
Weather Conditions
The climate is moderately continental. Neither winter nor summer has extreme temperatures. The weather is changeable, especially in spring and fall.
The average temperature is around -5…-8 °C. Sometimes it snows, and thaws are frequent. When short-term frosts occur, the temperature falls to -20…-25 °C.
Summer
The average temperature is around +16…+20 °C. Sometimes it rains. Short hot periods with over +30 °C, lasting several days or several weeks, are also possible.
Choosing clothes and footwear for your trip, you should allow that the temperature can show a deviation of ±5 °C from the forecast in 2-3 days. Be ready for the rain.
The differences between day and night temperatures in Moscow are non-critical. As a rule, winters in the Moscow Region are a bit cooler than in the city.
Don't be afraid of frosty weather in the depth of winter. It's a wonderful season: real Russian winter, but without extreme colds! Sunny frosty January days are much more comfortable than wet snow and wind in March. The main thing you should do is provide yourself with really warm clothes and footwear.
In December–January, a light day only lasts 7-8 hours. It means that it gets dark at 4 p.m., and it's dark like at night at 5 p.m. in Moscow. So you shouldn't plan night outings. At this time you'd better attend museums or walk around the city center.
June is the time for the rapid spread of poplar fluff (seeds) in Moscow. If you are allergic to pollen, prepare in advance.
Airports
The Moscow Region has over ten airports. For international flight connections, three of them are used: Sheremetyevo (terminals D, Е, and F), Vnukovo (terminal В), and Domodedovo.
All these terminals have state-of-the-art infrastructure
Each terminal has an arrival and departure board and navigation in Russian and English languages, cash machines and bank divisions, taxi-hailing services counters, cafés
You can buy tickets in box offices, self-service terminals, or online
Three terminals of Sheremetyevo Airport are directly connected by ground-level crossings
You can get from each airport to the city center by Aeroexpress high-speed train (the fare is 500 RUB, travel time is 40 minutes on average)
The taxi fare is 1,500–2,200 RUB, the trip takes from 40 minutes to two hours, depending on the road conditions
Russia allows import and export of foreign cash and cheques for amounts not exceeding 10,000 USD. Larger sums must be declared
There is no direct high-speed communication between the airports, so if you plan to change in Moscow, for example, from Sheremetyevo to Domodedovo, such a transit between the airports can take over two hours
Railway Stations
Moscow has nine railway stations. They are located around the circumference of the city center. Three railway stations — Yaroslavsky, Leningradsky, and Kazansky — are located within walking distance of each other at one metro station, Komsomolskaya, on Three Station Square.
Here you'll find anything you like in any price range: from a hotdog or shawarma for 100–150 RUB in the street to top-class restaurants. Moscow presents a lot of franchises and knockoffs of global brands, interesting local concepts. Russians are hearty eaters. Many cafés and restaurants are open almost around the clock, so you'll stay safe from hunger at all times of the day.
Metro
The Moscow Metro is one of the deepest and most beautiful in the world. Every day 10,000 trains carry nine million passengers, which is the highest number in the world. When you take a train to the center of Moscow, you'll hear a male announcer. But as soon as you cross the city center, you'll hear a female voice announcing the stations. On the ring line, the male voice announces trains traveling clockwise, while the female voice announces trains traveling counter-clockwise.
Moscow For Students
Young people who get a long-awaited student ID card can be eligible for numerous discounts and benefits. The main thing is to know how and where they can be used.
Student Discounts
1-3% goods in some grocery stores and pharmacies, confectioneries
15% Aeroexpress train ticket, if booked on the website
20-50% movie ticket on weekdays
25% compartment seat, long-distance train ticket
50% inter-city travel on commuter trains
100% admission to museums on free admission days
Average expenses
32,000 RUB Average monthly living expenses in Moscow exclusive of accommodation fees
315 RUB Mac menu in McDonald's or alternative fast food restaurants
180 RUB Cappuccino
470 RUB Movie ticket
500 RUB Monthly Internet
Other Ways To Save Money
Moderate prices for mobile communications and the Internet facilitate communication with your loved ones. You can buy a SIM card from any well-known operator near the metro entrance, at airports and railway stations, company offices.
Free Wi-Fi is available to visitors in various cafés, metro coaches, and some city parks. You have to register using an SMS message sent to your phone number.
You can minimize public transport costs using travel cards: flat rate for several days or prepayment for several trips.
Numerous cafés and restaurants offer breakfasts till midday and business lunches from midday till 4 p.m. on weekdays. This is a great opportunity to have a square meal for little money as you pay 300-400 RUB in cafés or 600-700 RUB in restaurants. Always contact public catering employees for details. After all, such offers may not be advertised in the front window.
What Can You Do In Your Spare Time With Your Friends?
Shooting (laser tag, bows, paintball, shooting ranges) — indoor and outdoor venues for special operations with various game weapons.
Go-kart racing — high speed, sharp turns, adrenalin, and unbelievable emotions. You can race with your friends on outdoor and indoor tracks at any time of year, whether or not you have a driver's license.
Action games — a new way to interact with the world around you, feel like a participant in a stage performance, experience new and unusual sensations and emotions.
VR technologies — virtual reality amusement halls. Glasses or a helmet with such technology will move you to the world of an exciting adventure.
Adventure parks — covering the routes of different complexity levels at different heights. You can visit an open-air park in fine weather or find a shopping center offering such entertainment.
Aerotube — imitation of free flight using air motion at high speed. A flight in the aerotube feels like a parachute jump, only without risking your health.
Waterparks — big swimming pools with clean water, high slides with steep turns, baths and saunas are available at any time of year in indoor aquatic complexes.
Trampoline centers, climbing walls, bowling, various sports clubs, city quests, ballooning, and many other things
Sources: moscovery.com, traveltables.com, kudago.com, vsemuzei.com, adme.ru
10.09.2021