Universidad Federal del Extremo Oriente. Conocimiento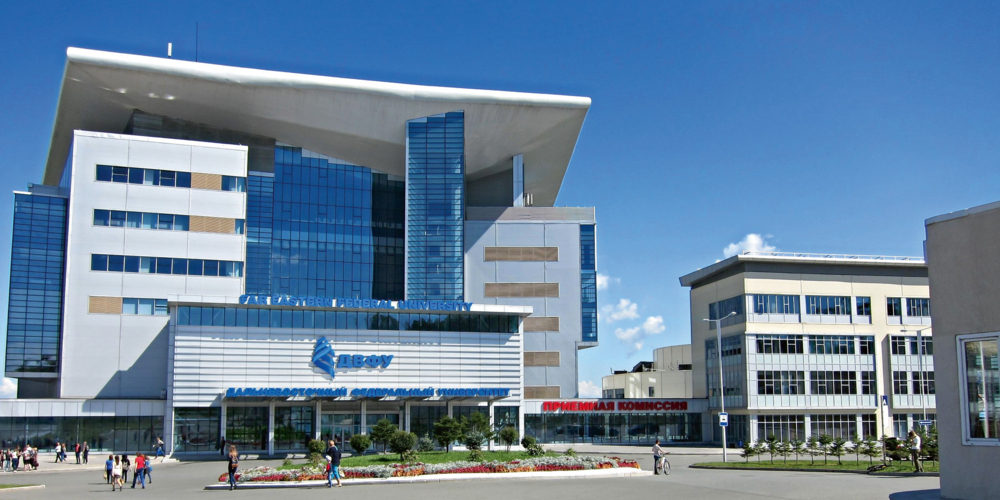 132.3
Superficie total del campus: 132,3 hectáreas
160
profesores extranjeros
3,500
estudiantes extranjeros de 79 países del mundo
4
oficinas de representación en el extranjero
180+
socios internacionales
132.3
Superficie total del campus: 132,3 hectáreas
160
profesores extranjeros
3,500
estudiantes extranjeros de 79 países del mundo
4
oficinas de representación en el extranjero
180+
socios internacionales
La Universidad Federal del Extremo Oriente es el principal centro científico y educativo de la región Asia-Pacífico. Un moderno campus a orillas del Mar de Japón, la proximidad geográfica y una amplia cooperación con socios extranjeros convierten a esta universidad en un importante centro internacional de innovación.
Institutos y colegios
Escuela Superior de Ingeniería "Instituto de Biotecnología, Bioingeniería y Sistemas Alimentarios"
Instituto de Matemáticas y Tecnologías Computacionales
Instituto Politécnico
Instituto de Altas Tecnologías y Materiales Avanzados
Instituto del Este - Escuela de Estudios Regionales e Internacionales
Instituto del Océano
Instituto de Ciencias de la Vida y Biomedicina
Escuela de Economía y Management
Escuela Jurídica
Escuela de Artes y Humanidades
Escuela de Pedagogía
Escuela de Medicina
Visita virtual por el campus
dvfu.ru
VK – @fefudvfu
Telegram – @fefudvfu
Rutube
Youtube – @dvfuru
Precios de la matrícula por año
110.000 – 425.000 RUB
Oficinas de representación de la Universidad Federal del Extremo Oriente en el extranjero
Hanoi, Vietnam
Tokio, Japón
Pekín, República Popular China
Nueva Delhi, India
Cooperación internacional
Más de 260 acuerdos y memorandos internacionales
Investigación científica colaborativa
Programas de doble titulación
Programas de intercambio académico, organización e impartición de conferencias, seminarios y cursos de verano internacionales
Participación de estudiantes y profesores en programas internacionales de becas
Centro de Lengua y Cultura Rusas
En función de la especialidad elegida para sus futuros estudios, los estudiantes de la facultad preparatoria pueden elegir uno de los siguientes programas
Perfiles: Humanidades, Economía, Ingeniería y Tecnología, Medicina y Biología
Modalidad de estudio: presencial
Coste a partir de 141 848 RUB
+7 924 424-94-64
+7 423 265-24-24, ext. 2871
crlc@dvfu.ru
Studying at AES is not a standard mode where students gain a lot of knowledge in the lecture format. We provide as much practical training as possible so that students can apply the theory in the working process at once, that's exactly why they spend over 70% of their study time on scientific and practical research. Our School provides students with everything they need: experimental, analytics and expert databases. Studies turn out to be comprehensive, that's why graduates will be able to easily find a job later.
Lyudmila Tekutyeva
Director of Research and Production Corporate Group Arnika, Director of FEFU Advanced Engineering School
Programmes en anglais (licence et spécialisation)
Médecine générale
Les étudiants reçoivent des connaissances fondamentales dans les principales disciplines médicales:
thérapie
chirurgie
obstétrique et gynécologie
traumatologie et orthopédie
maladie nerveuse
anesthesiology
réanimation
soins intensifs
pharmacologie
radiologie et diagnostics radiologiques
diagnostic clinique et de laboratoire
santé publique
économie de la santé
Les diplômés ont compétence dans le diagnostic, le traitement et la prévention des maladies, l'organisation de l'activité médicale au niveau des soins de santé primaires
Biotechnologie moléculaire
Le programme vise à former des ingénieurs-biotechnologistes pour travailler avec des molécules, des gènes et des cellules
Biotechnologie moléculaire - l'un des domaines de la science et de la technologie qui connaît la croissance la plus rapide, impliquant l'utilisation d'organismes vivants et de processus biologiques aux niveaux moléculaire et cellulaire pour faire des produits utiles aux humains
Les diplômés pourront travailler dans des centres de recherche, des instituts de recherche, des laboratoires
Relations internationales
Les élèves apprennent:
comprendre les aspects régionaux des problèmes de caractère politique, économique, informationnel, politico-juridique et culturel
analyser les processus et les événements internationaux
fournir des conseils et d'autres services sur des questions internationales;
Les diplômés seront en mesure de travailler dans les organismes gouvernementaux, les organisations internationales, les structures d'entreprises étrangères, RP et agences d'information
+7 423 265-24-24, ext. 2206
interadmission@dvfu.ru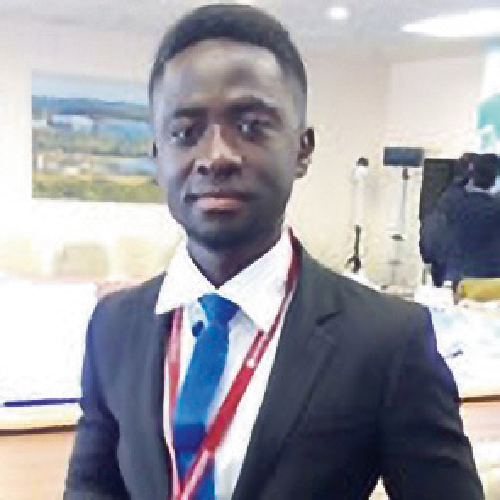 I call FEFU a "treasure island." This is really an island full of golden opportunities. If you offer me any other options, I will always choose Far Eastern Federal University.
Akuoko Ebenezer
Ghana. Public Health
Programas en inglés (másters)
Politics and Economics in Eurasia
Offshore and Coastal Engineering
Agri-Food Biotechnology
Management and Organization of Public Catering Production
Leadership and Governance in Public Health
Molecular and Cell Biology
Russia in the Asia-Pacific
International Business and Project Management
Programas de doble titulación
Economía/Management Studies
Campus Internacional de la Universidad de Maryland - UMGC, EE.UU.
Economía/Finance
Campus Internacional de la Universidad de Maryland - UMGC, EE.UU.
Economía/Business Administration
Universidad de Southern Queensland, Australia
Todos los estudiantes pueden optar a una ayuda en forma de estipendio. La Universidad Federal del Extremo Oriente ofrece una amplia gama de programas de becas:
Estipendio académico estatal incrementado
Becas personales
Estipendios del Gobierno
Estipendios de los socios industriales
Departamento de Carrera y Programas de Becas de la Universidad Federal del Extremo Oriente
28.10.2022