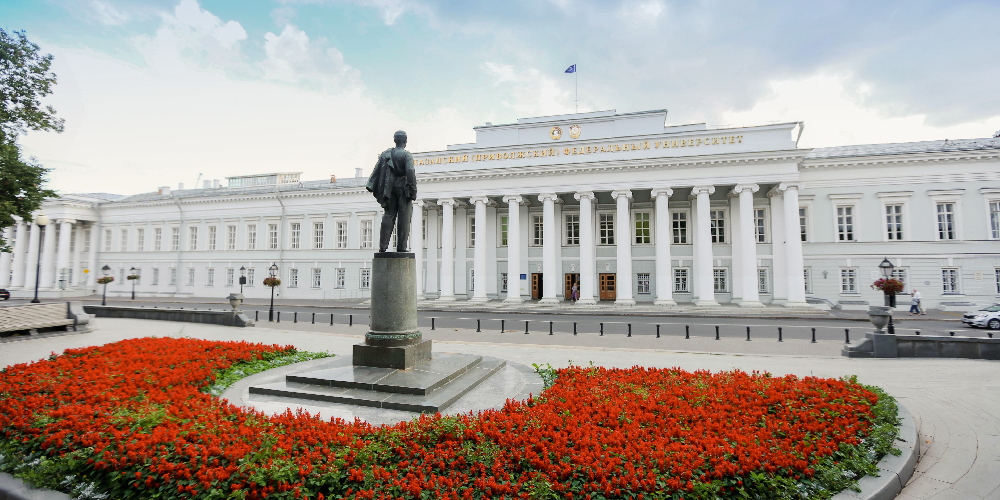 培训先进科学家、各级管理人员、大型公司和工业企业、银行和咨询组织、风险投资公司和小型企业的高级专家。
领先科学专业
代数
天文学
地质学
语言学
微生物学
浓缩介质共振特性
化学
附加教育
成就
喀山国立大学化学学院研究生(阿尔及利,亚巴特纳市)
获得了喀山国立大学外国研究生资助。写专讲非传统油田开发方法学位论文"重石油催化氧化动力学"并帮助俄罗斯解决进口替代的问题。即是研究层内燃烧过程,并开发新的催化剂。阿敏·海尔(Amin Helhal)不仅学习,而工作在"层内燃烧"提高竞争力计划项目。
As I'm from Latin America, where it's always warm, it was a bit difficult for me to adapt to Russia, where the weather can be very unpredictable. But I got used to it bit by bit. Everything else is just excellent. I'm studying at the medical faculty of KFU, and I like my educational program. The university has good infrastructure, comfortable dormitories. The international student support service works very well, we always get all necessary information and assistance quickly. The university leads a very active life, students don't get bored during non-study time, and they are often offered free tickets to various entertainment events.
Pardo Quintero Luis Ricardo
Colombia
1. 大学前预备计划 (10个月)≈ 116 000 ₽ (卢布)
5个方向
2. "俄罗斯与其地区在国际关系的领域"俄语学士学习计划 ≈ 一年128 000 ₽ (卢布)
入学考试
3. "经济学。国际业务"俄英语学士学习计划 / 双证 喀山国立大学和伦敦经济学院 ≈ 一年197 000 ₽ (卢布)
入学考试:
4. "石油与天然气工程"英语硕士学习计划 ≈ 一年295 000 ₽ (卢布)
入学考试:
5. "数据科学"英语硕士学习计划 / 双证 喀山国立大学和深圳大学 ≈ 一年261 000 ₽ (卢布)
入学考试:
6. "数字外交"硕士英语学习计划 ≈一年 273 000 ₽ (卢布)
入学考试:
There were a few reasons why I chose Kazan Federal University. First, Leo Tolstoy and Vladimir Lenin, who are well known in China, studied here. Second, I found out on the KFU's official website that it's one of the best universities in Russia, and students live in the Universiade Village. The KFU teachers are very responsible. My fellow students are good-natured, always help and give tips if I don't understand something. In my free time I can take part in numerous events held by my university.
Five years ago I made an important decision to apply to a Russian university. I chose KFU. As I grew up in another country, my opinion of the university was based on articles and photos that I could found on the Internet. I remember that the university amazed me with its history, achievements, and a variety of areas and opportunities for self-fulfillment. KFU seemed so unapproachable then. But my dream came true, and I was admitted to the International Relations program. In the beginning, I had a hard time: I lived in a foreign country, far from my relatives, and felt the difference in the quality of education. I'm grateful to the university for those unique teachers who used their knowledge to encourage students to know more. They inspired me to overcome all difficulties and be persistent in achieving my goals. During my studies I greatly broadened my outlook, acquired two foreign languages, gained experience in international communication and made a lot of new friends. KFU is not just a university for me, it's part of my history and my personal evolution.
国际友谊俱乐部
«Colours of the World at KFU»:友谊节 迷你足球锦标赛和带有民族体育元素的运动接力赛;献给远近国家的照片展览会;UNICS喀山国立大学文化体育中心有俄罗斯纪念品展览。
"喀山国立大学非洲日"邀请喀山市其他大学的非洲留学生参加。
外国留学生和研究生每年参观本地博物馆,游览城市和共和国各地,即是博尔加尔、斯维亚日斯克岛、莱法修道院、列尼诺-科什基诺等地方。
KFU SPE Student Chapter
在学生中普及科学运动。在会议、最高级会议、讨论会平台上跟俄罗斯和外国公司雇主建立密切关系。
22.09.2020