Kazan Federal University. Acquaintance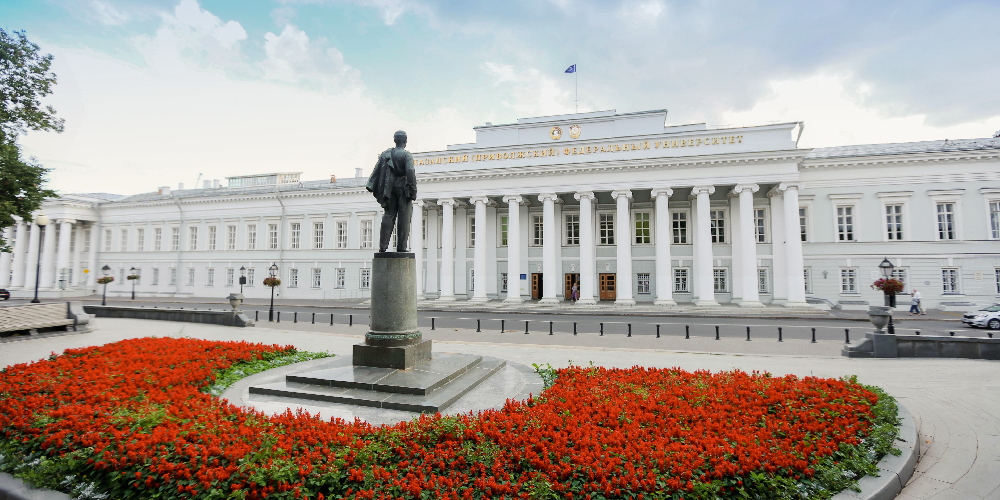 >150
research centers and world-class laboratories
>10,000
students from 101 countries
>150
research centers and world-class laboratories
>10,000
students from 101 countries
The university trains open-minded researchers, managers at different levels, top-class professionals for major corporations and industrial enterprises, banking and consulting organizations, venture companies and small business.
Leading Scientific Schools
Algebra
Astronomy
Geology
Linguistics
Microbiology
Resonance Properties of Condensed Media
Chemistry
Supplementary Education Programs
Special Russian language program
Individual study placement
Exchange programs
Summer and winter Russian language & culture schools
Tuition fee 1,700 — 5,000 USD
Achievements
The postgraduate student at the Institute of Chemistry Amine Khelkhal (Batna, Algeria), who won a KFU grant for international postgraduate students, is working on a thesis on non-conventional methods of oil field development "Kinetics of catalytic oxydation of heavy crude oils" and is helping Russia solve the problem of import substitution studying in-situ combustion processes and development of novel catalysts. Amine Khelkhal is not only pursuing his degree but also is engaged in the In-situ Combustion project of the Competitiveness Enhancement Program.
As I'm from Latin America, where it's always warm, it was a bit difficult for me to adapt to Russia, where the weather can be very unpredictable. But I got used to it bit by bit. Everything else is just excellent. I'm studying at the medical faculty of KFU, and I like my educational program. The university has good infrastructure, comfortable dormitories. The international student support service works very well, we always get all necessary information and assistance quickly. The university leads a very active life, students don't get bored during non-study time, and they are often offered free tickets to various entertainment events.
Pardo Quintero Luis Ricardo -
Colombia
1. Pre-University Training Program (10 Months) ≈ ₽ 116,000
5 Areas Of Study:
humanities
economics
natural sciences
engineering
medicine and biology
2. Oil And Gas Engineering (English-Taught Master's Program) ≈ ₽ 295,000 per year
Entrance Exams:
a test in the major subject and natural science subjects (in English)
an interview in English
3. Economics. International Business (Russian-English Bachelor's Program) / Double Degree KFU And London School Of Economics ≈ ₽ 197,000 per year
Entrance Exams:
mathematics
Russian language
social science
an interview in English
4. Digital Diplomacy (English-Taught Master's Program) ≈ ₽ 273,000 per year
Entrance Exams:
an oral exam
English language
5. Russia And Its Regions In The Sphere Of International Relations (Russian-Taught Bachelor's Program) ≈ ₽ 128,000 per year
Entrance Exams:
history
social science
Russian language
6. Data Science (English-Taught Master's Program) / Double Degree KFU And Shenzhen University ≈ ₽ 261,000 per year
Entrance Exams:
major subjects
English language
There were a few reasons why I chose Kazan Federal University. First, Leo Tolstoy and Vladimir Lenin, who are well known in China, studied here. Second, I found out on the KFU's official website that it's one of the best universities in Russia, and students live in the Universiade Village. The KFU teachers are very responsible. My fellow students are good-natured, always help and give tips if I don't understand something. In my free time I can take part in numerous events held by my university.
Preparatory School For International Students
Over 500 students
A wide range of pre-university training programs
4 Reasons To Say "yes"
High-quality teaching
A variety of courses
Comfortable living conditions
Security
Acting Dean of Preparatory School for International Students
Timirkhan B. Alishev
+7 843 292-26-23
TBAlishev@kpfu.ru
Five years ago I made an important decision to apply to a Russian university. I chose KFU. As I grew up in another country, my opinion of the university was based on articles and photos that I could found on the Internet. I remember that the university amazed me with its history, achievements, and a variety of areas and opportunities for self-fulfillment. KFU seemed so unapproachable then. But my dream came true, and I was admitted to the International Relations program. In the beginning, I had a hard time: I lived in a foreign country, far from my relatives, and felt the difference in the quality of education. I'm grateful to the university for those unique teachers who used their knowledge to encourage students to know more. They inspired me to overcome all difficulties and be persistent in achieving my goals. During my studies I greatly broadened my outlook, acquired two foreign languages, gained experience in international communication and made a lot of new friends. KFU is not just a university for me, it's part of my history and my personal evolution.
Olga Baklanova -
Kyrgyzstan
International Friendship Club
The People's Friendship Festival "Colours of the World at KFU": a futsal tournament and a relay race with elements of national sports; a photography exhibition dedicated to the near and far-abroad countries; a gala concert in the Small Hall in the Unics Cultural and Sports Center with a showcase of national souvenirs.
The Africa Day in KFU with the participation of African students from other Kazan universities. Every year international students and postgraduate students visit local museums, go on tours around the city and the republic – to Bolgary, Sviyazhsk, the Raifa Monastery, Lenino-Kokushkino, etc.
KFU SPE Student Chapter
Popularization of the scientific movement among students. Establishing close contacts with employers from Russian and foreign companies on the platforms of conferences, summits, and symposia.
22.09.2020