Ufa State Petroleum Technological University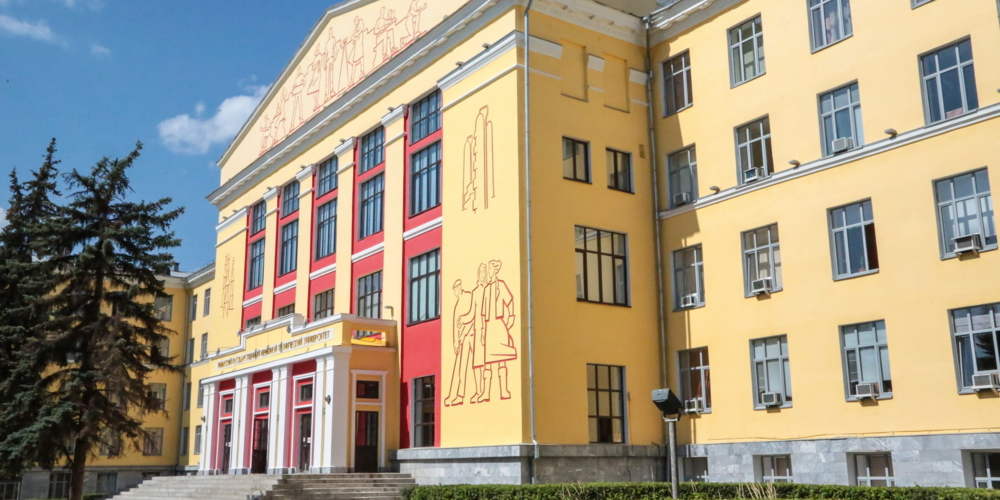 1,500
international students
1,500
international students
One of the leading technical universities in Russia, a flagship university of Gazprom and Sibur Holding, a strategic partner of Rosneft Oil Company.
Besides offering traditional engineering degrees, USPTU trains specialists in oil and gas technologies, chemical engineering, civil engineering, automation, as well as digital technologies, informatization, robotics.
Advantages
If you join USPTU, you will be able to undergo modular training at the top Russian and foreign universities as part of the academic mobility program in the following fields of study:
Petroleum Engineering
Automation of Technological Processes and Production
Applied Informatics
Technological Machines and Equipment
Chemical Engineering
Economics
Management
Tourism
Design
International student's guide
rusoil.net
VK – @ruoil
Telegram – @usptu_official
Tuition fees per year
Bachelor's programs 150,000 – 200,000 RUB
Master's programs 165,000 – 230,000 RUB
PhD programs 175,000 – 180,000 RUB
Only USPTU offers increased scholarships for first-year students in the amount of up to 10,000 RUB per month if they score 250 points and more in the Unified State Exams and to 25,000 RUB per month for winners and prize-winners of the Olympiads.
Also, first-year students from among winners and prize-winners of the Olympiads (enrolled without entrance exams) will be able to undertake study placements at top foreign and Russian universities!
Olympiads for getting into USPTU
Industry-specific Olympiad for school students "Gazprom"
Granite of Science Olympiad for school students
I am a Bachelor
USPTU-2022
Russian language school for foreign citizens
Russian as a foreign language
Business interaction strategies
Stylistics and literary editing
Public speaking art basics
Verbal communication
Duration 10 months
Tuition fee 109,200 RUB
Non-Academic Activities and Visa&Registration Support Office
Social and cultural adaptation of international students, their accommodation in USPTU dormitories
Invitations and visa support for international students
+7 347 260-57-21
interusptuvisa@mail.ru
Office of International Student Affairs
Choose a major
Institute of Architecture and Construction
State-funded places: 241 Fee-paying places: 170
It trains specialists in architecture, industrial and civil engineering, construction and operation of highways, intelligent systems in construction as well as processing equipment for transport systems.
Mining and Oil Faculty
State-funded places: 337 Fee-paying places: 305
It trains specialists in geology, geophysics, drilling, development, machines and equipment for oil, gas, gas condensate and oil and gas condensate fields, fire and industrial safety of fuel and energy facilities.
Institute of Digital Systems, Automation and Power Engineering
State-funded places: 245 Fee-paying places: 115
It trains professionals saving human labor at all work stages: from exploring fields to selling oil and gas refinery products; from electrical equipment efficiency calculations to software for financial and banking transactions.
Higher School of Information and Social Technologies
State-funded places: 62 Fee-paying places: 97
It trains specialists in applied informatics, social and cultural activities, public policy, and social sciences.
Ufa Higher School of Economics and Management
State-funded places: 48 Fee-paying places: 145
It trains specialists in economics, management, digital technologies for oil and gas companies, introduces new educational formats and develops business education.
Institute of Oil and Gas Business
State-funded places: 61 Fee-paying places: 255
It trains specialists in economics and management, advertising and public relations for fuel and energy enterprises.
Institute of Business Ecosystems and Creative Industries
State-funded places: 224 Fee-paying places: 540
It trains specialists for the regional economy, food and light industry, tourism, hotel business, design.
Faculty of Pipeline Transport
State-funded places: 178 Fee-paying places: 130
It trains specialists for the oil and gas pipeline transportation system; design and construction, operation and maintenance of oil and gas pipelines, oil storages and oil depots as well as industrial heat power engineering facilities.
Institute of Petroleum Engineering and Digital Technologies
State-funded places: 109 Fee-paying places: 140
It trains specialists responsible for operational stability of equipment for oil and gas fields, oil and gas processing enterprises, chemical industries.
Faculty of Technology
State-funded places: 359 Fee-paying places: 170
It trains personnel for oil refining and petrochemical enterprises, biotechnologists, ecologists, occupational safety and health specialists.
Choose majors according to entrance exams and Unified State Exam scores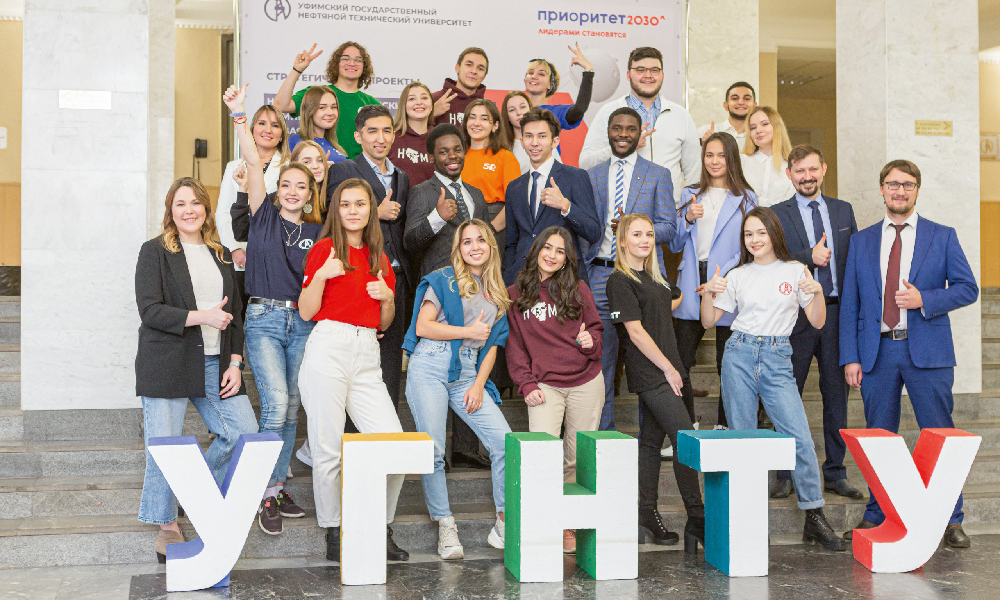 Campus
The campus dormitories have gyms and workout rooms, locker rooms, assembly halls, study rooms, laundry rooms with household washing machines. There are canteens, snack bars, and a shower pavilion on campus. The educational buildings, stadium and sports centers are within walking distance of the dormitories.
USPTU campus is highly praised and is frequently recognized as the best at the republican contest "For the Best Educational Work Practices and Social and Living Conditions of Student Accommodation in Dormitories."
International students hold master classes for school students of Ufa. For example, Tiwari Sidhant (the Petroleum University student and the head of the Foreign Languages Club of the Center for Cultural Development of Young People at USPTU) communicated with the senior high school students only in English. He told them about his studying at the university and his work at Nefteradio and the Foreign Languages Club in his study-free time. The guys curiously asked the student about his home country – India and his impressions of Ufa and Russia.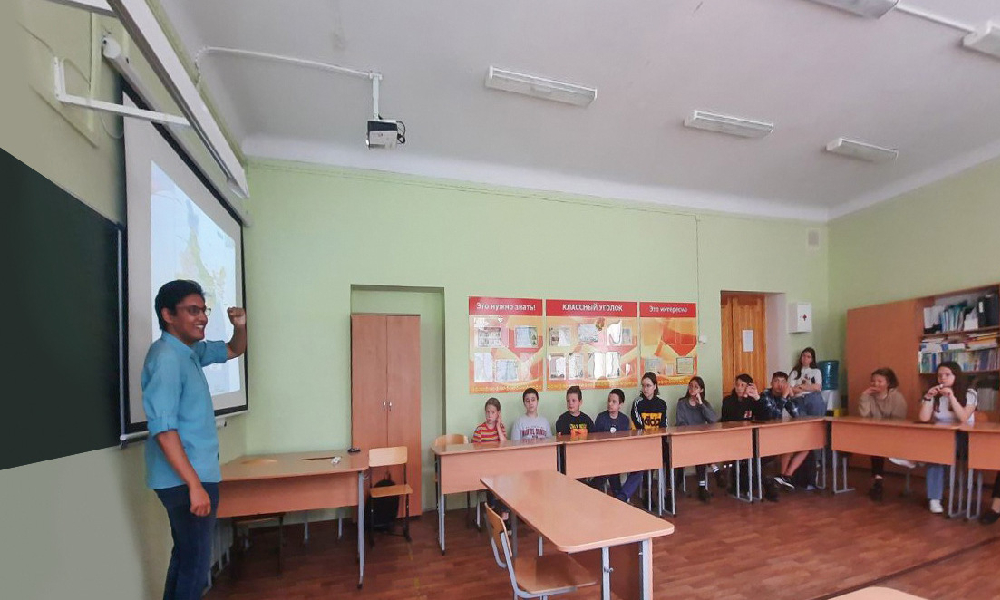 28.10.2022