Bachelor's program
Institute of Industrial Technologies and Engineering
Department of Oil and Gas Processing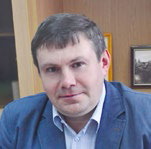 Andrei MOZYREV,
Head of the Department
Tel. +7 3452 28-36-07
E-mail: kpng@tyuiu.ru
Awards and achievements. Certificate of Professional-Public Accreditation, Gazprom Center for Planning and Use of Labor Resources, 07.25.2018. In 2016-2020, the program was recognized as the best educational program of innovative Russia.
Teaching staff. The educational process is carried out by one Professor, 11 Assistant Professors and one Senior Lecturer, Candidate of Sciences. Professionals in the oil and gas processing field are involved in teaching as well.
Facilities and resources. The laboratories of the Department are located at the Center for Advanced Research and Innovative Developments which is fitted with state-of-the-art equipment for educational and research activity. Partner companies were involved in the modernization of the laboratory equipment and creating a laboratory of processes and devices of oil and gas processing (RN-Yuganskneftegaz), laboratory of oil refining and petrochemical products (SIBUR Holding).
Research. The influence of the extraction depth of the target fraction on the indicators of the rectification process, improvement of the processes of field oil preparation, improvement of the physico-chemical properties of motor fuels, low-temperature properties of petroleum products and methods for their improvement.
Education. The program is aimed at acquiring knowledge and skills in the processes of oil and gas preparation and processing in order to create fuels, oils and a wide variety of organic and petrochemical synthesis products. Practical module learning format is implemented. As a result, graduates will be able to operate the most complex production technology and work at oil and gas processing enterprises and facilities for the production, transportation and sale of petroleum products.
Strategic partners. The Department implements network education as part of practical module learning in cooperation with Russian universities: Kazan National Research Engineering University and Tomsk State University. Partner companies: Gazprom Processing, SIBUR, Antipinskiy Oil Processing Plant, RN-Yuganskneftegaz, etc.
International projects and programs. In cooperation with Kyrgyz State Technical University named after I. Razzakov, the Department implements a double degree program.
Competitive advantages. Closest interaction of the students and the leading companies of the industry as part of practical module learning. Government and personal scholarships SiburTyumenGaz, LUKOIL, Transneft.