Stavropol State Agrarian University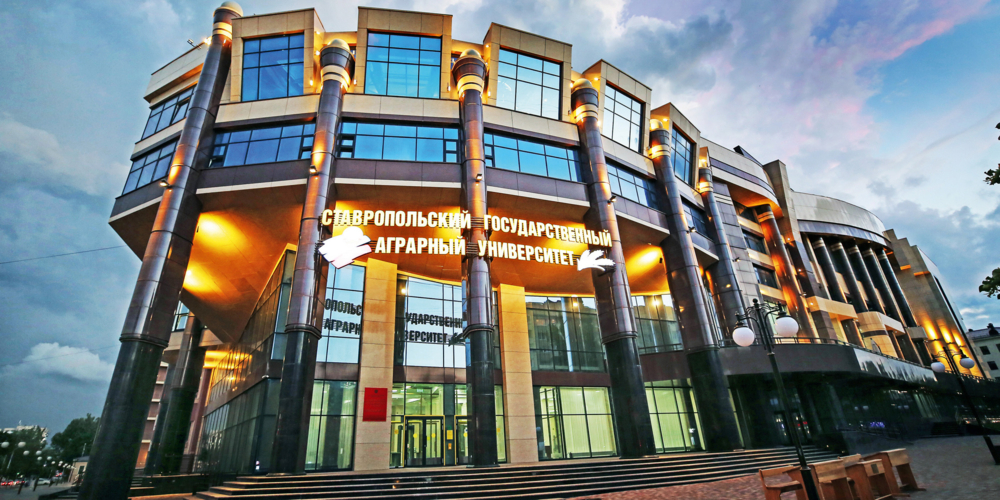 83
innovative laboratories and centers
240+
international students
83
innovative laboratories and centers
240+
international students
Stavropol State Agrarian University is a leading Russian center for higher education, culture and science. It carries out educational, research, consulting and instructional activities in the city.
400+ teachers, 92% of whom hold academic degrees, including 21.6% of Doctors of Sciences.
Faculties
Agricultural Biology and Land Resources
Veterinary Medicine
Socio-cultural Service and Tourism
Secondary Vocational Education
Ecology and Landscape Architecture
Biotechnology
Engineering and Technology
Economics
Electric Power Engineering
Accounting and Finance
www.stgau.ru
VK – @stgau1930
Telegram – @agrarian_university1930
Youtube – @stgau26
Tuition fees per year
Bachelor's programs 125,000 – 140,000 RUB
Master's programs 132,000 – 145,000 RUB
PhD programs 133,000 – 140,000 RUB
Why SSAU?
"Homelike" university that boasts cozy dormitories, close proximity to infrastructure, the university personnel's careful attitude
Cooperation with more than 130 leading universities in 45 countries
Short-term and long-term internships at partner universities
The opportunity to pursue double degree programs
The North Caucasus' only standardized TOEFL center and Chinese language center
Eventful student life
High employer demand for graduates
Stavropol State Agrarian University is Russia's only three-time holder of the Russian Government Quality Award. The university is a two-time winner of the all-Russian competition "Russian Organization of High Social Efficiency" with the highest award – Grand Prix.
The winner of EFQM Excellence Award 2016, the holder of Russian federal grants "Innovative Educational Project" and the strategic academic leadership program "Priority 2030." It is an affiliated member of the European Association of Establishments for Veterinary Education (EAEVE).
SSAU has experience in implementing 7 international projects under the Erasmus+ program
Admission Office
+7 8652 71-60-57
priem@stgau.ru
SVE Faculty
+7 8652 315-961
+7 8652 315-915
Hotline
8-800-300-69-90 Free call
Fields of study
Mathematics and Natural Sciences
Ecology and Natural Resource Management
Engineering, Technologies and Engineering Sciences
Information Systems and Technologies
Electric Power Engineering and Electrical Engineering
Land Planning and Cadastres
Technology of Food Production and Public Catering
Operation of Transport and Technological Machines and Complexes
Machinery and Equipment Service Management
Agriculture and Agricultural Sciences
Agronomy
Agricultural Engineering
Landscape Architecture
Technology of Production and Processing of Agricultural Products
Plant-based Food Products
Food Products of Animal Origin
Gardening
Veterinary and Sanitary Inspection
Veterinary Medicine
Animal Science
Social Sciences
Economics
Management
Economic Security
State and Municipal Management
Business Informatics
Service
Logistic Services Management Technologies and Transport Service
Tourism
Tour Operator and Travel Agency Activities
Tourism Planning and Development
Hotel Business
Service of Hotel and Restaurant, Sports and Entertainment Centers
Preparatory Department
The Russian as a Foreign Language program for international students wishing to continue their education in Russia by pursuing Bachelor's, Specialist's, Master's and PhD programs.
Duration: 9 months (October – June)
Study areas:
Engineering and Technology
Medicine and Biology
Economics and Humanities
Duration: 6 months (January – June)
Intensive course without special subjects
Tuition fee 90,000 RUB
You can get a state-funded place at the university as a compatriot or within the quota established by the Ministry of Science and Higher Education of Russia.
International students at the preparatory department are actively engaged in the university's student life, participating in holding festivals, competitions, master classes, meet-the-artist events. They go on city tours and trips around the Stavropol Territory and outside it.
Secretary's Department
Admission Office
16.02.2023