The Special African Issue Of The Higher Education Discovery Magazine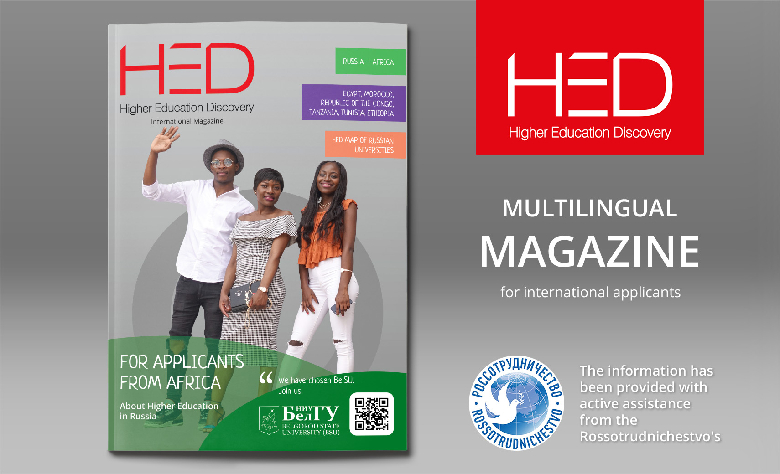 Featured sections
In the foreseeable future, Africa will become a territory with the largest number of school and university students in the world, and this projection makes the issue of high-quality training especially urgent. Experts describe Russian-African cooperation in education as "the beginning of a new Renaissance." This definition is also confirmed by the increasing numbers of free education quotas for African students at Russian universities, the increasing flow of applicants, and implementation of some new joint inter-country projects in education and science. Read more in the article "Africa: the Continent of the 21st Century …And Other Six Arguments for Partnerships".
Over the years, Rossotrudnichestvo has been making consistent efforts to develop cooperation in science and education and promote the Russian language and culture. The increase in the number of the Russian Government Scholarships allocated for African countries and a great number of eligible applicants per place confirm an extremely high demand for affordable and high-quality education. The Heads of the Rossotrudnichestvo Representative Offices in Egypt, Morocco, the Republic of the Congo, Tanzania, Tunisia, Ethiopia talk about the admission aspects for citizens of these countries.
The issue also contains the reviews of leading Russian universities such as Belgorod State University, Voronezh State Medical University named after N. N. Burdenko, Higher School of Economics in St. Petersburg, Kemerovo State Medical University, Professor V. F. Voino-Yasenetsky Krasnoyarsk State Medical University, Kuban State Medical University, Moscow State University of Technology "STANKIN", Omsk State Medical University, Emperor Alexander I St. Petersburg State Transport University, Pirogov Russian National Research Medical University, Saint Petersburg State University of Aerospace Instrumentation, Saint Petersburg State University of Civil Aviation, The Bonch-Bruevich Saint Petersburg State University of Telecommunications? Peter the Great St. Petersburg Polytechnic University, Siberian State Medical University? Ufa University of Science and Technology, Kadyrov Chechen State University, South Ural State University (National Research University).
27.10.2023