Russia At a Glance. Novorossiysk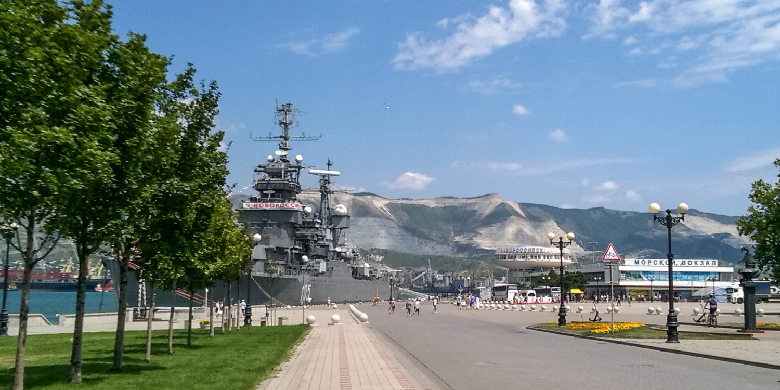 251,000
The population is 251,000 people
251,000
The population is 251,000 people
Novorossiysk is the largest Black Sea port in Russia, an important transportation hub, industrial center and picturesque resort. It is a part of the Krasnodar Territory. The city is located on the shore of the deep-water Tsemes Bay and surrounded by the North Caucasus mountains. The geographical location ensures a warm subtropical climate.
The first references to the settlements in the place of present-day Novorossiysk date to the 1st–3rd centuries AD. In different periods of history, the territory belonged to Ancient Greece and the Ottoman Empire. In 1829, according to the Treaty of Adrianople, Turkey ceded it to Russia. The convenient location at the confluence of trade routes has made Novorossiysk participate in numerous dramatic historic events.
Today it is a city with well-developed modern infrastructure and a lot of curious locations to visit and relax.
You can get from Moscow
By train, directly from Moscow to Novorossiysk
With transfers: by plane to the airports in Sochi or Mineralnye Vody and then by train or bus to Novorossiysk
Mikhail Kutuzov Museum Ship
The light gun cruiser under 68-bis project was set afloat on November 29, 1951. Until 1988, the cruiser was a part of the combat ships of the Black Sea Fleet, and it became a museum in 1998. Today the museum ship is open to the public. Anyone interested can take a walk along the deck of the ship that won honor in battle and has a remarkable history, look into the chief cabin and visit an exhibition dedicated to the events of the Second World War.
Yuri Gagarin Planetarium
The planetarium has been open to the public since 1961. It was named after the first man in space. Today at the planetarium you can look at the stars on the domical ceiling, visit the exhibitions of the interactive cosmonautics museum, and attend a wide variety of events held at the planetarium venues.
Reserve Museum of Regional Studies
The Novorossiysk Reserve Museum unites several cultural and historical objects and displays around 150,000 exhibits. The museum exhibitions tell us about the history, culture and nature of Novorossiysk as well as the history of the territory and everyday life of local residents in ancient times.
29.06.2023