Russia At a Glance. Pyatigorsk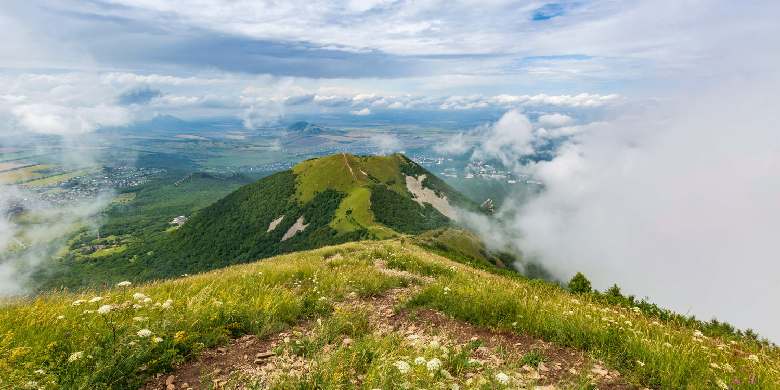 213,745
The population is 213,745 people
213,745
The population is 213,745 people
Pyatigorsk is the oldest spa and mud cure resort of federal importance in Russia located in the central part of Fore-Caucasus. The city was founded in 1780 as Konstantinovskaya fortress that was a part of the Azov-Mozdok system of defensive fortifications after the Russo-Turkish War. In 1803, Emperor Alexander I officially recognized the state significance of the Caucasian Spas region, and the famous resort began to develop.
Pyatigorsk is called a natural museum of mineral waters. More than 100 mineral springs with different chemical composition are used for curative and recreational purposes.
Today it is a scientific, cultural and tourist center with well-developed infrastructure and a great number of sights. The city has 18 universities and branches where around 20,000 students, including foreign citizens, are studying.
You can get from Moscow to Pyatigorsk by
Plane to Mineralnye Vody and then by bus. Time travel is 7 hours
Train. Time travel is 19 hours
Bus. Time travel is 20 hours
Mikhail Lermontov State Reserve Museum
The literary and memorial complex was created based on the house where Mikhail Lermontov spent the last months of his life. It is here that the poet's body was brought after the duel. The permanent exhibition of the museum consists of four parts: Lermontov House, Lermontov and the Caucasus, Mikhail Lermontov in Fine Arts, and Alyabyev's House.
Tsvetnik Park
The oldest park in the city was created in 1828 according to the drawings made by the architects, the Bernardazzi brothers, in the place of the wasteland near the Nicolaevsky baths. Today it consists of numerous picturesque alleys, bowers, grottos, architectural monuments and sculptures.
Cable Car to the Top of Mount Mashuk
Being a unique example of engineering thought, the cable car in Pyatigorsk is one of the most popular tourist attractions. From the top of Mount Mashuk, you can enjoy the breathtaking views of the city and its precincts and the Caucasus Mountain Range.
29.06.2023