Advantages Of Russian Education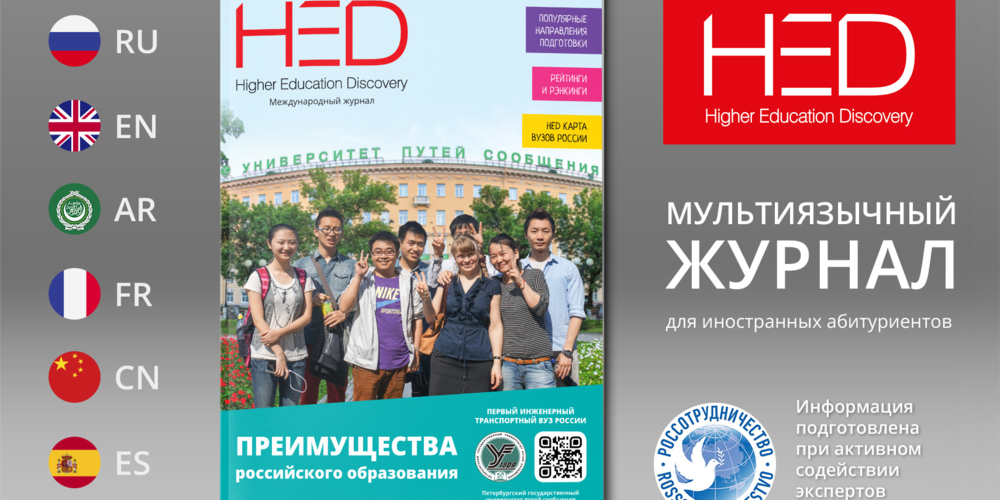 Coming to study at one of the Russian universities is a great opportunity to get an excellent education and become a top-ranked specialist. In the new issue of the international magazine Higher Education Discovery, the Rossotrudnichestvo experts talk about what makes Russian higher education attractive to international applicants.
According to various surveys, among the most obvious reasons are high-quality education, affordable tuition fees,or the opportunity to study for free within the quota, friendliness and empathy of fellow students andt eachers, Russia's rich culture and centuries-old traditions, well-developed urban infrastructure and beauties of nature.
The university's reputation and positions in important rankings is another key factor in the university choice. Most applicants and their parents are interested in this factor. You will find such information on the pages of the universities participating in the HED magazine. But what dothese figures mean to applicants?You will find an answer in our detailed reviewin the new issue.
The issue covers the Russian universities offering a wide variety of educational programs: Baltic State Technical University "Voenmeh" named after D. F. Ustinov, Vladivostok State University, Russian Foreign Trade Academy, Admiral Makarov State University of Maritime and Inland Shipping, Far Eastern State Medical University, Far Eastern State Transport University, Moscow Aviation Institute (National Research University), Omsk State Technical University, Emperor Alexander I St. Petersburg State Transport University, National University of Oil and Gas"Gubkin University" (National Research University), Pirogov Russian National Research Medical University, Saint Petersburg State University of Architecture and Civil Engineering, Saint Petersburg State University of Veterinary Medicine, Saint Petersburg State University of Civil Aviation, Saint Petersburg State University of Industrial Technologies and Design, Peter the Great St. Petersburg Polytechnic University, Northern (Arctic) Federal University named after M. V. Lomonosov, Derzhavin Tambov State University, Ural State Medical University, Ural State University of Economics, Kadyrov Chechen State University, and South Ural State University (National Research University).The universities prepared the application tips for you and the information about their admission regulations and study programs.
11.04.2023