Africa: the Continent of the 21st Century…And other six arguments for partnership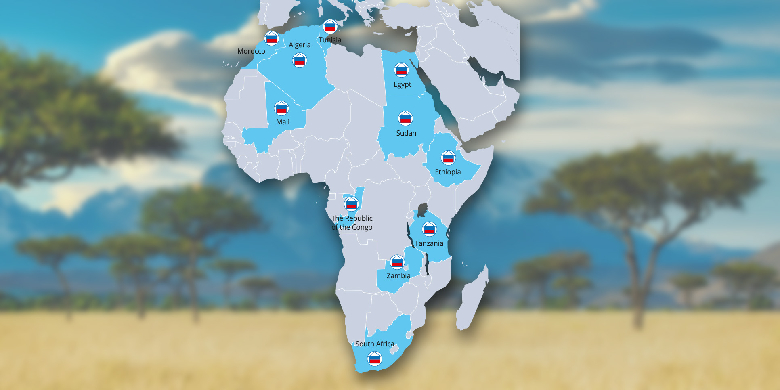 Africa has one-third of the whole world's mineral resources, almost one-fifth of Earth forests, and from 40% to 90% of the world's supply of non-ferrous and rare metals, without which modern high-tech manufacturing would be impossible. And yet, Africa is called "the continent of the 21st century" not only for its richest natural "depository." And not only for the quantum leap in economics taken the beginning of the 2000s by some African countries called "African lions" (by analogy to countries called "Asian tigers"). Africa is called "the continent of the future" for its enormous human potential. Around 1.4 billion people live in Africa even now, and the figures will be on the increase: they will reach 1.7 billion by 2030, and almost 40% of the world's population will live in Africa by 2100! For example, the Top 3 most populated cities of the Earth will be located here, in Africa: Lagos (Nigeria), Kinshasa (the Democratic Republic of the Congo), Dar es Salaam (Tanzania) by 2100, according to projections.
40% of the world's population will live in Africa by 2100
But the most important thing demography experts pay attention to is that Africa is continent № 1 by the number of young people today: out of 1.4 billion Africans, 60% are young people under 25.5. And such a trend will last for all the coming decades – Africa will become a territory with the largest number of school and university students in the world– young people who are open-minded, active, intellectually curious and ambitious… This will be facilitated by the most important strategic decision made in 2015 at the Pan-African Higher Education Summit. According to the long-term plan adopted at the summit, the percentage of coverage of the African population by higher education must increase from 8% to 50% by 2063.
Russia can make a great contribution to the achievement of the objective set by the African community, establishing and developing extensive partnership relations in higher education. We are sure that this partnership will bring fruitful results for all its participants. Here are but a few arguments and proofs:
1. Positive experience
Russia and African countries have developed positive long-standing traditions of cooperation in personnel training – more than 310,000 Africans have obtained their diplomas as qualified specialists at Soviet and Russian universities over the last six decades (the first African students came to the USSR at the end of the 1950s). Later, many of them occupied (and hold) important positions both in state and private corporate sectors in their home countries. In their turn, Russian universities have accumulated considerable methodological experience of organizing African students' studies taking into account the specific features of their languages and countries.
2. Growing confidence
According to the Ministry of Science and Higher Education of Russia, almost 35,000 students from African countries are studying at Russian universities today. Compared to the previous year, 2022, their number increased by 4,000, and it has increased threefold over 13 years.
Young people from 56 African countries study in Russia, with the biggest student communities from Egypt, Morocco, Nigeria, Algeria, and Zimbabwe.
3. The increase in the number of Russian quotas for African countries
More and more African students study at Russian universities for free within the special Russian Government quota for foreigners, which has been increasing steadily and consistently and will be on the increase in the future. So, 1,700 quota places were allocated in 2020 and 4,700 in 2023.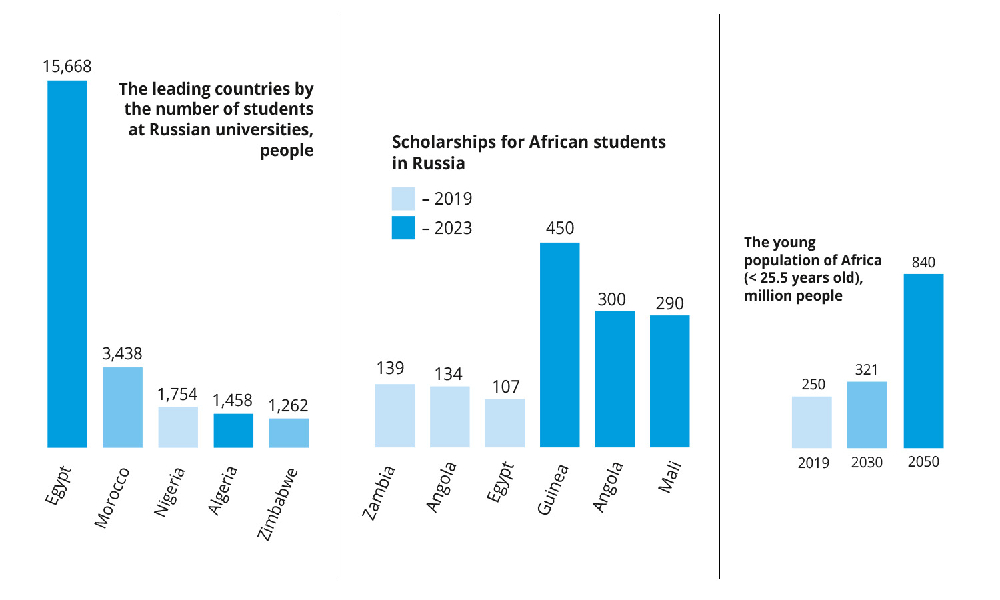 4. Reliable "cooperation operators"
Without exaggeration, that's exactly what we can call the "Russian Houses" – representative offices of the Russian Federal Agency "Rossotrudnichestvo" which is responsible for support and development of humanitarian cooperation between Russia and countries across the globe, including cooperation in higher education. Here, at the "Russian Houses", young Africans interested in studying the Russian language or studying at Russian universities, can always find all the useful information and get friendly assistance.
5. Popular educational programs
For African applicants, the most popular and sought-after fields of study at Russian universities are:
General Medicine – around 30% of Africans apply for medical specialties
Engineering degrees: oil and gas engineering, civil engineering, electric power engineering, electrical engineering as well as infocommunication technologies and communication systems – these fields of study are chosen by 20% of applicants from Africa
The fields of study in economics such as management and finance are also popular
Why has medicine become the most popular field of study among African students in Russia? In fact, medical education in Russia is one of the best in the world. Optimal tuition fees combined with high-quality teaching, advanced innovative fields of general medicine, the opportunities to receive practical training during studies, in particular, hone skills at medical universities' simulation centers – these strengths of higher medical education in Russia attract students from many countries.
35,000 students from 56 African countries are studying in Russia. Since 2010, the number of African students at Russian universities has increased threefold
6. Partnership at a "high level"
In general, experts describe Russian-African cooperation in education as "the beginning of a new Renaissance" today. This definition is also confirmed by the increasing numbers of free education quotas for African students at Russian universities, the increasing flow of applicants, and implementation of some new joint inter-country projects in education and science.
The Second Summit and the Economic and Humanitarian Forum "Russia – Africa" held in Russia in July 2023 has become a high-status official recognition of the importance of our relationships. Minister of Science and Higher Education of Russia Valery Falkov personally and rectors of the leading Russian universities took part in the Forum. Following the events, more than 160 cooperation agreements have been concluded, including 51 (the second place by number) in education and science!
Infographics sources: The report of the Valdai International Discussion Club "Russia and Africa: Audit of Relations" (July, 2023); A. Nefedova "Savanna of Heaven: Rossotrudnichestvo Establishes New Centers in Africa // Izvestiya newspaper (of November 7, 2022); minobrnauki.gov.ru
25.10.2023