Kuban State University. Enrollment Campaign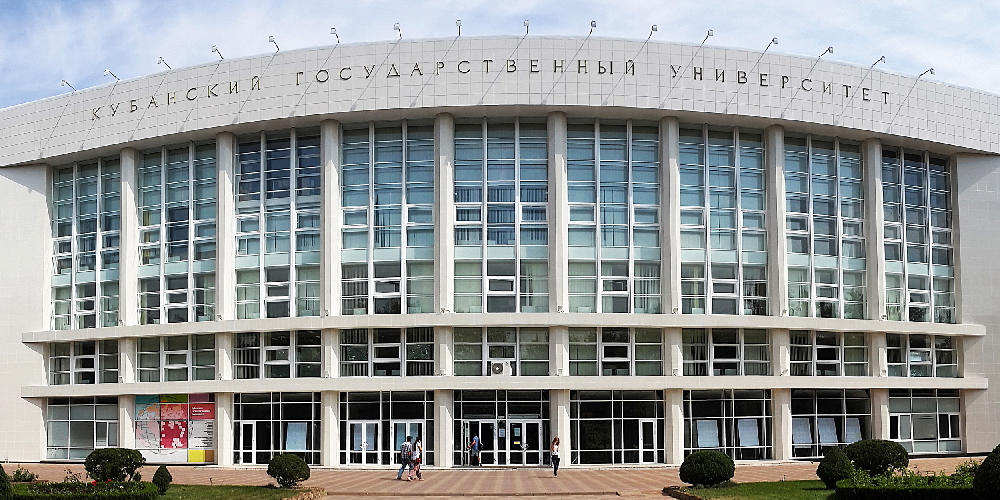 > 3,000
state-funded places
412
bachelor's and specialist's programs
15
secondary vocational education programs
> 1,200
international students from over 65 countries
> 3,000
state-funded places
412
bachelor's and specialist's programs
15
secondary vocational education programs
> 1,200
international students from over 65 countries
KubSU is a classical university that strikes a balance between natural sciences and humanities. Thanks to its educational success and achievements, research and educational activities, KubSU is rightfully considered one of the top universities in the south of Russia.
Founded in 1920.
Faculties and institutes
Faculty of Mathematics and Computer Sciences
Faculty of Computer Technology and Applied Mathematics
Faculty of Biology
Faculty of Chemistry and High Technologies
Faculty of Physics and Technology
Faculty of Economics
Faculty of Law
Faculty of Russian Philology
Faculty of Romance and Germanic Philology
Faculty of Journalism
Faculty of Art and Graphics
Faculty of Architecture and Design
Faculty of Management and Psychology
Faculty of Pedagogic, Psychology and Communication Science
Institute of Geography, Geology, Tourism and Service
Institute of Secondary Vocational Education
Institute of Retraining and Advanced Training
Preparatory department for foreign citizens
Duration of study – 1 year, 6 months, 1.5 years
Start – September 1 and February 1
End – June 30
Autumn semester
Intensive Russian language course
Spring semester (since January 10)
Russian language and major subjects:
Humanities: history, literature, geography, and informatics
Biology and Medicine: biology, chemistry, mathematics, informatics, and physics
Economics and Engineering: mathematics, physics, informatics, economics, and geography
Final exams – Russian language and major subjects
Summer and winter schools
Short-term Russian language courses
International affairs department
+7 861 219-95-34
interdep@kubsu.ru
149, Stavropolskaya St., Krasnodar, 350040, Russia
International applicants' documents are accepted in Office 103Н (entry through the Internet Center)
Admissions office
I came to KubSU in the 2019 autumn semester to take a one-year Russian language course. My study placement impressed me greatly. I'd like to thank all the teachers at the Department of Russian as a Foreign Language and administrators who made it possible for me to study here. Our classes met the highest standards, and the staff members of the International Relations Department were always helpful. What surprised me most was that the volunteers were assigned to all of us before our arrival. I remember discussing it with other international students, and we concluded that Russia is the most welcoming country. The volunteers showed us the best places in the city and acquainted us with the other university students.
Edward Laycock
University of Bristol, Great Britain
Bachelor's and specialist's programs
June 19 – July 12 acceptance of documents
July 24 the deadline for accepting documents from persons applying without internal entrance exams
July 13–25 internal entrance exams
July 30 orders for enrollment of persons applying for state-funded places without internal entrance exams
August 17 orders for enrollment in fee-paying places
June 21 – July 30 acceptance of documents (9.00 - 17.30, Sunday is a day off)
August 1 –15 internal entrance exams
Entrance exams (philosophy, special discipline) are held in Russian. The foreign language entrance exam is held in English, French or German.
Bachelor's and specialist's programs for foreign citizens and stateless persons
August 6 the deadline for accepting documents from persons applying for studies following the results of entrance exams
August 7–11 entrance exams
August 12 the lists of admitted students are published on the official KubSU website
August 14 the deadline for accepting enrollment consents
August 16 enrollment orders
June 19 – August 5 acceptance of documents
July 24 – August 9 internal entrance exams
August 13 orders for enrollment in state-funded places
August 18 orders for enrollment in fee-paying places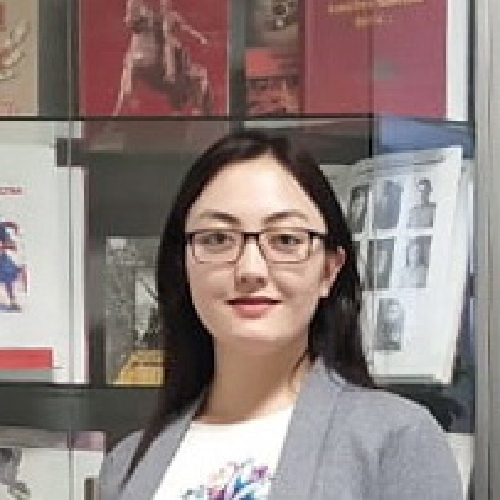 I'd like to express my gratitude to all the KubSU teachers for introducing a convenient distance learning mode for students in these challenging times. In the beginning, I felt a bit strange and had some technical problems, but over time, thanks to my teachers' support and help, I realized how convenient it is to study online. First, it saves time because we don't have to go to the university to attend classes. Second, we can develop our knowledge and skills in the up-to-date 21st century informational technologies. Summing up, I can say that my experience of studying at KubSU was very fulfilling and useful. I liked my teachers' professionalism and their efforts to find an individual approach to each student. I'd like to thank all my teachers for their work and the knowledge they share so generously.
Aisulu Maratova
Nukus State Pedagogical Institute, Uzbekistan
Joint international educational and scientific programs
HTW Berlin University of Applied Sciences, Germany. Economics/Management (Bachelor's programs)
Czech University of Life Sciences, Czech Republic. Economics and Management (Master's programs)
Accounting and Business School. Polytechnic Institute of Porto, Portugal. Economics and Management (Master's programs)
University of Bordeaux, France. The joint international thesis supervision agreement, two Candidate of Sciences (PhD) degrees are conferred
Laval University, Canada. The agreement on thesis preparation under the joint scientific supervision
Supplementary education program, WES, Germany. European Business School
International Graphics School
Russian and Mexican students and teachers' collaborate in the graphics workshops of the KuBSU's Faculty of Art and Graphics and Michoacan University of Saint Nicholas of Hidalgo in the Mexican city of Morelia.
Russian-French Laboratory "ION-Exchange Membranes And Processes"
Research is conducted jointly by KubSU, the Institute of General and Inorganic Chemistry of the Russian Academy of Sciences, the European Membrane Institute (EMI), and the Institute of Chemistry and Polymers of the University of Paris-Est.
International grant projects
The Erasmus+ program financed by the European Commission (academic mobility of students, postgraduate students, teachers, and staff members):
Lublin University of Technology, Poland
Škoda Auto University, Czech Republic
Open University of Cyprus, Cyprus
Aristotle University of Thessaloniki, Greece
University of Bristol, Great Britain
Polytechnic Institute of Porto, Portugal
Riga Technical University, Latvia
Saint Anthony Catholic University, Spain
RheinMain University of Applied Sciences, Germany
KubSU has the unique equipment for research on chemistry, physics, and biology.
Kuban's only Astrophysical optical observatory of KubSU is a research and education center for observing natural and artificial space objects. It is a part of the Department of Optoelectronics of the Faculty of Physics and Technology.
The observatory has the Southern Federal District (SFD)'s largest optronic automated telescope with mirror diameter 508 mm, and other optical instruments for positional observations of artificial Earth satellites, astrometric and astrophysical observations of small bodies in the Solar system (asteroids, comets, meteoroids).
KubSU graduates are specialists from over 120 countries.
KubSU career center
The Department for the Promotion of Employment and Employment of Students works for KubSU graduates! vk.com/public79101645
23.12.2020