Nizhny Novgorod State University of Architecture and Civil Engineering. Enrollment Campaign
scientific and pedagogical schools
international students from 25 countries
scientific and pedagogical schools
international students from 25 countries
One of the major Russian research centers in the field of architecture, urban development, construction science, and environmental engineering.
Founded in 1930.
A laureate and gold medalist of the European Quality contest in the Top 100 Universities in Russia category and the Top 100 Russian Scientific and Educational Institutions contest.
Many NNSUACE graduates work for administrative and government agencies, research, design and production organizations.
10 university buildings, 4 dormitories
The museums of history, paleontology, and mineralogy, the UNESCO Chair on Ecologically Safe Development of a Large Region – the Volga Basin
The health care center, the Chkalovets sports and recreation camp
Faculties And Institutes
Faculty of Civil Engineering
Institute of Business Technologies
Interdisciplinary Institute of Advanced Training and Retraining
Faculty of General Engineering
Faculty of Architecture and Design
Faculty of Environmental Engineering Systems and Structures
VK – @nngasu
Instagram – @nngasu_official
Facebook – @nngasu1930
Tuition fees per year (full-time studies)
Bachelor's and Specialist's programs 1,700 — 2,860 USD
Master's programs 1,820 — 3,120 USD
Postgraduate programs 2,290 — 2,450 USD
Achievements
Grants from the Russian President, the Ministry of Science and Higher Education of Russia, the Russian Foundation for Basic Research, the Russian Academy of Education, the Russian Academy of Architecture and Construction Sciences, the Russian Geographical Society, Nizhny Novgorod Region's science and technology grants
Scholarships from the Russian President, the Russian Government, the Nizhny Novgorod Mayor, K. Minin and D. Pozharsky scholarship, engineer A.I. Delvig scholarship, E.N. Pozdyshev scholarship, scholarships from Three Seasons Company Group and Teploenergo power company
Medals of international exhibitions, global fairs of innovations, research, and novel technologies
International Education And Cooperation Center
Director – Artem D. Krasnov
+7 831 433-33-70
iro@nngasu.ru
I'm a first-year student at the Faculty of General Engineering. When I had to decide on a country to get my degree in, I chose Russia. It wasn't a difficult choice for me to make because I was interested in Russian history, particularly, history of great battles it took part in. I knew that Russia is one of the global leaders and boasts an excellent education system. I greatly appreciated this country and keep on doing it now. Choosing a university, I opted for NNSUACE as I want to become a civil engineer. NNSUACE is a university with a good reputation. It is located in the big beautiful city of Nizhny Novgorod. I'm happy to have chosen Russia. It's not very easy to study at NNSUACE. But it gives not only a good education but also a great life experience. I wish everyone, who wants to study in Russia, good health, courage, wisdom, and success. And I'd like to advise all young people to think carefully before choosing the country and the university meeting your interests and ambitions.
Daniel Prince Chinga Chinga -
Gabon
Bachelor's and specialist's programs
June 19 NNSUACE starts accepting documents
July 7 the deadline for accepting documents from persons applying for studies following the results of additional entrance exams (creativity exams and professional exams)
The deadline for accepting documents from persons applying for studies following the results of other internal entrance exams
July 14 state-funded places
August 10 fee-paying places
The deadline for taking internal entrance exams and accepting documents from persons applying for studies without entrance exams
July 25 state-funded places
August 20 fee-paying places
Orders for enrollment in state-funded places
July 30 the stage of priority enrollment
August 5 the main stage of enrollment
August 21–28 orders for enrollment in fee-paying places
July 1 – August 7 acceptance of documents
August 16 the deadline for taking internal entrance exams
Orders for enrollment in state-funded places
August 19 the stage of priority enrollment
August 20 the main stage of enrollment
August 26 orders for enrollment in fee-paying places
July 2 – September 10 acceptance of documents
September 13–24 entrance exams
Enrollment orders
September 29 the stage of priority enrollment
October 1 fee-paying and state-funded places
In the academic year 2021/2022, 10 state-funded places will be allocated within the Russian Government quota for international students to study full-time in Russian-taught Bachelor's and Master's programs in Architecture and Civil Engineering. Foreign citizens who got the Russian Government scholarship are admitted to NNSUACE without entrance exams.
How To Submit Documents
Using Applicant's Personal Account
In person, to the Admissions Office address
Via Russian post to the Admissions Office address
Via the State Services portal
Admissions Office
+7 831 430-54-97
+7 831 280-84-45
priem@nngasu.ru
65, Ilinskaya st., Nizhny Novgorod, 603950, Russia
Popular Fields Of Study
Civil Engineering
Architecture
Ecology and Environmental Management
Architectural Space Design
Information Systems and Technologies
Applied Informatics
Software Engineering
Heat Power Engineering and Heating Technologies
Technosphere Safety
Land Planning and Cadastres
Geodesy and Remote Sensing
Standardization and Metrology
Innovation Studies
Landscape Architecture
Reconstruction and Restoration of Architectural Heritage
English-Taught Program
Bachelor's program in Architecture
Academic Mobility Programs
Annual summer school "Doing business in Russia"
Lectures and master classes from the best teachers of foreign partner universities
Short-term study visits to Germany and the Netherlands, 2 weeks
One-semester study abroad placement, 6 months
Industrial work placement abroad, 1-3 months
Participation in international educational, scientific, and research projects
Participation in international conferences and seminars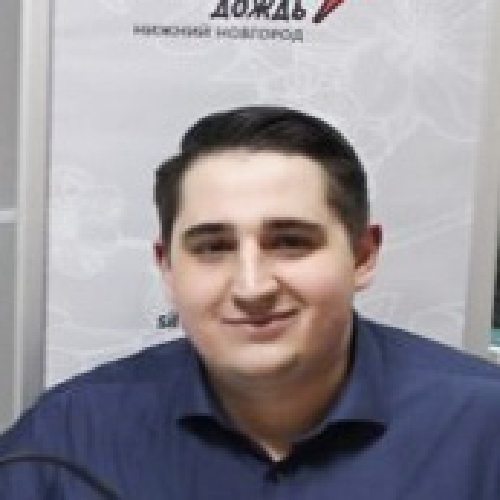 I'm a fifth-year student at the Faculty of Architecture and Design and deputy chairman of the NNSUACE's Student Council. We hold plenty of interesting events such as Battle of Faculties, Freshman Day, Autumn Debuts, the Student Project Fair, and other events. In their spare time, international students attend classes at the vocal and dance studios, communicate in special interest clubs, have ample opportunities for doing sports. Student life at NNSUACE is exciting and interesting. Join us! We'll be so happy to have you here!
Milad Al Rawashdeh -
Jordan
Pre-University Training For Foreign Citizens
Engineering and technology study programs: the Russian language and general scientific disciplines in Russian.
A certificate confirming your successful completion of the program.
Duration 7–9 months
Tuition fees
930 $ Civil Engineering
1,060 $ Architecture
Students have an opportunity to do research and take part in various educational and cultural events.