Orenburg State University. Acquaintance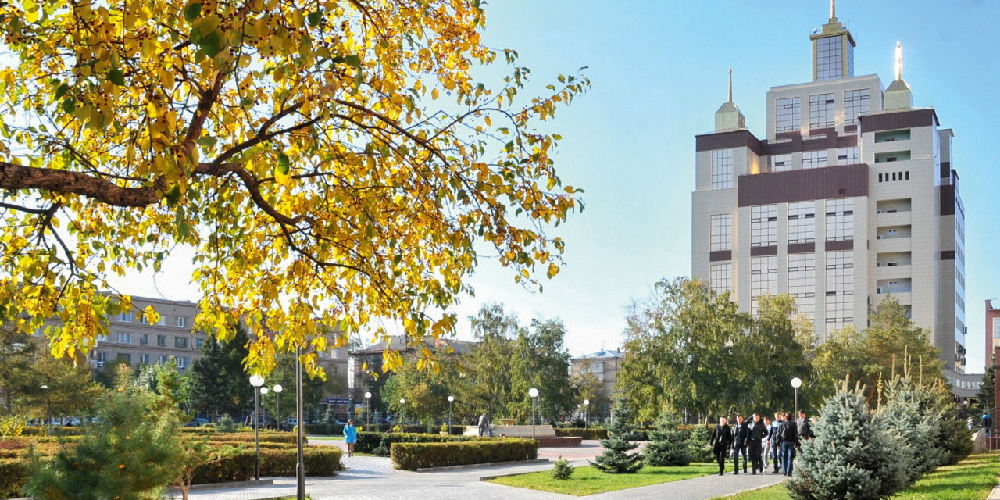 11
research and education centers
11
research and education centers
The university trains professionals in relevant areas of activity who are able to implement innovative ideas and technologies.
It is ranked among top universities for engineering, economics and law by graduate salary.
Founded in 1955.
The university provides staffing, innovation and technology support for priority development areas such as machine building, civil engineering, biotechnologies, power engineering, IT and nanotechnologies, manufacturing of hi-tech equipment and mechatronic facilities, road and bridge construction, food industry, transport, oil and gas geology, pedagogy, and many others.
14 academic buildings, 7 comfortable dormitories
6 language centers, a history museum, a planetarium, a botanical garden, an experimental biological clinic
17 sports clubs, the Penguin Sports Center
25 performance groups, clubs and studios, Students' Cultural Center "Russia"
Faculty Of Public Professions. It offers extra creativity training programs at the theater school, the departments of vocalism, dancing, circus, and the model`s school. Students perform at the largest festival venues in Russia and abroad.
Tuition fee
104,000 — 203,000 RUB
Up to 80% of study time is spent on interactive forms and methods of study.
In 2019, 17 projects of Orenburg State University won the competition for regional grants in various realms of science such as physics, chemistry, biology, psychology, mathematics, computer science, etc. Scientists, postgraduate students and students of OSU got 50,000 — 5 million rubles for the implementation of their projects.
1,000
international students from 20 countries
30
secondary vocational education programs
93
continuing professional education programs
1,000
international students from 20 countries
30
secondary vocational education programs
93
continuing professional education programs
Popular Fields Of Study
Architecture and Civil Engineering
Electric Power Engineering and Electrical Engineering
Aircraft Engineering
Economics
Management
Journalism
Psychology
Sociology
Advertising and Public Relations
Bioengineering and Bioinformatics
It's been my privilege to work at OSU as a visiting lecturer since 2003. Each June, I look forward to visiting the university not just for sharing my knowledge of American English, education system and culture, but also because I want to keep up my acquaintance with Russia. For me, it's important to be a kind of the USA ambassador and have a chance to tell Americans about "real Russia," when I come home. Each student and colleague that I've met in OSU is experienced, professional and ready for communication and learning. Orenburg has become my second home, I have a lot of friends and colleagues here. Together, we'll be able to build a bridge to mutual understanding that will help break any stereotypes existing in both countries today.
Double Degree Programs
Bachelor's programs
Building Services (Civil Engineering, major: Heat and Gas Supply and Ventilation), Environmental Protection (Environmental Studies and Natural Resources Management), Logistics Engineering (Technology of Transport Processes)
XAMK Open University of Applied Sciences, Finland
Exchange Programs
20 English-taught programs including Information Technologies for Business, Civil Engineering, Information and Communication Technologies, Machine Building, and Production Engineering
XAMK Open University of Applied Sciences, Finland
HUSA (Hiroshima University Study Abroad) Program
Hiroshima University, Japan
One-semester exchange programs
Leipzig University of Applied Sciences, Germany
I studied at OSU as part of the Russian as a Foreign Language exchange program. Before I arrived in Russia, my Russian had been very poor. But the teachers were very amiable and helped me cope with this problem. I studied the language for half a year and at the end of my studies I passed my B1 exam. Also, I became more independent and self-confident. I'm really happy and can recommend this program to everyone who wants to master Russian. Besides, I visited German Language Center where I often attended lectures and even acted in a play in German.
International Summer School "Modern Russian Science And Culture"
lectures in English on everything about the Orenburg Region, practical classes in various disciplines
lessons of Russian as a foreign language
an interesting and diversified cultural program
Preparatory Russian language courses for foreign citizens in small groups (3-5 students) and individually.
Center For Slavic Languages And Cultures
Natalia M. Dmitriyeva
+7 922 555 74-12
+7 951 031-93-52
orencentrslav@yandex.ru
I had been dreaming of studying abroad since childhood, and I'd like to thank OSU for making my dream come true. I have to say that it was hard for me to get accustomed to my new life. But OSU boasts excellent teachers, friendly and sympathetic staff of the Foreign Citizens Office, smart, talented and hardworking students. All of them helped me with advice, shared their textbooks and lecture notes. During my studies at OSU I familiarized myself with various cultures, languages and traditions. This changed my view of life. And I'm happy that I can take part in various cultural events, not just attend classes. Also, I visited the university forensics lab. The university provides plenty of opportunities for our life and studies! I'd like to say that I was right to choose OSU. I got knowledge and invaluable experience and made new friends.
22.09.2020