Higher Education Discovery Magazine Presented at the Forum of Graduates of Soviet and Russian Universities in Hanoi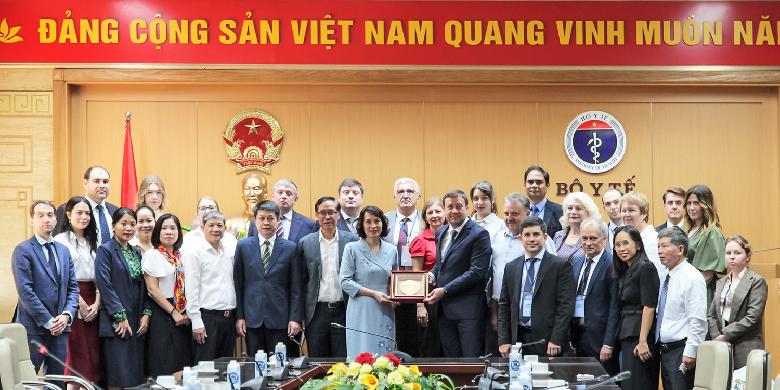 The Forum of International Graduates of Soviet and Russian Universities – Representatives of the Systems of Education and Healthcare of Asian Countries took place in Hanoi (Vietnam) on October 3-4.
The first multilingual magazine about education in Russia for international applicants, Higher Education Discovery, was presented to the guests of the event. The printed editions in Russian, English, Mongolian, and Vietnamese were at their disposal.
We organized a streaming of the electronic HED magazine in Vietnamese, and everyone interested could use a QR code to read the articles in English on the official website of the magazine.
The Forum brought together more than 150 participants, including the heads and staff members of higher education institutions, representatives of ministries and government agencies as well as associations of graduates of Vietnam, India, China, Indonesia, Laos, Malaysia, Mongolia, Pakistan, and other states of the region.
The event was held to develop cooperation with the national associations of graduates as well as to expand the Russian educational environment and scientific cooperation, and to further strengthen the position of the Russian language abroad as part of the state program of the Russian Federation "Development of Education."
At the official opening ceremony, welcoming remarks were made by Ambassador of Russia to Vietnam Gennady Bezdetko, Deputy Chairperson of the Committee on Culture and Education of the National Assembly of the Socialist Republic of Vietnam Nguyen Cong Shi, Deputy Minister of Health of the Socialist Republic of Vietnam Nguyen Thi Lien Huong, Deputy Head of Rossotrudnichestvo Pavel Shevtsov, Head of the International Cooperation Department of the Ministry of Education and Personnel Training Pham Quang Hung, Chairman of the Association of Vietnamese Graduates of Soviet and Russian Universities (VINAKORVUZ) Chan Dinh Long.
12.10.2023