Accreditation in Education company (Russia) conducted the webinar under the aegis of the Asia-Pacific Quality Network (APQN) on July 02, 2019. The theme of the webinar was "Internationalization of higher education. Cooperation with quality assurance networks and agencies. Acquaintance with HEIs of Russia and other CIS countries. Development of inter-university partnership."
The webinar brought together the participants from Russia, China, Armenia, Belarus, Brazil, Moldova, Kazakhstan, Kyrgyzstan, Tajikistan: over 30 representatives of the professional community and 13 experts as speakers.
---
After the welcome speech from the organizers, APQN President Jianxin Zhang spoke about the APQN-IQAAHE joint online survey on international accreditation conducted in 2018 to explore the status and trends of both internal and external HE quality assurance in the Asia-Pacific Region. She also focused on the Asia-Pacific Quality Label (APQL) on Internationalization Accreditation, its purposes, criteria and indicators.
Galina Motova highlighted international accreditation as a tool for enhancing HEIs` competitiveness, internationalization and export potential. She talked about international activities of the National Centre for Public Accreditation (NCPA) (its membership in international associations and organizations, cooperation agreements with foreign agencies, procedures of joint accreditation with Chinese and European quality assurance agencies, accreditations carried out abroad).
Nurgul Kydyrmina presented the policy and areas of activity of the Independent Agency for Accreditation and Rating (IAAR) in the sphere of quality assurance both at national and global levels, dwelling on the agency's international recognition and its relations with foreign partners. Ms Kydyrmina invited the webinar participants to take part in the III Central Asian International Forum on Quality Assurance in Education to be held under the aegis of IAAR in Turkestan on October 4-5, 2019. The purpose of the forum is to create an international communication platform for discussing and sharing best practices in the field of the quality assurance system development, accreditation and ranking research, for expanding cooperation with international networks and agencies that contribute to the development of quality culture and the professional community for external evaluation.
The forum will bring together representatives of ministries of education and science of Kazakhstan, Russia, Kyrgyzstan, Tajikistan, Georgia, Uzbekistan, international European networks for quality assurance in higher education, foreign accreditation bodies, international educational organizations, Kazakhstani and foreign universities, employers and students.
Asia-Pacific Quality Network (APQN) is one of the most active and ambitious international organizations in the sphere of quality assurance. APQN comprises over 40 countries with extremely diverse cultures, economies and political systems. It is aimed at overcoming these differences and uniting countries to achieve the common goal - to develop the potential of the region.
Elena Petrov spoke about characteristics and peculiarities of the external quality assurance system in Moldova. Lioudmila Batourina presented the system of higher education in Brazil with an emphasis on accreditation and evaluation processes.
Ekaterina Shigapova introduced the EDU Atmosphere Recruitment and Consulting Center aimed at promoting Russian higher education in the global educational space and providing practical assistance to educational institutions from various countries in developing their export potential and in searching for partners and associates for the implementation of academic projects and initiatives. EDU Atmoshpere carries out its activities on Higher Education Discovery (HED) media platform for the development of international education partnership HEDCLUB.com.
The representatives of Russian and CIS universities also took part in the webinar and familiarized other participants with their HEIs' international activities and the potential for cooperation.
Tver State University is one of the oldest, largest and most innovative universities in the Upper Volga region. It cooperates with over 20 partner universities from Finland, Germany, France, Belgium, Great Britain, Bulgaria, Poland, China and others and participates in more than 15 student and staff exchange programs. The university has the Department of Russian Language for Foreigners that provides a preparatory course, short-term and long-term courses, summer schools, individual programs, a teacher's training program.
Naberezhnye Chelny State Pedagogical University maintains partnership relations with the universities from 15 countries and implements international mobility grants such as Erasmus and DAAD grants. Kazan State Agrarian University is a large education and research center that conducts research in numerous areas of biotechnology.
Ivanovo State Power Engineering University has the Faculty for International Students that offers a preparatory Russian language course for foreign citizens who wish to pursue their studies at the university. It implements Master's programs in English, the double degree program in Mechanics, Microtechnology, Electronics and Automation in partnership with Ecole Nationale Supérieure de Mécanique et des Microtechniques, Besancon, France; the joint Master's program in Mechatronics (EU4M Master's in Mechatronics Erasmus +) in cooperation by five universities in France, Germany, Spain, Russia and Egypt.
The EDU Atmosphere Recruitment and Consulting Center is aimed at promoting
Russian higher education
in the global educational space and providing practical assistance to educational institutions from various countries in developing their export potential and in searching for partners and associates for the implementation of academic projects and initiatives.
Voronezh State Institute of Physical Education develops the priority areas of education export including educational programs in Russian for foreign students and preparatory programs. The institute intends to expand its presence in the CIS countries, Europe, Asia, and the Near East. It is open to collaboration with quality assurance agencies for organizing a foreign student enrollment campaign, participating in international recruitment fairs, conducting international (joint) accreditation, developing cooperation in education and research with foreign universities, scientific centers, foundations, etc., publishing articles in international mass media.
Kazan Innovative University named after V.G. Timiryasov is a big scientific and educational cluster. It strengthens international cooperation offering the Russian language preparatory program, double degree programs, English-taught Master's degree programs, national and international projects aimed at promoting the Russian language. It closely collaborates with educational organizations from Africa, Latin America, India.
Korkyt Ata Kyzylorda State University is one of the best-renowned regional universities in Kazakhstan. Nowadays it has established partnership relations with universities and leading research centers, foundations and public organizations of the USA, Canada, Great Britain, China, Egypt, India, Korea, Turkey, Austria, Germany, Italy, France, Poland, Spain, Belgium, Lithuania, Hungary, Bulgaria, Portugal, Saudi Arabia, Russia, Ukraine, Tajikistan, Kyrgyzstan, Uzbekistan, and Azerbaijan. More than 110 agreements and memoranda in the field of education, science, culture and technology have been signed and implemented. The university develops joint educational programs, double degree programs, interdisciplinary and multilingual educational programs. The scientists of the university have enormous research potential for accomplishing various international projects.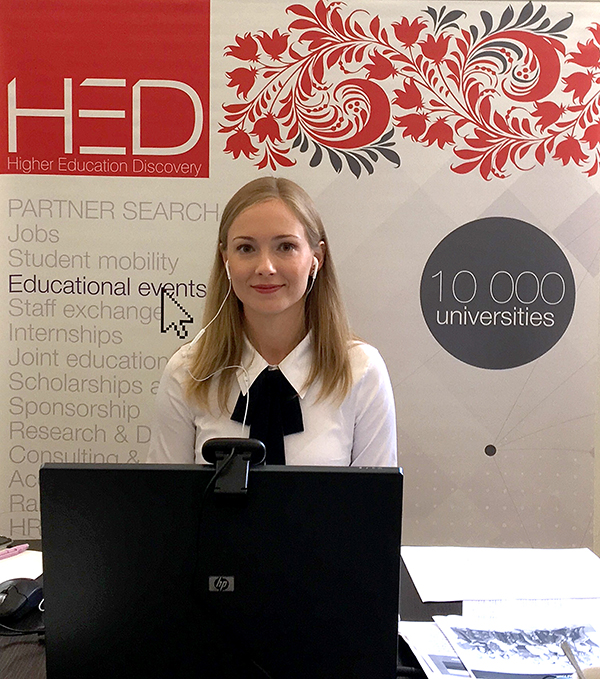 The webinar organizer Accreditation in Education company welcomes APQN members to join EDU Atmosphere to make use of the following services provided by the center: information support; recruiting; audit and consulting; international accreditation; communicative mediation, and invites them to paticipate in the next webinar to be held on October 1, 2019.