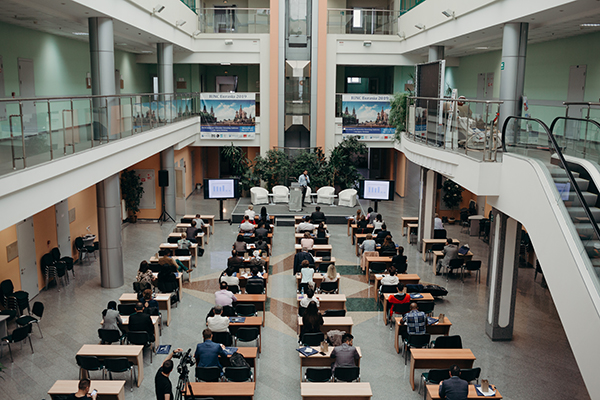 The 8th Annual International Universities Networking Conference (IUNC Eurasia 2019) + Edu Agency Workshop, devoted to cooperation with universities of Russia and the CIS countries, took place in Moscow, Russia on May 13-16, 2019. The event was attended by about 200 participants from 33 countries, including the CIS and BRICS countries.
---
The main theme of IUNC Eurasia 2019 was "Internationalization via Local Partnerships and Global Cooperation." The representatives of universities, authorities, recruitment agencies from all continents met at the conference center of State University of Management to discuss inter-university cooperation, academic mobility, joint educational programs and recent trends in international higher education, recruitment of foreign students, and overseas experience of students and teachers.
The conference program consisted of speeches of the world's leading experts in the field of internationalization, reviews of the regional higher education markets, panel sessions, workshops, discussions as well as a series of business meetings (one-to-one appointments), and the cultural program.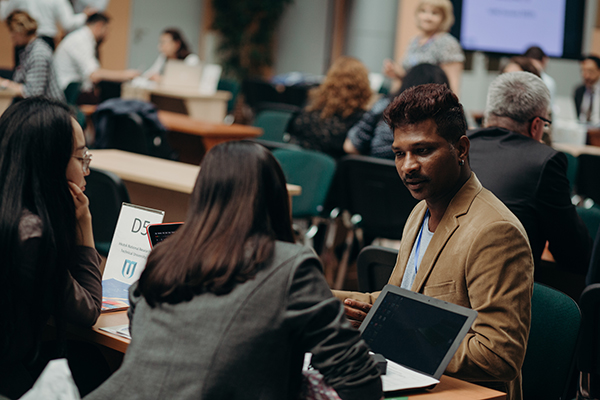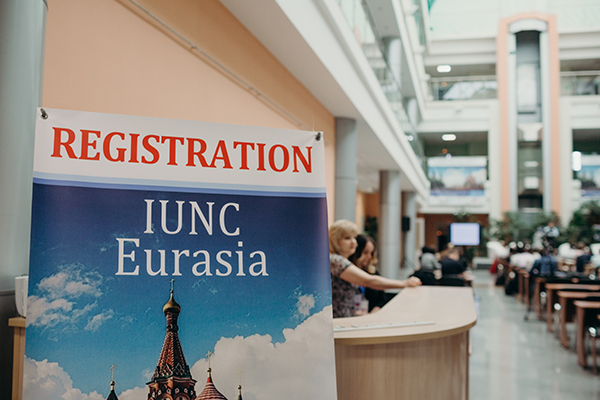 The Third Annual BRICS HigherEd Cooperation Forum was held as part of the conference. The representatives of all BRICS countries discussed the opportunities and prospects for expanding cooperation between educational institutions within the BRICS group, including teaching staff mobility development. Indian and Chinese universities showed special interest in teachers from Russia and offered them some temporary job opportunities. The internationalization of the faculty experience and immersion in a foreign educational environment can have a significant impact on the teaching in general, opening new opportunities and providing motivation for both students and teachers.
Higher Education Discovery project, initiated by the leading Russian company Accreditation in Education which specializes in information support of educational projects, was also represented at the conference. Irina Yaranova, HED project coordinator, presented the report "The Paradoxes of Informational Transparency of the Education System at National and International Levels." It focused on the close interrelation between internationalization of higher education and HEI's information activity, which is well illustrated by the practice of Accreditation in Education company that explores information activity of Russian HEIs at four levels as part of annual Russian projects (a corporate level - HEI's Press Service project, regional and federal levels - MEDIAactivity of Russian HEIs project, and an international level - Internationally Transparent HEI. International Level media project which includes self-eva­luation of university staff's personal competencies and international services' performance as well as external evaluation conducted by international experts). When the company compared the list of finalists of its projects with the data provided by the Ministry of Education and Science on education export at Russian universities, it turned out that almost all finalists, i.e. educational institutions with a high level of information activity, were also included in Top 100 Russian universities by the number of foreign students.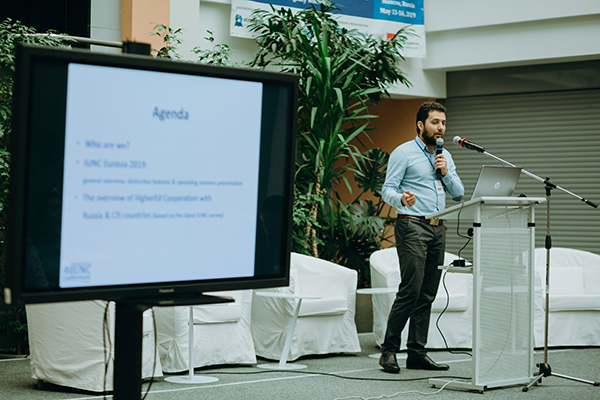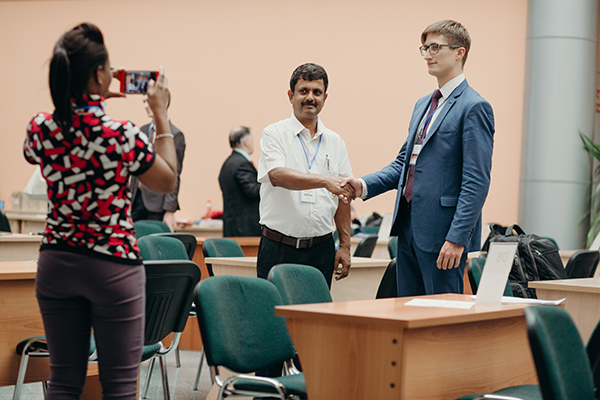 To avoid transformation of informational transparency into its imitation, HEIs should ensure that all components of their information policy are effective, e.g. intra-university communications, rector's media activity, HEI's international service website, etc.
Irina Yaranova also dwelt on the latest international project of Accreditation in Education company. To support the processes of internationalization in higher education, the company has established the EDU Atmosphere Recruitment and Consulting Center which is negotiating partnerships with the relevant organizations from 44 countries.
As part of IUNC Eurasia 2019 the EEUA Award Ceremony was also held to honor the winners of the third annual competition for universities in the field of internationalization of higher education in Russia and the CIS. The award was established by the Eastern European University Association in 2017. The competition was supported by the Russian International Affairs Council, the Ministry of Education and Science of Kazakhstan, leading federal and sectoral mass media, international higher education experts.
Expert Jury of EEUA 2019 Award
In 2019 the Organizing Committee received over 50 applications from the universities of Russia, Kazakhstan, Azerbaijan, Armenia, Uzbekistan, Kyrgyzstan, and Belarus. The jury had a challenging task to evaluate the projects, each of which was interesting and unusual and was implemented in the unique environment of a particular university. All jury members noted that international departments' staff were creative and smart, had a high level of professionalism, an ability to hold their own, reach a compromise and act under conditions of limited resources.
IUNC Eurasia 2019 brought together participants from Russia and CIS countries, as well as India, Brazil, China, Switzerland, UK, Hungary, Sweden, Jordan, Pakistan, Turkey, Germany, Argentina, Ecuador, Iraq, Kurdistan, Nepal, Nigeria, Ghana, Uganda, Cyprus, Tunisia, and other countries.
At the award ceremony the EEUA Award statuettes and diplomas were solemnly awarded to all the winners. The award was given in 11 categories, and the special prize was also awarded.
The jury members and contestants talked about the importance of internationalization to universities of Russia and other CIS countries and the role of international relations experts in this process. It is important and essential that we positively evaluate experts' activities and give credit for their achievements, appreciate their emotional contribution and everyday work as well as encourage them to take initiative, motivate them and create a favorable environment for their professional development. Russia and other CIS countries must take such measures for successful integration into the global educational space.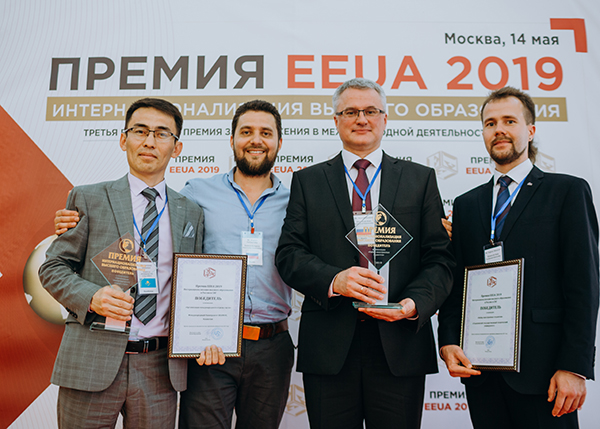 The list of EEUA 2019 Award winners:
1. Category: Involvement of International Students in Extracurricular Activities at University
Winner: Immanuel Kant Baltic Federal University (Russia)
2. Category: Internationalization of Study Programs
Winner: Peter the Great St. Petersburg Polytechnic University (Russia)
3. Category: International Student Recruitment
Winner: Ulyanovsk State Technical University (Russia)
4. Category: International Reputation of University
Winner: Peter the Great St. Petersburg Polytechnic University (Russia)
5. Category: Student and Teacher Mobility
Winner: Russian State University for the Humanities (Russia)
6. Category: Establishment of International Department from Scratch
Winner: SILKWAY International University (Kazakhstan)
7. Category: Original Project
Winner: Russian State Agrarian University - Moscow Timiryazev Agricultural Academy (Russia)
8. Category: Development of Inter-University Cooperation
Winner: Tomsk State University of Architecture and Building (Russia)
9. Category: Campus of My Dream
Winner: Derzhavin Tambov State University (Russia)
10. Category: Personal Contribution
Winners: Elena V. Kiprskaya and Elena V. Sharapova, Kirov State Medical University (Russia)
11. Category: HEIs of the Russian Federation and the CIS Countries in Foreign Mass Media
Winner: National Research University «Moscow Power Engineering Institute» (Russia)
12. Special Prize State
University of Management (Russia)