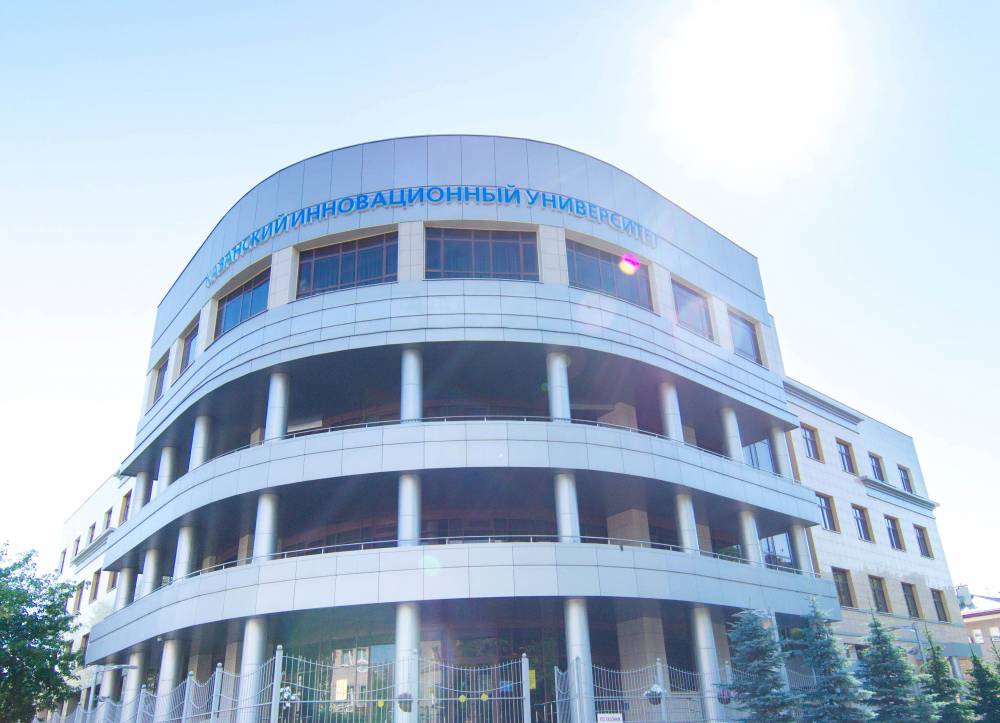 Full name of the organization: Private Higher Educational Institution "Kazan Innovative University named after V.G. Timiryasov (IEML)"
License, state, public, international accreditation and certification:
License №2684 from 07.12.2017, accreditation №2799 from 04.04.2018
Rector: Dr. Asiya Timiryasova, the Russian scientist and economist, public figure, PhD in Economics, the Member of the Public Chamber of the Republic of Tatarstan, the Member of the Council of Association of Private Universities in Russia.
Year of foundation: 1994
Total number of students: 3,059
Specialization: Humanitarian, technical
Structure of the University (branches, including foreign; institutes, faculties, centres, etc.)
Branches: Almetyevsk, Naberezhnye Chelny, Bugulma, Chistopol, Zelenodolsk.
Scientific Research Institutes: Anti-Corruption, Social Philosophy, Social and Economic development, Pedagogic Innovations and Special Education
Federal Platforms: platform of the Ministry of Education and Science of the Republic of Tatarstan on implementing special education in educational institutions activity
Fields of Study
College: Law and Organization of Social Service, Economics and Accounting, Business Operations in Logistics, Hotel Management, Tourism, Commerce, Pre-school Education, Design, Applied Informatics, Technical Maintenance and Auto Service, Food Service Technology, Sustainable Use of Natural Resources
Bachelor's programs: Economics, Management, State and Municipal Management, Quality Management, Technosphere Safety, Applied Informatics, Business-Informatics, Law, Psychology, Pedagogical Education, Psychological and Pedagogical Education, Special (defectological) Education, Tourism, Service, Linguistics, Design, Food Service Management
Master's programs: Economics, Management, Quality Management, Law, Psychology, Pedagogical Education, Psychological and Pedagogical Education, Food Service Management
PhD programs: Psychological Studies; Economics; Law; Education and Pedagogic Studies; Philosophy, Ethics and Religion Studies
Facilities and resources (education, laboratories, sports, accommodation infrastructure):
There are 20 educational buildings (total area is 50 000 sq.m.) that are equipped-up-to-date, sports and fitness centers (with swimming pool, gym), a network of student cafes, comfortable dormitories, medical centers. The University owns high technological labs , implements 3D environment for stu-dents teaching using a videoconference connection system of Avaya company.
Achievements and academic reputation
Awards and academic recognition signs, successful participation in federal competitions/programs:
Among multiple award that the University has, it has the Diploma of the Competition on receiving awards from the Government of the Republic of Tatarstan for quality in a category of enterprises and organizations implementing activities in the service field.
Current positions in rankings:
Kazan Innovative University is the only University in the Volga region that was included in TOP-10 of the most top requested universities of Russia in the field of management (economics, finances, law). The University is included in the list of the Best 100 universities of Russia and is rewarded by the golden medal "European Quality". Kazan Innovative University is the only university of the Republic of Tatarstan that is included in a non-commercial ranking of academic programs showing the results of a global research of quality of education in Russia that was made by Accreditation Council of All-Russian Public Organization of Small and Middle Entrepreneurship "OPORA (Support) of Russia and by Professional Accreditation Agency in 2014-2016. Its results were based on the evaluation of quality of education made by employers experts. The University occupies the 7th place in National Ranking of Volga Region universities, 7724 place in Ranking of World Universities (from 11999 universities), 1666 place in BRICS countries (from 7172 universities), 1536 place in Europe (from 6050 universities) and 261 place (from 1416 universities) in Russia. In 2019 KIU occupied the 4th place in National Ranking of private universities in Russia.
Membership in Russian and international associations:
Kazan Innovative University is the full member of International Association for Hospitality and Tourism "EURHODIP", the member of Association of Universities of Law in the Russian Federation.
International activity
Priority areas of international activity:
International students recruitment, academic exchange programs, promotion of summer schools for international students
Participation in the international programs and projects (educational, scientific):
Erasmus+, Foundation "Eurasia", project «Island»
Foreign partner universities:
Broward College (USA), San Diego Miramar College (USA), Key West University (USA), European Institute of Design (Italy), Academy of Tourism "DIMITRA" (Greece), Trier University (Germany), Hochschule Ludwigshafen am Rhein (Germany), Deutsche Management Akademie Niedersachsen (DMAN) (Germany), Hunan Pedagogical University (China), The University of Hong Kong (China), Hebei Normal University (China), Tianjin Pedagogical University (China), Liaoning Petroleum (Shihua) University (China), Dublin Institute of Technology (Ireland), Emerald Cultural Institute Dublin (Ireland), Taraz State University (Kazakhstan), University of International Business (Kazakhstan), University of Applied Science XAMK (Finland), PATHE Academy (Sri Lanka), Academy of Tourism and Hotel Business in Gdansk (Poland), St Lawrence University (Uganda), Comenius University (Slovakia), Folkuniversitetet (Sweden), High School of Economics (Czech Republic), Juraj Dobrilla University of Pula (Croatia), University of Malta (Malta)
HEI enrolls foreign students from the following countries:
Colombia – 40, Brazil – 1, Ghana – 2, Sri Lanka – 40, Chile - 1
Foreign staff members:
Franco Grossi (University of Trieste, design), Ali Rashidi (Folkuniversitetet, intercultural communication, project management), Frank Altemoeller (Harz University of Applied Science, economics)
Joint educational programs (if any):
Dual Degree Program: Economics, Management, IT, Tourism, Logistics
Enrollment and training conditions for foreign citizens
Admission regulations of foreign citizens and the list of required documents:
https://ieml.ru/priemnaya-komissiya/podat-dokumenty/
Educational infrastructure and activities (Preparatory department for foreign students, summer/winter schools, language courses, buddy program):
Foundation Preparatory Program on Russian Language as Foreign Learning, summer/winter language and interdisciplinary schools
Accommodation for foreign students:
Two comfortable dormitories with all conveniences in the room (2-4 students in a room)
Scholarship programs, social adaptation support to foreign students:
Program "Tutor" where Russian students help international students in adaptation in a new language, social and cultural environment; psychological center "Eventus" organizes consultations between students and psychologists.
Employment opportunities for foreign students during studies and after graduation:
Center of Job Placement is based in KIU
International office:
Employees and their functions:
Two people (admission of international students, smm of social networks in foreign languages, implementing of academic exchange with partner universities, working out of
mutual academic programs)
Does the International Office have an opportunity to interact with the target audience via HEI's official website?
Yes
Consultation services
+7(843)231-92-90 (ext.1378), internoffice@ieml.ru/
Vracheva Ekaterina