Dagestan State Technical University. Enrollment Campaign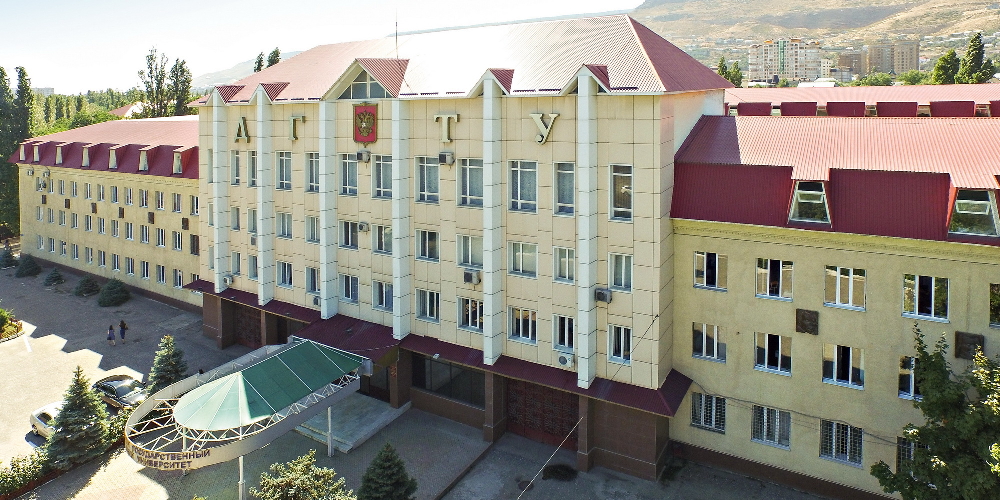 The university trains competent managers, sought-after architects, civil engineers and professionals in many other areas. Engineers can set the required pace for the development of industrial manufacturing, transportation industry, food industry, IT.
Virtual Doors Open Day
Getting acquainted with DSTU faculties, branches and departments, opportunities to unlock creative, scientific, athletic potential and take part in social activities and events
A 3D tour around the campus
Testimonials from employers and DSTU graduates
Comments on the changes in admission requirements
Answers to applicants' questions
State-Funded Places For Academic Year 2021-2022
Bachelor's programs – 734
Specialist's programs – 152
Master's programs – 193
Postgraduate programs—45
Tuition fees per year
Bachelor's programs 250 — 2,300 USD
Specialist's programs 400 — 1,700 USD
Master's programs 200 — 1,900 USD
Postgraduate programs 250 — 1,500 USD
State-funded places have been allocated for extramural Master's programs such as
Oilfield Development
Processes and Food Production Equipment
Road Traffic Engineering and Safety
The applicants were enrolled in the Applied Informatics in State and Municipal Management major, the Applied Informatics study program for the first time ever.
Presentations Of Faculties
Faculty of Engineering and Economics
Faculty of Information Systems, Finance and Audit
Faculty of Radioelectronics, Telecommunications and Multimedia Technology
Faculty of Technology
Faculty of Oil, Gas and Environmental Engineering
Faculty of Architecture and Construction
Faculty of Customs and Forensics
Faculty of Transportation
Faculty of Master's Training
How To Submit Documents
Via email abiturient@dstu.ru
Using the electronic information system
Using public postal operators' services
In-person, to the Admissions Office, in compliance with the recommendations of the Federal Service for Surveillance on Consumer Rights Protection and Human Wellbeing
To submit documents online, you must fill out an application form in your personal account on the DSTU portal, attach scanned copies or photos of your school leaving certificate (diploma) with an official transcript, ID document and documents that confirm your individual achievements (if any). Your enrollment consent must be submitted in the same way as your documents.
I chose my profession when I was at school. I was always interested in petroleum industry. Choosing a university with this specialization, I was only considering Russian universities as Russia is one of the countries that lead the world in this segment. It was my fellow countrymen who told me about DSTU. Having examined the information on the university on the Internet in more detail, I made up my mind to apply to DSTU, and I've never regretted my choice. First, I spent a year at the preparatory department for foreign citizens together with students from Ghana, Egypt, Tunisia, Cameroon, Morocco, Algeria, South Korea, Botswana, Afghanistan, Azerbaijan, and other countries. After a year of study, I successfully passed all exams and was enrolled in the study program "Operation and Maintenance of Facilities of Transportation and Storage of Oil, Gas and Refined Products." In my study-free time, I take a second job working as a teacher of English and French languages at private schools and training centers, which brings me good income and an opportunity to be independent. When I get my Bachelor's degree, I'm planning to pursue a Master's program in Oilfield Development. This will allow me to do more in-depth research and work in the field of innovative technologies in this industry.
Aypote D.D. Marius -
Côte d'Ivoire
Bachelor's And Specialist's Programs
June 20 DSTU starts accepting documents
The deadline for accepting documents from persons applying for studies following the results of internal entrance exams
July 14–20 state-funded places
August 17–23 fee-paying places
The deadline for holding internal entrance exams and accepting documents from persons applying for studies without such entrance exams
July 25 state-funded places
August 28 fee-paying places
Orders for enrollment in a state-funded place
July 30 the stage of priority enrollment*
August 5 the main stage of enrollment**
Orders for enrollment in feepaying places
no later than August 30 (full-time studies)
no later than September 30 (extramural studies)
Master's Programs
Acceptance of documents June 20— July 31
The deadline for holding entrance exams August 5
Orders for enrollment in state-funded places August 9
Orders for enrollment in feepaying places
no later than August 30 (full-time studies)
no later than September 30 (extramural studies)
Postgraduate Programs
August 30— September 30 acceptance of documents
October 1–10 entrance exams
*Enrollment of persons applying for studies without entrance exams and persons applying for quota places.
**Enrollment of persons applying for studies following the results of entrance exams in main state-funded places left after the persons applying without entrance exams has been enrolled.
Admission requirements for Bachelor's, Specialist's and Master's programs
Admission requirements for postgraduate programs
Admissions Office
Helpline
+7 8722 62-45-45
abiturient@dstu.ru
Department of International Cooperation:
Aida M. Fatullaeva
+7 8722 62-45-19
+7 988 292-44-90
+7 989 455-95-60
dicd@dstu.ru
Entrance Exams By Degrees
Bachelor's and Specialist's programs
Entrance exams are held in Russian in a written test form.
Additional entrance exams (creativity exams or professional exams):
Creativity exams (drawing, painting, composition) for Bachelor's programs in Architecture and Design
Physical education for Specialist's program in Customs Affairs
Postgraduate programs
Exams:
The test in a special subject corresponding to the specialization of the postgraduate training program for academic staff is taken in a written form using exam papers
Philosophy and foreign language tests
I'm studying at the Faculty of Oil, Gas and Environmental Engineering. I can't say that it's easy for me to study. To become a sought-after specialist, one must keep on progressing and improving their skills. Starting from the first year, I've been trying to take part in all kinds of projects, competitions, take courses on educational platforms, participate in Olympiads and hackathons. All of this helps students to gain the necessary experience, learn skills from renowned experts in this area and prove themselves. Adaptation isn't worth worrying about. Dagestan is a multiethnic republic, its residents are very kind and frank, and students from other countries feel comfortable here. DSTU has lived up to my expectations, though I initially had some doubts as to whether a regional university can provide a high standard of knowledge like a top metropolitan technical university in Russia can. However, when I gained the necessary fundamental knowledge and experience, I realized that it was a DSTU diploma that would reliably support me in the future and would help me achieve my goals.
Orkhan Mirzakuliev -
Azerbaijan
Achievements of DSTU's representatives
7 grants from the Russian President in the field of government support for research
16 scholarships from the Russian President for advanced research and developments in priority areas for modernization of Russian economy
65 grants from the UMNIK Foundation for Assistance to Small Innovative Enterprises in Science and Technology
7 small innovative enterprises established under the START program
Grants from the Head of the Republic of Dagestan
Education, science, technology and innovations
Economics and management
Culture and arts
Public activities
Physical training and sports
Mass media
Youth policy
Small business
23.12.2020