Education in Russia for Egyptian Citizens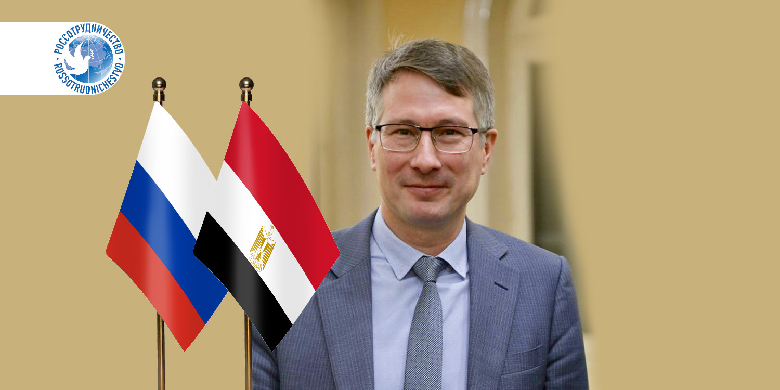 The young population increase in North African countries in general and in the Arab Republic of Egypt in particular stimulates demand for higher education. Today, this demand is not covered by the educational opportunities provided by Egyptian universities, and that is why applicants go to study in other countries. In recent years, Russia has become one of the most popular study destinations because of its territorial proximity, active development of bilateral relations, and affordability and high quality of education in Russia. Marat Gatin, Head of the Rossotrudnichestvo Rerepresentative Office in the Arab Republic of Egypt, talks about the prospects for Russia-Egypt cooperation in education.
Egypt – Russia: areas of cooperation
From year to year, cooperation between Russia and Egypt in education becomes more and more active and eventful. It includes interstate dialogue, interaction between Russian and Egyptian universities, development of cultural relations, and many other areas.
There are several tracks in this area:
1. Proactive efforts of the two countries' relevant ministries in this area as part of activities of the relevant Intergovernmental Commission.
2. Inter-university cooperation and implementation of various educational projects in Egypt by Russian universities.
The branch of the consortium of Russian universities specializing in atomic engineering is being created at the moment. The project is to be implemented at Borg El Arab Technological University. The primary objective of the project is to train local personnel for the first nuclear power plant, Dabaa, which is being built by Rosatom State Corporation
Another joint educational project with huge potential is the establishment of branches of St. Petersburg State University and Kazan Federal University jointly with the Egyptian partner. Given the popularity of medical education in Russia, the branches of the above-mentioned universities will specialize in healthcare personnel training
The Preparatory Faculty has been working at Ural Federal University for the second year in a row.
Other Russian universities maintain active cooperation with Egyptian Russian University, Sadat Academy for Management Sciences, etc.
Around 16,000 Egyptian students are studying in Russia
3. Training of Russian language specialists at local universities is an important part of working in education. Around 2,000 young Egyptians are studying Russian at 11 Egyptian universities today.
New Russian language departments are established every year:
three departments were established in the 2022-2023 academic year – at Egyptian Russian University in the city of Badr, Suez Canal University in the city of Ismailia, and Misr University for Science and Technology in 6th of October City– a satellite city of Cairo
Sadat Academy for Management Sciences will launch Russian language courses in the 2023-2024 academic year
This work will be continued in years to come.
4. The increase in the number of Egyptian students in Russia.
According to the Ministry of Science and Higher Education of the Russian Federation, around 16,000 Egyptian students studied at Russian universities in the last academic year. According to the information from Egypt, this figure could reach 23,000. This fact indicates high demand for education in Russia and makes the issue of education quotas for Egyptians even more urgent.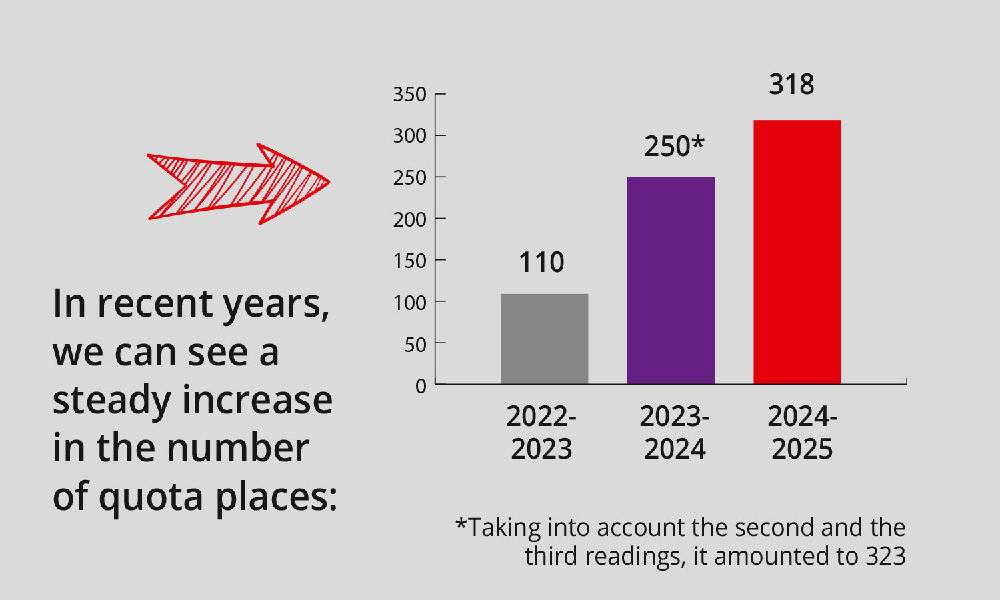 The most popular fields of study among young Egyptians
Medicine
Engineering sciences
IT
Atomic Engineering
Humanities
The existing situation encouraged the Rossotrudnichestvo Representative Office in Cairo to provide consulting services to those wishing to study at Russian universities on a contract basis.
Scholarships (quotas) from the Russian Government
The quota campaign statistics for the 2023-2024 academic year showed high demand for higher education in our country. The number of applications for the Russian Government scholarship (quota) was 1,205, which indicates that there were almost five applicants per place. The procedure for assessing and selecting candidates is well-established. Everyone interested can apply for participation in the competitive selection.
Stage 1
The first stage of the 2024-2025 enrollment campaign started on September 1. Anyone wishing to study in Russia can register on the website education-in-russia.com and apply for participation in the competitive selection via their personal account. Candidates must submit required documents and their profile/portfolio. The staff members of the Representative Office provide all necessary assistance and support.
Application deadline is November 1, 2023
Stage 2
After accepting applications, we start the process of assessing and selecting candidates.
The young people who have applied for Bachelor's and Specialist's programs will be assessed by two criteria:
Academic credential competition
Portfolio competition (participation in Olympiads, national or international competitions, etc.)
Those who have applied for Master's, PhD, and residency programs will have to additionally pass interviews with the working group.
Following the competitive selection, the main list and the reserve list are compiled. At this stage, candidates have the opportunity to improve their profiles, which are sent to the Central Office of Rossotrudnichestvo, and later to the RF Ministry of Science and Higher Education. At this stage, candidates for quota places wait for the final results, such as an invitation from the university, a visa, and a study referral.
Career prospects
In conclusion, I would like to say a few words about career prospects for those who have chosen to study in Russia or study Russian in their countries. Current and upcoming joint Russian-Egyptian projects provide a lot of career opportunities for recent graduates with appropriate qualifications.
Egypt is implementing a large-scale project of Rosatom – the first nuclear power plant Dabaa in Egypt
The Russian industrial zone is being created in the area of the cities of Port Said and Ain Sokhna
The tourism industry is rapidly developing: the number of Russian tourists is one of the highest in Egypt
There are representative offices of various Russian organizations and companies in Egypt, which also creates certain opportunities for Egyptian young people who have decided to dedicate their lives to Russia
The Russian language in combination with good education becomes a substantial competitive advantage for those who plan their future, are ambitious and open to new knowledge.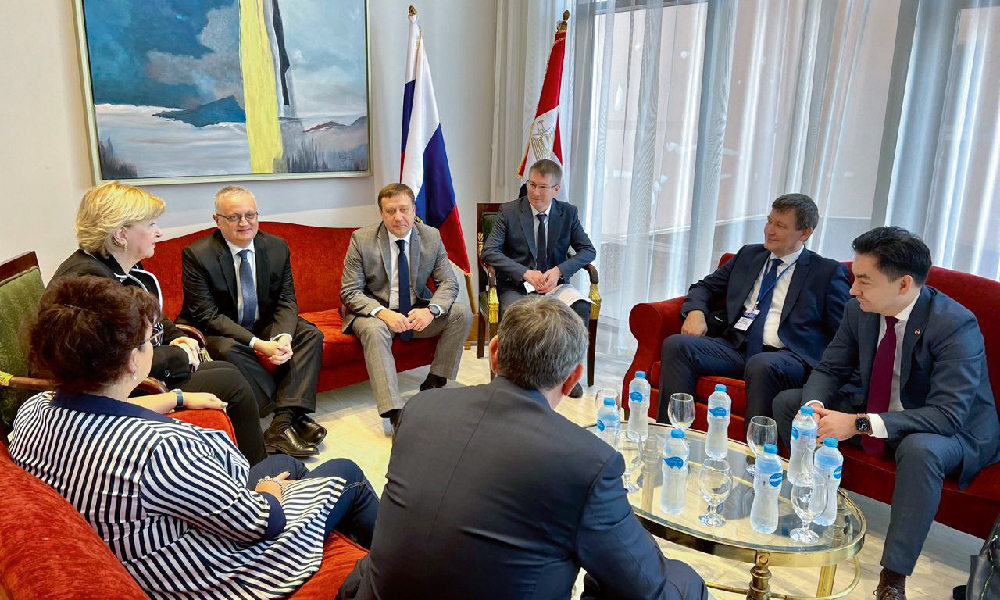 25.10.2023