Kazan State Academy of Veterinary Medicine. Acquaintance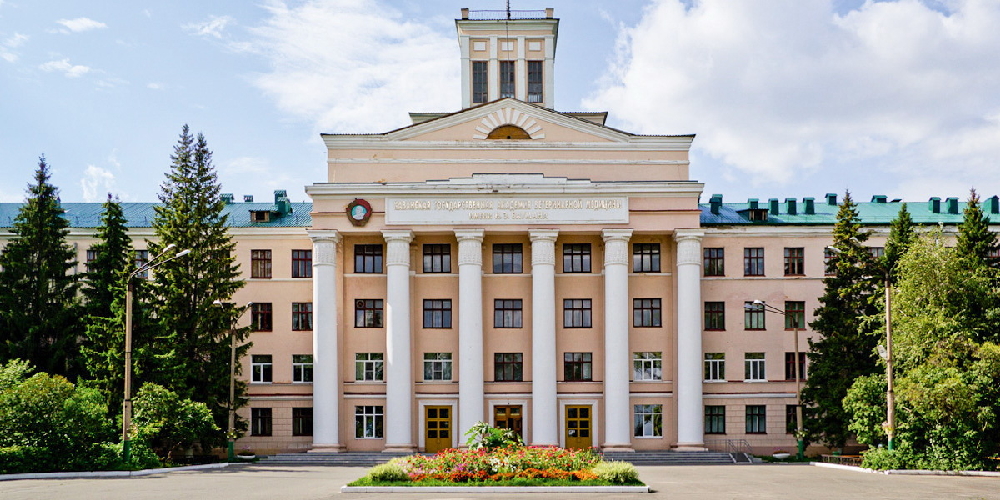 > 2 000
students, including > 160 international students
> 100
teachers, 90 % of whom hold academic degrees
> 2 000
students, including > 160 international students
> 100
teachers, 90 % of whom hold academic degrees
Kazan SAVM is the oldest higher education institution for veterinary science in Russia. It trains veterinarians, veterinary food hygienists, livestock engineers, agricultural process engineers who have excellent skills in their profession and are familiar with related areas, ready for continuous professional development, social and professional mobility. Founded in 1873.
An affiliated member of the European Association of Establishments for Veterinary Education (EAEVE).
7th place among Russian universities for veterinary science according to the information and educational portal "Education in Russia".
VK - @ksavm_official
Instagram - kgavm_baumana (Meta is recognized as an extremist organization in Russia)
Infrastructure
4 dormitories
Specialized rooms and laboratories of technical training aids, occupational safety, water supply, machine milking, electric equipment, feed preparation, physiotherapy, orthopedics, X-ray radiography, electron microscopy, computer classrooms
Training and Quality Assurance Committee
Therapeutic Consultative Center
Animal Feed Additives Production Facility
Museums of forensic pathology, anatomy, parasitology, obstetrics, zoology, pharmacology
Tuition fees per year
Bachelor's and Specialist's programs
77,500 — 155,000 RUB full-time studies
28,000 RUB extramural studies
Faculties
Veterinary Medicine
Biotechnology and Standardization
Additional Professional and Correspondence Education
Fields of study and majors
Veterinary Medicine (Biology and Pathology of Bees, Biology and Pathology of Small Animals, Veterinary Pharmacy, Quality and Safety of Raw Foods and Food Products, Cynology, Diseases of Young Animals)
Veterinary and Sanitary Inspection
Animal Science
Technology of Production and Processing of Agricultural Products
Science
Scientific schools of anatomy, forensic pathology, therapeutic medicine, surgery, obstetrics, physiology, epizootology, animal husbandry, veterinary hygiene, microbiology
> 400 textbooks, monographs and study guides on major subjects of veterinary medicine and animal science (some of them are translated into foreign languages)
> 30 names of drugs, diagnosticums and innovative technologies introduced into production
International cooperation
Internships and study and work placements at top European universities and research and education centers
Agricultural internship as part of APOLLO e.V. program at German farm enterprises
Participation in international congresses and conferences in Russia, CIS countries, and other countries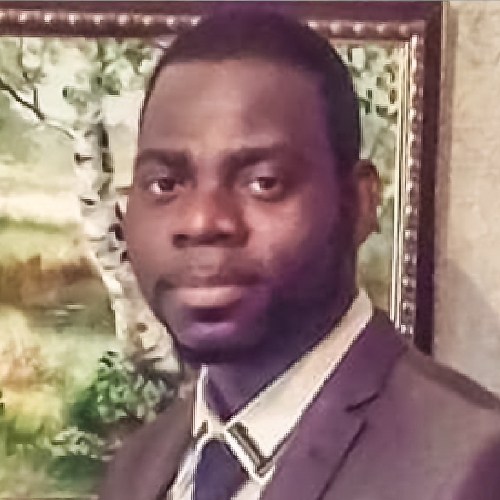 A big hello from Africa to everyone! I work as a teacher at the University of Biotechnology and Management in Benin. Besides, I breed rabbits and snails. In 2018 I completed my PhD degree at Kazan SAVM, defended my PhD thesis, and became the Candidate of Veterinary Sciences in Veterinary Pharmacology and Toxicology. The academy has experienced, open-hearted and great staff that always helped and supported us. I advise all applicants to choose Kazan Veterinary Academy to fulfill their dream.
Matias Aouendo
Republic of Benin. Kazan SAVM graduate
June 18 - July 17 Bachelor's and Specialist's programs
June 18 – July 20 Master's programs
July 19-29 Entrance exams
Applicants take entrance exams online in the form of written tests on the academy's educational portal. After you submit all required documents, the academy will send you the instructions for getting access to its educational portal to take entrance exams.
Required documents
Application
Enrollment consent
Personal data processing consent
A copy of the document attesting to the foreign citizen's identity and citizenship in the Russian Federation
A copy of previous foreign education (with a certified translation into Russian, if necessary)
Photo
Admissions committee
+ 7 843 273-96-46, +7 843 273-96-27
priemksavm@mail.ru
35, Sibirskiy Trakt, Kazan, 420029
My dream was to enter the university where I would study space science. Soviet spaceman Yuri Gagarin and Tereshkova, the first woman in space, inspired me. I wanted to study in Russia, but I had to learn Russian. To be honest, it was hard for me. Russian is difficult. But if you have good teachers and friends around you, you can do everything. I was looking for a place to study Russian for a long time. I was comparing conditions and tuition fees. I chose Kazan and this academy. I've never regretted opting for this Center. After completing the courses, I will apply to one of the Moscow universities.
Israt Oyshi, Bangladesh
Pre-university Training Center student
Work placement and pre-graduation internship
Partner companies: Agrosila grupp, Ak Bars Agro Holding company, Aksu Agro, Bitaman, Krasny Vostok Agro holding company, Chelny Broiler, Biryuli, Plemreproduktor, Niva, Kamsko-Ustinsky Agricultural Production Cooperative, Idel, Druzhba Farming Enterprise, the Yaratel poultry farm in Laishevo, Sviyaga, Tukash, Tatmit Agro, the Abdrakhmanov peasant farm enterprise, Navruz, Asyan, Shoybulaksky Stud Farm, Semenovsky Stud Farm, Agro Invest, and others.
Students also undertake their internships at the Therapeutic Consultative Center.
Therapeutic consultative center
Treatment of sick animals
Student internships and study and work placements: clinical examination of animals, sampling and analysis of various biological materials, establishing diagnosis using state-of-the-art equipment (U/S, X-ray unit), creating and keeping ambulatory medical records, surgical treatment.
Students use the knowledge gained during internships for their course papers and graduation theses.
+ 7 843 273-97-24
LKCKgavm@mail.ru
Among graduates are eminent scientists, academicians, laureates of national awards, ministers, deputies, heads of municipalities and veterinary services of Russian regions.
Outstanding alumni
Georgy Skryabin – Soviet microbiologist and biochemist, Academician of the Academy of Sciences of the USSR and the All-Union Academy of Agricultural Sciences
Joseph Butore – Vice-President of the Republic of Burundi
Khairulla Abdullin – Soviet microbiologist and epizootologist, the founder of Kazan Veterinary Microbiology School, Doctor of Veterinary Sciences, Honored Science Worker of the Tatar ASSR, the RSFSR
Andrei Studentsov – Soviet scientist, a specialist in veterinary medicine, veterinary obstetrics, Corresponding Member of the All-Union Academy of Agricultural Sciences
Mikhail Tushnov – Russian microbiologist and pathophysiologist, Academician of the All-Union Academy of Agricultural Sciences
Vasily Mosin – abdominal surgeon, Doctor of Veterinary Sciences, Honored Science Worker of the Tatar ASSR, the RSFSR
Nikolai Balakirev – Soviet and Russian scientist, a specialist in fur farming, Academician of the Russian Academy of Sciences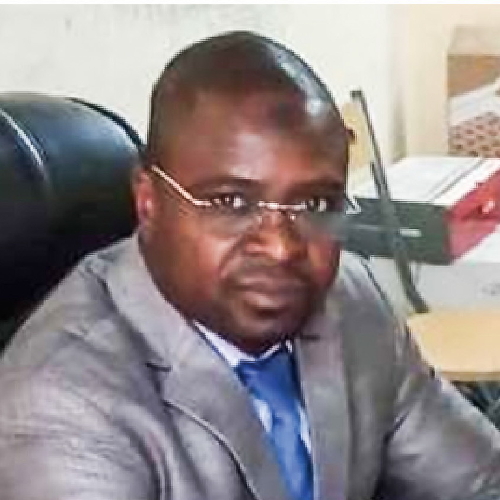 I liked studying at the academy very much because it is one of the oldest and best Russian higher education institutions. It has highly qualified teachers. I came back home after graduation. I worked at a key veterinary laboratory, the vaccine production department. Then I moved to another department – the parasitology department. I really liked my work, and I decided to pursue a PhD degree. As I already knew how interesting it was to study at Kazan Veterinary Academy, I decided to continue my studies here. I recommend this academy to all my acquaintances and compatriots. If you have any doubts about applying to the academy, put them off and apply. You won't regret it!
Al Amin Umaru Beyki
Republic of Chad. Kazan SAVM graduate
Student life
The Sagadat vocal ensemble is the winner and laureate of numerous contests held in the city and republic
The VetaStudioDance team: classical dance, contemporary, hip hop, modern dance, folk dances. The participant of the Opening Ceremony of the 2013 Summer Universiade in Kazan
Classic theater, the Moroz po kozhe student pop sketch, the KVN (Club of the Funny and Inventive)
Volunteer team
Student media center
12 sports clubs
Irbis Tourist Club is a two-time laureate of the republican award "Student of the Year of the Republic of Tatarstan" in the Best Social Organization category
International student committee
Peoples' Friendship Festival: students from various countries show their talents, culture, traditions, and cuisine
Turkmenistan Flag Day
Victory Day
Academic Sabantuy
Daria Frizen
+7 953 498-19-90
International student committee
30.06.2021