Bachelor's program (majors: Technology and Design of Packaging Production; Technology of Printing Production), Master's program
Institute of Printing Technologies and Equipment of Higher School of Printing and Media Technologies,
Department of Technology of Printing Production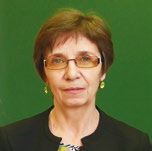 Irina GRUZDEVA,
Head of the Department
Tel. + 7 812 310-43-39
E-mail: tpp@hspm.ru
Teaching staff. The department employs eight Candidates of Sciences, ten Associate Professors. All teachers have extensive scientific, practical, and teaching experience, actively publish their papers in scientific journals (the Russian Science Citation Index, the State Commission for Academic Degrees and Titles, etc.).
Facilities and resources. Six laboratories (for book-binding, book-stitching and finishing processes, printing processes, platemaking, printing materials, optical engineering, photometry, and chromatology) with state-of-the-art equipment.
Research. The promising research areas include thermodynamic and mathematical modeling of multicomponent systems of different nature conducted under a wide range of temperature and composition conditions, new cellulose-based composite materials, a systematic approach to the analysis and quality management of printed products based on the reproduction process results.
Education. Teachers use innovative educational models and strategies, research methods, case studies, distance learning technologies which help students acquire state-of-the-art knowledge, abilities, and professional skills.
Strategic partners. Business partners: MM Poligrafoformlenie – Packaging, Poligrafoformlenie – Flexo, Deviz Printing Plant, Amcor Tobacco Packaging, Alaska – Poligrafoformlenie, Eximpack Rotoprint, Color Industry, etc.
The department maintains friendly relations and science and technology cooperation with many Russian and foreign HEIs, including Belarusian National Technical University, Ural Federal University named after the first President of Russia B.N. Yeltsin, Tula State University, Omsk State Technical University, Kharkiv National University of Radio Electronics, University of Media Informatics (Hungary), Tajik Technical University named after Academician M.S. Osimi.
Teachers and students participate in international conferences of different levels. They are involved in reviewing and editing publications, holding scientific and practical seminars, sharing experience, and many other areas.
Assistance and support for international students and teachers. Registration and Visa Department (consults international applicants and students and assists them in preparing documents proving their legal presence in Russia): inter@sutd.ru. Department of International Projects and Educational Programs: kla@sutd.ru, tel. + 7 812 315-05-65. Preparatory Department for Foreign Citizens (Russian language, art, economics, technology courses): poig@sutd.ru, tel. + 7 812 310-41-49. The English language version of the website http://sutd.ru/en/.