Bachelor's program (Fashion and Accessories Design major), Master's program
Institute of Fashion Design,
Department of Fashion Design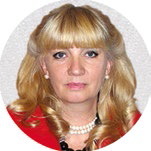 Irina SAFRONOVA,
Head of the Department
Tel. + 7 812 310-15-68
E-mail: d-kostum@yandex.ru
Teaching staff. The department employs highly qualified specialists, current designers, members of creative unions such as the Union of Artists of Russia and the Union of Designers of Saint Petersburg. Many of them are laureates of all-Russian and international contests. The program supervisors receive appreciation letters and comments on graduates' excellent skills from firms such as Concept Club, Stayer, Fur House, and from the Union of Designers of Saint Petersburg.
Facilities and resources. Classrooms have all the necessary training equipment. The subjects related to digital technologies are taught in computer classrooms equipped with state-of-the-art technology.
All students are accommodated in a dormitory and have an opportunity to join 18 sports clubs and relax in the sports and recreation camp in the Karelian Isthmus.
Strategic partners. Students undertake educational internships in art history and costume history in the State Hermitage Museum, the Russian Museum, the Russian Museum of Ethnography and work placement in design studios and fashion houses of Russia and Saint Petersburg.
The institute cooperates with design universities in France, Germany, Italy, Finland, Japan, and China.
International projects and programs. Many students go abroad to participate in academic exchange programs and undertake study placement, take part in international educational projects on creative cooperation with the AMD Academy of Fashion and Design (Germany), University of Lapland (Rovaniemi, Finland), and the Estonian Academy of Arts.
Competitive advantages. Students participate in all-Russian and international contests for young fashion designers. During their study, students create fashion collections and participate in exhibitions in all artistic disciplines and expositions of models made in the material. Photos of clothes made by students are exhibited in all exhibition rooms of Saint Petersburg.
Assistance and support for international students and teachers. Registration and Visa Department (consults international applicants and students and assists them in preparing documents proving their legal presence in Russia): inter@sutd.ru. Department of International Projects and Educational Programs: kla@sutd.ru, tel. + 7 812 315-05-65. Preparatory Department for Foreign Citizens (Russian language, art, economics, technology courses): poig@sutd.ru, tel. + 7 812 310-41-49. The English language version of the website http://sutd.ru/en/.