Amur State University. Acquaintance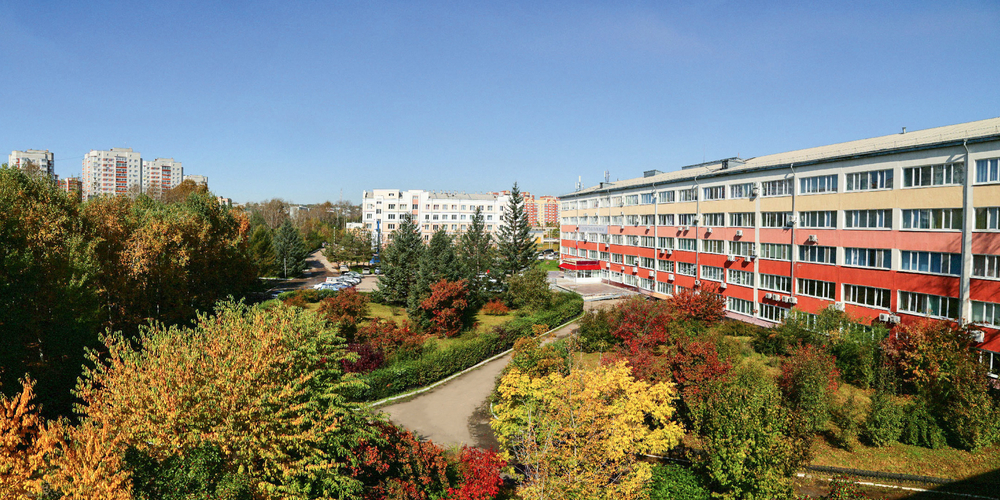 55
Bachelor's, Master's, Specialist's, PhD programs
28
foreign citizens are pursuing PhD degrees
350
international students
55
Bachelor's, Master's, Specialist's, PhD programs
28
foreign citizens are pursuing PhD degrees
350
international students
AmSU is a classical university in the Far East of Russia.
It is one of the youngest and the most promising universities that provides training in various areas: from information technologies, design, technosphere safety, missile systems and space science, power engineering to economics, philology, linguistics, tourism, social sciences, religion studies, and law.
Natalia Royba, Head of the AmSU International Affairs Office:
– Master's degrees offered by foreign universities are popular among Chinese students. This year, we have enrolled a lot of students in the Master's programs in Philology, Tourism, Pedagogical Education. The enrollees are our partner universities' graduates who undertook their internships at our university while studying.
Infrastructure
8 educational buildings
4 libraries, 7 reading rooms
Testing laboratories
Sports center with a swimming pool
Recreation camps
Sociocultural center
The Gagarin-Arena indoor ice arena is under construction
Campus
The campus comprises dormitories, playgrounds, a canteen, a café, a store, a laundry room, a swimming pool.
Students can join student theater groups, choral, dance, and vocal groups, various sports clubs, including volleyball, football, basketball, table tennis, track and field, fitness clubs.
AmSU on YouTube
Instagram – @amsu.official (Meta is recognized as an extremist organization in Russia)
VK – @amursu
Tuition fees per year
168,000 – 298,000 RUB
2,370 – 4,200 USD
Quotas for foreign citizens
50 places for admission of foreign citizens within the Russian Government quota
20 places for admission to the preparatory department (engineering and technology, economics). Citizens of Syria, Afghanistan, Zambia, Congo will take a one-year course at the department. Most of these students want to continue their education at AmSU
Citizens of CIS countries may be eligible for state-funded places at AmSU as well. Citizens of Tajikistan, Kazakhstan, and Uzbekistan choose fields of study related to information technologies, electric power engineering, and economics.
Geography of students
Over 350 international students, over 70% of whom are citizens of China , study at AmSU every year.
Others are citizens of CIS countries: Tajikistan, Uzbekistan, Kazakhstan, Kyrgyzstan, Azerbaijan, Ukraine, and citizens of Afghanistan, Vietnam, North Korea, Congo, Zambia, and Morocco.
Distance learning
Foreign citizens staying abroad pursue all educational programs online using the university's Moodle platform.
Admission Office
Wechat: TitovaAnna
+7 4162 23-45-60
+7 914 580-38-69 (WhatsApp)
int@amursu.ru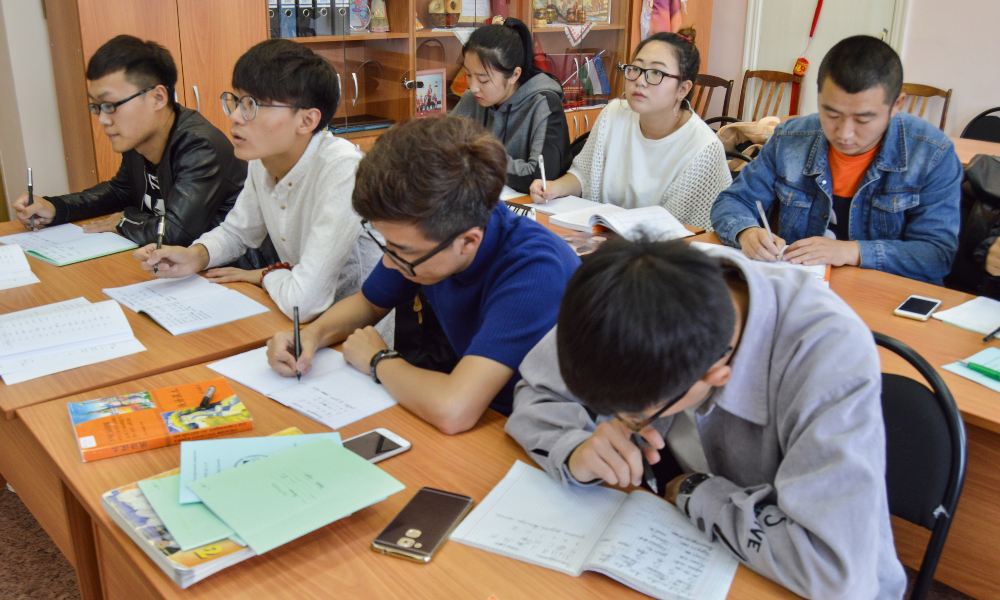 Master's programs in English
Modern Technologies in Teaching English
Fundamental and Applied Linguistics
This year, the university enrolled foreign citizens in the Master's program in State and Municipal Management for the first time. The program trains specialists for municipal services and state-owned enterprises.
Preparatory department for foreign citizens
Study areas
Humanities
Engineering and technology
Economics
Duration 52 weeks
Courses of Russian as a foreign language
Duration 1 semester and more
Admission, migration registration, Russian language course
International cooperation
Belt and Road' Aerospace Innovation Alliance (BRAIA)
Association of Sino-Russian Technical Universities (ASRTU)
Association of Universities of the Far East and Siberia of Russia and Northeastern Provinces of China
United Non-governmental Organization of Higher and Secondary Education Institutions of Europe and Eastern Asia
Eurasian Association of Universities (EAU)
55 current contracts and agreements with over 30 universities, educational institutions and foundations of China, Kazakhstan, the Republic of Korea, Italy, France, Germany, the USA, and Japan.
Career
International graduates of AmSU continue their education at the next level of higher education, start their businesses, are employed at joint Russian-Chinese enterprises and state-owned enterprises in their countries.
Advanced Professional Training Center
AmSU and its Chinese partners are experienced in co-organizing various events: from advanced training courses and internships, round table discussions, and symposia to editorial and exhibition projects.
AmSU is the research center for history, archeology, ethnography, culture and languages of Russia and China. The world-famous scholars – Professors Andrey Zabiyako, Anna Zabiyako, Sergey Filonov work at AmSU. The AmSU Science Museum was established through their efforts.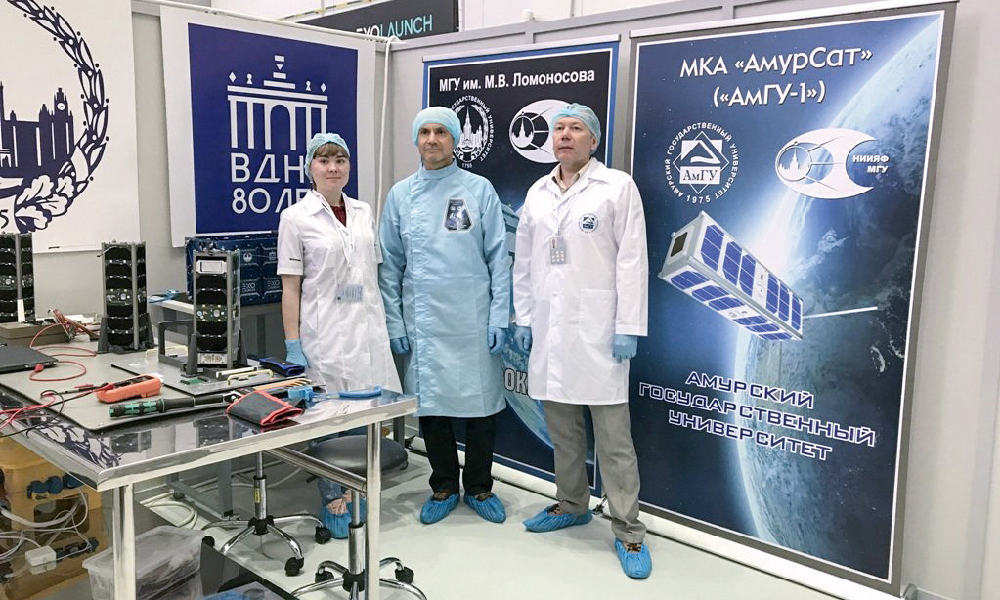 Science
Research and Education Center (REC)
AmSU Sinological Research Center
Russian-Chinese Research Center for Ancient History of Cultures and Peoples of Amur
Far Eastern Emigration Discovery Center
Mission Control Center
Research and education center (REC)
Laboratories
Modeling, information processing and management
Mechatronics and robotics
Space materials science
Composite dielectric materials
Surface physics
Student design bureau
There is an actively developing student Rocket Modeling Club at AmSU. Now young people are preparing for the championship in Kaluga. In the future, they plan to qualify for the Spaceport America Cup with their partners from North Seattle College.
In 2019, the first university's satellite AmurSat was launched from the Vostochny Cosmodrome.
In 2020, the AmSU's Photon-Amur payload was installed on the Descartes satellite of MSU's Research Institute of Nuclear Physics.
In 2022–2023, AmSU participates in the UniverSat small satellite launch program with the project of 12U CubeSat Earth remote sensing satellite – ASRTU Friendship.
28.10.2021