Dagestan State Technical University. Acquaintance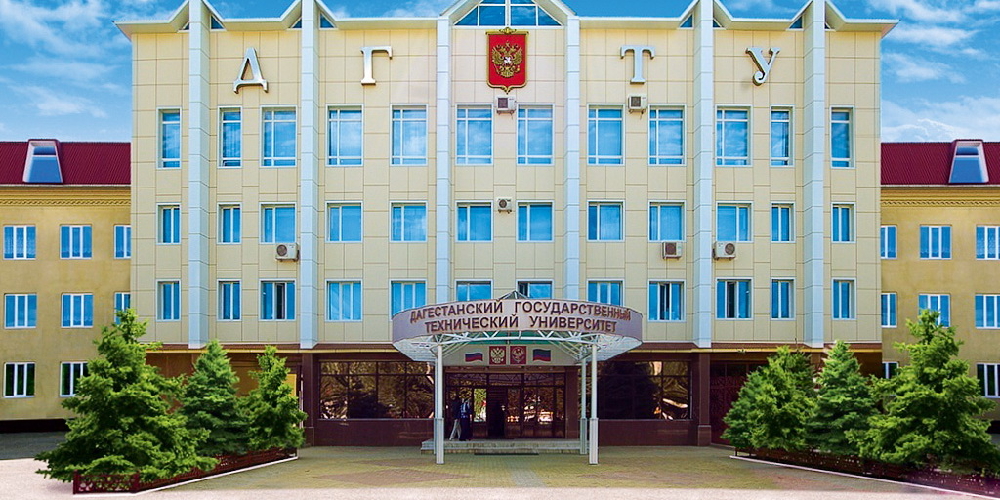 21
specialized competence centers
7
secondary vocational education programs
> 25
specialized departments at enterprises
> 200
innovative solutions and technologies
21
specialized competence centers
7
secondary vocational education programs
> 25
specialized departments at enterprises
> 200
innovative solutions and technologies
The big educational, scientific and cultural center of the south of Russia. Founded in 1972.
The university trains competent managers, sought-after architects, civil engineers, and professionals in many other areas. Engineers can set the required pace for the development of industrial manufacturing, transportation industry, food industry, IT.
12 academic buildings
4 dormitories, a park, the Polytechnic sports, and fitness camp on the coast of the Caspian Sea
A football stadium, specialized gyms, a modern five-sector climbing wall, a swimming pool
The Youth Multifunctional Center
> 100
students from 13 countries
> 100
students from 13 countries
Tuition fee
1,080 — 2,187 USD per year
Checking In The Dormitory
1. You must have:
health certificate form № 086/у
a copy of your passport
three 3×4 cm photos
a negative covid-19 test certificate
You can get a health certificate at the student outpatient clinic (8:00 - 9:00 a.m. on weekdays). you must have your certificate of insurance and medical card. The first-year students must register this card.
2. With this package of documents on hand you should go to the dormitory (on the campus territory) and get agreement and application forms, bill details.
70, Imam Shamil Avenue (the old building).
3. Have all your documents officially stamped (at the dean's office of the faculty, among others) and bring them to the dormitory supervisor with a receipt for your accommodation fees.
4. Get your pass and check-in your new room!
It was my fellow countrymen who told me about DSTU. What won me over was that they were rather proficient after graduation and had no trouble finding a job. Besides, they spoke very positively of Dagestan, its quiet and safe atmosphere, and friendly and sympathetic people. The hardest thing was to overcome a language barrier, to immerse in a new socio-cultural environment. However, the university offers a great opportunity to adapt to the Russian education system and pursue Russian-taught degree programs. The optimum ratio of price and quality of education, well-developed infrastructure and comfortable living conditions for foreigners – that's what I like about DSTU.
Aypote D. D. Marius -
Côte d'Ivoire
Russian As A Foreign Language
Pre-university training in Russian as a Foreign Language (humanities, engineering sciences, economics)
TRKI/TORFL International State Examination in the Russian Language held in cooperation with People's Friendship University of Russia
Course attainment and TRKI/TORFL certificates
Cultural and educational events, that help students quickly acquire spoken and classical Russian language, such as festivals, tours, exhibitions, conferences, competitions, Russian language olympiads
I didn't hesitate to apply to a Russian university as Russia is rightly acknowledged as a global leader in training specialists for natural sciences and engineering. It was my uncle, a graduate of this university, who helped me choose the right technical university. He always spoke warmly of the years spent at DSTU. The Faculty of Oil, Gas and Environmental Engineering boasts an extensive range of facilities and resources including comfortable classrooms fitted with multimedia projection equipment, a drilling simulator, a virtual hydromechanics laboratory. Our faculty collaborates with the leading Russian oil production and refining enterprises helping us quickly acquire effective knowledge of cutting-edge developments in oil industry and gain invaluable experience in practice. Graduates of our faculty can be seen as serious competitors to other job seekers because we get real practical skills when doing laboratory practicals and research.
Orkhan Mirzakuliev -
Azerbaijan
Advanced Fields Of Study And Majors
Bachelor's And Master's Degrees
Architecture
Civil Engineering
Electronics and Nanoelectronics
Applied Informatics
Software Engineering
Information Security
Radio Engineering
Bioengineering Systems and Technologies
Electric Power Industry and Electrical Engineering
Mechatronics and Robotics
Control in Engineering Systems
Oil and Gas Engineering
Technosphere Safety
Land Planning and Cadastres
Technology of Transport Processes
Specialist Degrees
Information Security of Automated Systems
Economic Security
Radioelectronic Systems and Complexes
Customs Affairs
Forensics
Construction of Railways, Bridges, and Transport
Tunnels
22.09.2020