Saint-Petersburg State University of Industrial Technologies and Design. Acquaintance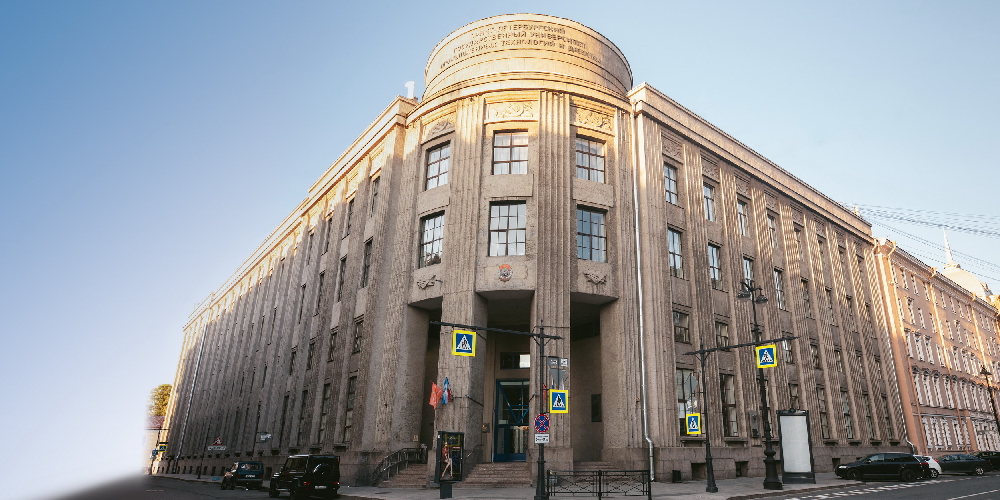 1
digital design teamwork area
56
partner universities from 23 countries
17,500
students from 43 countries
1
digital design teamwork area
56
partner universities from 23 countries
17,500
students from 43 countries
SPbSUITD is a leading university for arts and technology in Russia. It is located in the very heart of Saint Petersburg, near Palace Square, the State Hermitage Museum, and Nevsky Avenue. All educational and laboratory buildings are located in the historic center of the city.
The university is popular among applicants from Kazakhstan, Belarus, Uzbekistan, China, Vietnam, Malaysia, and Mongolia.
Founded in 1930.
Applicants from Kazakhstan, Kyrgyzstan, Tajikistan, and Belarus have the right to apply for state-funded places on equal terms with the citizens of Russia. Foreign citizens can get a free education in Russia within the Russian Government quota.
Leading Russian Technological University In The Following Areas:
Textile and Light Industry
Printing Industry
Industrial Power Engineering
Pulp and Paper Industry
Chemical Manufacturing Technology of Polymeric and Composite Materials
Technical Aesthetics and Design
6 Top-Rank Schools In Russia
Graphic Design
Fashion Design
Interior Design
Design and Graphics
Synergetic Metadisciplinary Cognitive Design
Environmental Design
VK – @spsutd
Facebook – @SUTD.rus (Meta is recognized as an extremist organization in Russia)
Instagram – @spsutd (Meta is recognized as an extremist organization in Russia)
Twitter — @SutdNews
Youtube – @prouniverspbsuitd
Tuition fee per year
60,000—390,000 RUB
Other Specialized Areas
Information Technologies in Design and Media Industry
Journalism, Advertising and Public Relations
Tourism
Economics
Management
Opportunities For Students
Preparatory department for foreign citizens
Participation in large-scale research and development
Author's research
Lectures and practical courses and programs in English
Internships abroad and international exchange programs
Two English-taught Master's programs
Admissions Office
Natalia Frolova
+7 812 315-07-47
+7 812 571-81-49
priemcom@sutd.ru
prouniver.ru
VK – @priemsutd
Bolshaya Morskaya Street, bld. 18, Room 134, Room 102, Saint Petersburg
When I came to Saint Petersburg, my Russian was not so good. I could only talk about the weather. Also, winter caught me by surprise, and I was always cold. The clothes I brought along turned out to be unfit for such harsh weather. I always asked my teachers, fellow students, and even passers-by many questions. And this worked for my benefit—everyone was happy to answer my questions, help, and support me. They always asked how I was. I started absorbing knowledge and made a lot of friends very quickly. Finally, everything that happened to me at the university became of great importance. I settled in Saint Petersburg, and the skills I acquired at the university helped me set up my enterprise. Now my company is entering the export market.
Roman Fischer
Cologne, Germany. He graduated from the Department of Economics and Finance with a degree in Marketing. He also participated in the international student exchange program
Preparatory Department For Foreign Citizens
Full-time students are accommodated in the dormitory
Distance learning format
Students who have successfully completed the course obtain a certificate
Study areas
Art:
Design (Russian language, literature, history, creative subjects)
History and Theory of Arts (Russian language, literature, history)
Applied and Decorative Arts and Handicrafts (Russian language, literature, drawing)
Economics (Russian language, mathematics, social science)
Technology (Russian language, mathematics, chemistry/computer science)
Russian as a foreign language(Russian language)
SPbSUITD Registration and Visa Department will consult and assist international applicants and students in executing documents for legal residence in Russia.
Execution of an invitation to enter Russia for studying
Execution of a multi-entry student visa upon arrival in Saint Petersburg
Consultation on getting a health insurance policy
Meeting and accompanying foreign citizens (available upon individual request)
We will answer all your questions about the execution of documents for legal residence in Russia
Security
All university facilities provide:
strict access control
video surveillance aiming to prevent offenses
security posts, on duty 24/7
regular inspections
To prevent the spread of Covid-19 all facilities are fitted with sanitizing and air recirculation equipment, and mask and glove requirements are met.
Accommodation
The university offers all full-time students accommodation in the student dormitory.
The campus comprises six 15-story high-rise buildings in the city districts with well-developed infrastructure. One room accommodates 2-3 persons.
Accommodation fee per month:
2,800 RUB—for fee-paying students
900 RUB—for state-funded students
I started studying Russian in China. When I came to Saint Petersburg, I realized that my accent made my learning process more difficult. In my first year at the university, I was afraid to ask something once again because I thought that my teachers wouldn't understand me. But they noticed my fear and supported me. They gave me some extra assignments and a list of things I needed for my studies, helped me understand their lectures. Before long, I made friends with my fellow students. I managed to quickly improve my Russian. I graduated from the university with honors, embarked on my Master's degree, joined the Saint Petersburg Union of Designers, created four fashion collections. I work as an advising specialist at the preparatory department for foreign citizens at my university.
Zhang Mingzi
Beijing, China. A third-year postgraduate student majoring in Art Studies
The Northern Capital Is A City Of Students
Saint Petersburg is a major Russian cultural center. Museums, theaters, conservatories, but especially universities are hugely popular here.
The university has a good tradition of awarding degrees with honors to its graduates in the most historical place of Saint Petersburg—the Atrium of Peter and Paul Fortress, where the best graduate makes the noon cannon shot every year.
The international contest of young designers "Admiralty Needle" is a calling card of the University of Industrial Technologies and Design. The level and geographical spread of contestants, occupational status of jury members have taken the contest to the global level. Every year it discovers new fashion talents.
Prize-winners have an opportunity to undertake an internship at top global companies, and the winner gets a money prize for further development.
Student life in the city is diverse. Saint Petersburg students have a proactive attitude, genuine interest in studies, sports, cultural life. Adapting to the local atmosphere, international young people contribute to the student subculture.
When you visit Saint Petersburg, you can feel the mood of youth and drive at once. And White Nights—a period from June till early July, when twilight lasts from sunset to sunrise—is the unforgettable time of long walks, romantic dates, and inspiration for all Saint Petersburg students.
The city has around 200 museums. Many of them offer students free admission days. Among them are the Hermitage, the Russian Museum, Peter the Great Museum of Anthropology and Ethnography, the Russian State Arctic and Antarctic Museum, Feodor Chaliapin House Museum.
Adaptation
Adapters is a program that helps first-year students adapt to a new learning environment and new people.
International Student Center holds round table discussions and organizes speaking clubs and tours. It collaborates with other student associations of the university, assists students in complying with the migration and visa regulations in Russia, helps them with language adaptation.
Psychosocial and Acmeological Support Center offers students counseling services, if necessary.
Student brigades include pedagogical, archaeological, agricultural, ecological, volunteer brigades, and the train hosts brigade.
Sports
The university takes part in over 70 student championships in the city.
Needles Cheerleading Team ranks among Top 5 student cheerleading teams in the world. The male and female basketball teams rank among the best university teams in Russia.
Projects Of The Future
In 2020, the university launched a high-technology platform for teamwork on the Projects of the Future. The platform is called "Boiling Point— IndTech Design." It aims to develop the sector of the creative economy, digital design, and technologies. Here students can find like-minded people, hear experts' opinions, use state-of-the-art equipment, and implement their ideas.
Self-Development
SPbSUITD students have access to advanced library systems, including exclusive paid resources. They can use them from anywhere in the world, including the university campus.
Entertainments
The university holds a lot of bright major events aiming to quickly adapt international students to new cultural traditions. Among them are:
Cultural project "Ball in the Best Traditions"
The first-year student festival "Mom! I am on the Stage"
The Beauty and Talent contest "Miss SpbSUITD"
Classical music concerts
18.04.2021