Saint-Petersburg State Agrarian University. Enrollment Campaign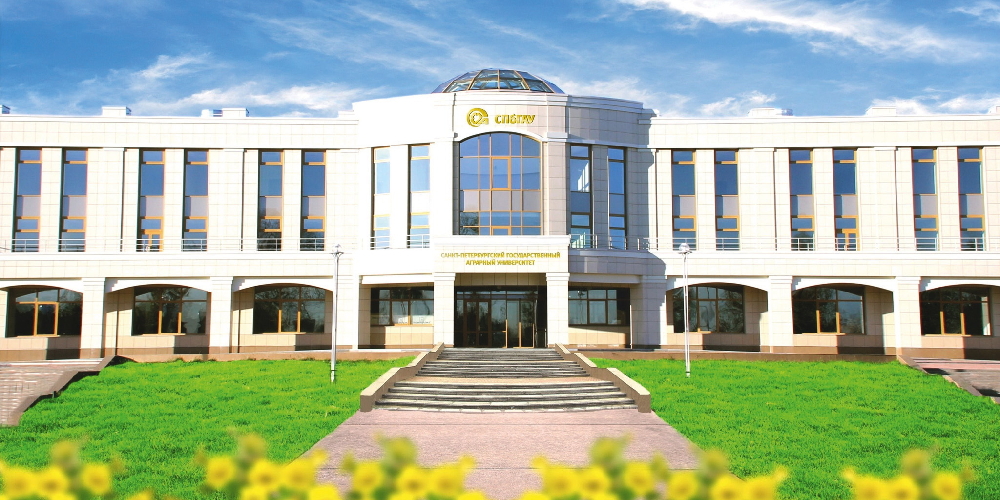 3
secondary vocational education programs
55
continuing professional education programs
7
scientific centers and laboratories
300
international students from 25 countries
3
secondary vocational education programs
55
continuing professional education programs
7
scientific centers and laboratories
300
international students from 25 countries
SPbSAU is a flagship industry-specific university in the Northwestern Federal District, the international research and education center, one of the agricultural education leaders in Russia. It trains specialists in the fields of agricultural biology, engineering and technology, social sciences, and economics.
Founded in 1904.
The university is located in the pearl of Saint-Petersburg—Pushkin town (Tsarskoye Selo).
Tsarskoye Selo (Pushkin) is a small town with two magnificent palaces, well-wooded parks, and rich history. It is 20 minutes' drive from Saint Petersburg. Russian Imperial House of Romanovs turned the summer residence in the neighborhood of Saint Petersburg into the town where the architectural grandeur combines with cutting-edge technologies, and Lyceum student Pushkin wrote poems about it.
Cultural life of the town is extraordinarily bright and eventful. Depending on the season, you can freely participate in Maslenitsa outdoor celebrations or numerous palace balls and festivals.
VK – @spb_gau
Instagram – @spb_gau (Meta is recognized as an extremist organization in Russia)
Facebook – @spbsau (Meta is recognized as an extremist organization in Russia)
Tuition fees per year
188,000—202,000 RUB
Faculties
Agricultural Technologies, Soil Science, and Ecology
Horticulture and Processing Technologies
Animal Husbandry Engineering and Biotechnologies
Engineering Systems, Service, and Power Engineering
Land Management and Farm Building
Management of Rural Development
Economics and Management in the Agro-Industrial Complex
Law
College
Kaliningrad branch
Field of study
Biology
Civil Engineering
Electric Power and Electrical Engineering
Plant-based Foods
Technosphere Safety
Land Management and Cadastres
Operation of Transport and Technological Machines and Complexes
Agrochemistry and Agricultural Soil Science
Agronomy
Horticulture
Agricultural Engineering
Agricultural Production and Processing
Aquatic Biological Resources and Aquaculture
Animal Science
Economics
Management
State and Municipal Management
Legal Studies
International Cooperation
Acceptance of documents
June 18–July 10 – for persons taking internal exams
July 24 – for persons applying without exams
Entrance exams – July 11–24
June 28–July 30 – Acceptance of documents
July 31–August 13 – Entrance exams
July 28–August 7 – Acceptance of documents
August 11–25 – Entrance exams
Admissions Office
Our university employs highly qualified teachers: associate professors, professors, doctors of sciences. Practical classes allow us to consolidate theoretical knowledge, which undoubtedly improves the quality of education. SPbSAU places particular focus on the adaptation of international students to the northern capital. It holds various interesting contests and celebrates different peoples' national holidays in collaboration with the center for youth initiatives, organizes international conferences on various sciences. They bring together professors from leading foreign universities, as well as students of our university. I am happy to have chosen SPbSAU!
David Bigati -
Democratic Republic of the Congo. Faculty of Agricultural Technologies, Soil Science, and Ecology
Dormitory Check-in
The dormitories are five minutes' walk from the main university building. This allows students to get around the campus more quickly and comfortably.
Students are accommodated in 2-3-person rooms. There is a kitchen on each floor so that students can cook themselves.
Accommodation fee is 12,200 RUB per year.
Kaliningrad Branch Of SPbSAU
It is the only industry-specific university in the Kaliningrad Region. It has a field for practical training with an area of 9 ha.
Founded on December 29, 1959.
Bachelor's programs – Agronomy, Animal Science, Agricultural Engineering, Economics, Management—full-time and extramural studies.
Continuing professional education – Cynology, Horse Breeding, and Medicinal Herbs.
Admissions Office
+7 40158 375-28, +7 40158 352-95
kf.spbgau@mail.ru
kf.spbgau.ru
10, Sovetskaya Street, Polessk, Kaliningrad Region, 238630
Preparatory Department For Foreign Citizens
Preparation for degree programs
Medicine and Biology (Russian language, biology, chemistry, physics)
Natural Sciences (Russian language, mathematics, physics, chemistry)
Economics (Russian language, mathematics, social science, history)
Duration:
1.5 years, 1 year (for foreign citizens who do not speak Russian)
6 months, 3 months (for foreign citizens with an A2 level of Russian)
Tuition fees:
1.5 years—180,000 RUB
1 year—145,000 RUB
6 months—85,000 RUB
3 months—55,000 RUB
Required documents:
A copy of international passport valid for over 18 months from the expected date of entry to Russia, with a notarized translation into Russian
A copy of the document confirming previous education with a notarized translation into Russian
18.04.2021