Specialist's program
Institute of General Medicine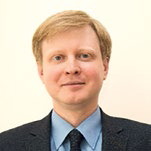 Dmitrii KONSTANTINOV,
Dean
Tel. + 7 846 374-10-04, ext. 4694
E-mail: general@samsmu.ru
Awards and achievements. In 2016 the program underwent international external expert evaluation according to the standards and criteria established by the National Centre for Public Accreditation in accordance with the Standards and Guidelines for Quality Assurance in the European Higher Education Area (ESG-ENQA). Since 2013 the program has been recognized as the best as part of the annual project Best Educational Programs of Innovative Russia.
Teaching staff. The academic degree holders ratio is 87%, 40% have an academic degree of Doctor of Sciences. The teaching staff includes one Academician of the RAS, five Honored Science Workers, 22 Honored Doctors of the RF, seven Honored Workers of Higher Education of the RF, two Honored Healthcare Workers, Excellent Workers of Public Health. The university develops academic staff mobility. Leading researchers from Russia, Germany, France, Italy, CIS countries are engaged in the teaching process.
Facilities and resources. Training is provided at 56 departments, at the university clinics and multidisciplinary clinical facilities. Students undergo practice-oriented training working on their practical skills at the multidisciplinary accreditation and simulation center equipped with robot simulators with specialized software. There is an extensive library collection, comfortable reading halls with an electronic resource database.
Research. The most promising research areas include brain function research, a brain-machine interface, minimally invasive surgery with monitor visualization, prevention methods aimed at early detection of oncological diseases, modern methods of X-ray diagnostics, rehabilitation and physiotherapy. Most of the research is conducted to benefit applied medicine in cooperation with the institutions and universities in the Volga Federal District.
Education. Advantages include strengthening vertical integration of basic and clinical disciplines, practice-oriented and modular training, project activities, new information disciplines, a competency-based approach with active and interactive teaching methods, simulation technologies (computer-aided dummy robots, virtual simulators of the 7th level of realism), the modern assessment system (multiple-choice questions-MCQ, a mini-clinical examination, an objective structured clinical examination-OSCE), collaboration with the Center for Breakthrough Studies, the research and production technopark, research and education centers.
International projects and programs. The university develops international cooperation and academic student mobility. Every year up to 30 students undertake internships at foreign clinics as part of the IFMSA program.