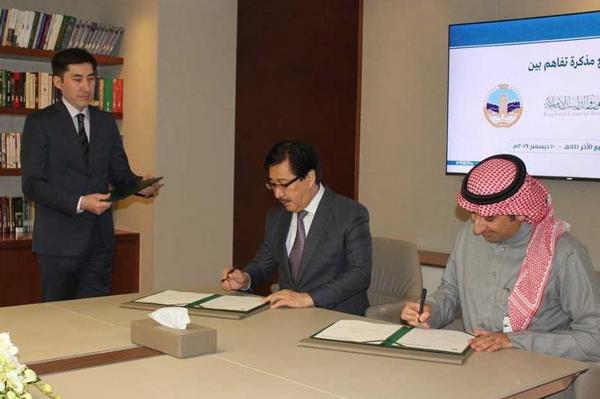 Al-Farabi Kazakh National University, being recognized as the best university in the Islamic world, actively expands partnership with leading universities of Saudi Arabia and opens new areas for cooperation.
The issues of cooperation in science and education were discussed during the visit of Rector of Al-Farabi KazNU Academician Galym Mutanov to Riyadh, the capital of the Kingdom of Saudi Arabia, and the meeting with Minister of Education of Saudi Arabia Doctor Hamad bin Mohammad bin Hamad Al Alsheikh as well as Badran Al Omar, Rector of King Saud University.
During the meeting Mutanov dwelt upon KazNU's activities and achievements as well as upon projected global events dedicated to the 1150th anniversary of Abu Nasr Al-Farabi, the great Eastern philosopher. Saudi Arabia paid much attention to the project for creating a science and technology platform of Al-Farabi on the territory of KazNU as well as the international IT cluster of the University Alliance of the Silk Road which is implemented as part of the University 4.0 model in collaboration with the United Nations Alliance of Civilizations. Both parties expressed their interest in implementing joint scientific and innovative projects in the field of IT, space and nanotechnologies. Berik Aryn, Ambassador Extraordinary and Plenipotentiary of the Republic of Kazakhstan to the Kingdom of Saudi Arabia, mentioned the achievements of diplomatic relations between the two countries and placed the emphasis on the need to strengthen cooperation in science and education. In his opinion, Saudi Arabia could use its huge academic potential giving Kazakh young people an opportunity not only to pursue religion studies, but also to gain in-depth knowledge in other areas.
Minister of Education of Saudi Arabia told about current reforms implemented as part of Saudi Vision 2030 aimed at modernizing economic and social life of the country. He expressed his readiness to cooperate with Kazakhstan in science and education and provide assistance in organizing the events dedicated to the anniversary of Al-Farabi. The parties agreed to strengthen scientific and educational partnership and bilateral relations. Saudi Arabia will allocate 163 grants for Kazakhstani students who wish to study in Saudi Arabia. Most of them are intended for training sought-after Masters and PhDs. They also agreed to reconsider enrollment conditions for students from Kazakhstan who wish to enter universities of Saudi Arabia. Students will get a referral after agreement with the leading higher education institutions of Kazakhstan based on the recommendations of the Embassy of the Republic of Kazakhstan in Saudi Arabia.