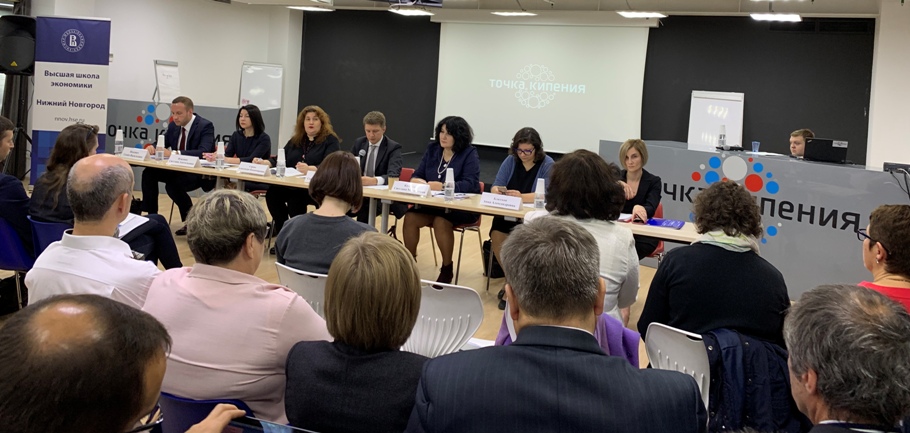 In October 2019 the Agency for Strategic Initiatives «Tochka Kipeniia» (Moscow) at Higher School of Economics together with the Federal Service for Supervision in Education and Science held the seminar «New Model of State Control (Supervision) in Education under the Mechanism of a «Regulatory Guillotine».
Sergei Migin, Deputy Director of the Department for Regulatory Policy of the Government of the Russian Federation, in his opening speech said:
«…it was decided to completely revise the current mandatory requirements that are examined during state control (supervision). The task is to review, update these requirements and define managed risks and the level of modern development».
«Rosobrnadzor together with the two ministries have already developed the first project on a new structure of statutory regulation, which will result in the development of amendments».
«…in October-November the Government will publish decrees recognizing all acts specifying mandatory requirements as outdated, and these acts will be cancelled within a suspension period until January 1, 2021».
The aim of the seminar is discussion of a new model of state control (supervision) in education decreasing administrative burden on educational institutions.
Svetlana Kochetova, Deputy Head of the Federal Service for Supervision in Education and Science, noted: «In view of new draft laws we suggest discussing the model that we actually present. The first key factor that we propose to change is renouncing state accreditation…»
More than 300 representatives of public authorities of the Russian Federation, experts in education management and evaluation of education quality and representatives of educational institutions participated in the seminar.
Vladimir Navodnov, NCPA Director, supported the proposal of Rosobrnadzor: «In view of the regulatory guillotine departure from state to public accreditation is the absolutely right decision! There is no need to reinvent the wheel, it is necessary to use the world practice. Accreditation should be carried out by independent recognized agencies, i.e. those who passed the procedure of «accreditation of accreditors»! The European practice shows that a special supranational European register EQAR accredits the accreditors. Why not use the proven technology? Only agencies registered in EQAR should carry out accreditation in the country».
Following the results of the seminar, the proposals on a new model of state control in education under the mechanism of the «regulatory guillotine» were developed.
The mechanism of the «regulatory guillotine» suggested by D. Medvedev provides for a large-scale analysis and review of the current regulatory legal acts. As a result, the outdated requirements that put a strain on organizations under review would be gone. The «guillotine» has to remove different slowdown points in the legislation relying on the evidence-based regulation.