EDUCATION AND CAREER
On February 14-16, 2019 EDUCATION AND CAREER - the only international specialized exhibition in the republic - will be held in the Palace of Art in Minsk, Belarus, 3 Kozlova str.
Universities, colleges, lyceums, institutes, centers, language schools, and foreign educational institutions will take part in the exhibition.
The media partners of the forum are Accreditation in Education and Higher Education Discovery.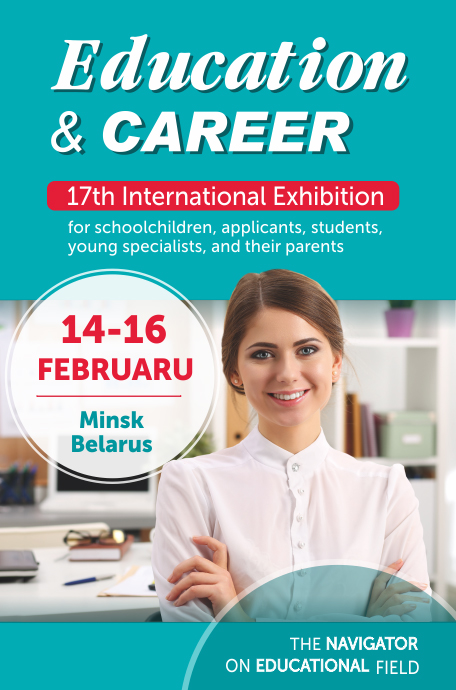 The exhibition will help you to do following:
- To choose institute of higher education and profession
Representatives of universities, colleges, lyceums will help you in choosing of profession and university.
- To start earn by yourselves
Colleges and lyceums will show you fields of specialization that might be mastered directly and it will allow you to earn money.
- To evaluate profession in IT sphere
For those who dream about getting on top of digital industry there will be many educational centers that will tell you a lot of interesting things about career in IT sector.
- To get education abroad
Experts of educational agencies and direct representatives of foreign universities will consult you and explain many details concerning education abroad.
- To continue education
You will find a lot of useful information about getting the second higher education and about advanced training.
- To get more information about students' life
Students of elder courses can visit exhibition booths where they will get information about arrangements out of classes as well as sport events and students' communities.
- To learn foregn language
You can choose language school and educational program with determined schedule for learning your favorite language.
The exhibition EDUCATION AND CAREER is the place where you get an accurate answer on such questions as: Who should I become and where should I study?
Date: February 14-16, 2019
Venue:3 Kozlova str., Palace of art, Minsk, Belarus.
Opening hours:
14th and 15th of February – from 10:00 until 18:00 o'clock.
16th of February – from 10:00 until 16:00 o'clock.
Entrance is free of charges.

Web-site: https://expoforum.by/en/exhibitions/?SECTION_ID=2941