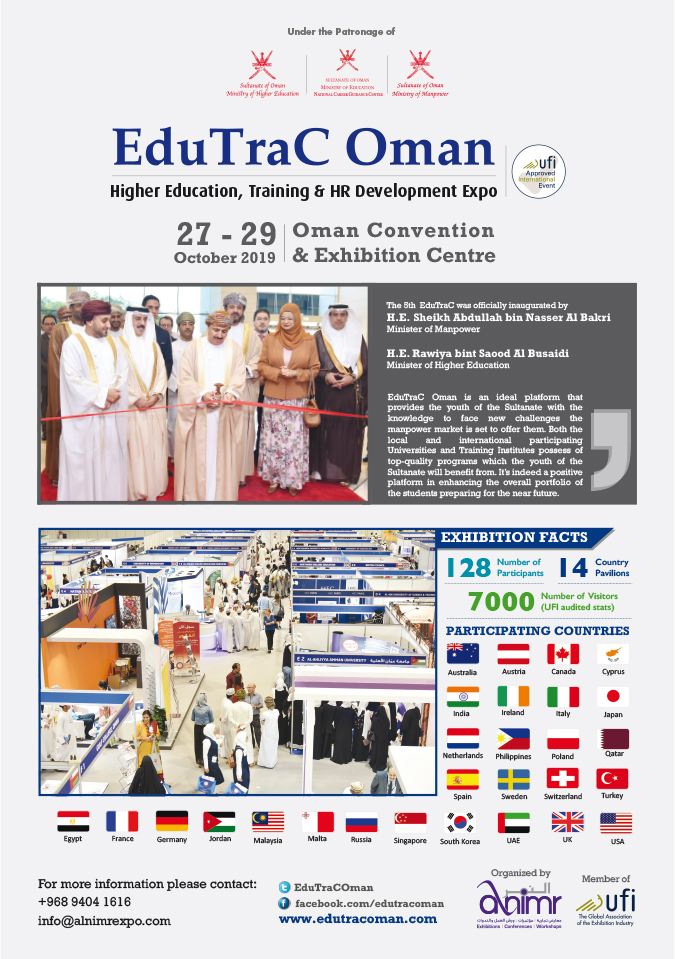 Warm Greetings from Oman!
We are pleased to inform you that the Company Al Nimr Expo is organizing the sixth edition of EduTraC Oman (Higher Education, Training and Career Development Exhibition) which will take place from 27 - 29 October 2019 at the Oman Convention & Exhibition Centre in Muscat. This event is endorsed by the Ministry of Higher Education, Ministry of Manpower and the Ministry of Education – National Career Guidance Center Oman.
The 6th EduTraC Oman 2019 is an ideal platform to network and recruit prospective students and working professionals seeking to pursue higher education abroad. As the Sultanate's investments on Higher Education and Training continue to grow, EduTraC Oman has established itself as a highly reputable event in the region and thus gained support of international renowned organizations related to the Higher Education sector. EduTraC Oman provides a direct gateway and an ideal platform for leading local and foreign Universities and Training Institutions to network with students, parents and working executives seeking to pursue higher education abroad & training at all levels.
EduTraC Oman offers a strategic awareness opportunity to higher education and training providers to strengthen their presence in Oman's vibrant education market. The exhibition gathers professionals from the global education domain and representatives from reputed universities under one roof opening doors of opportunity for students wanting to study in Omani and International Universities. EduTraC Oman will serve as a multi-sector recruitment event for Higher Education & Training. The Higher Education & Training Pavilion will provide a window of opportunity for Omanis and expatriates students to connect with leading higher education & training institutions and avail one-to-one career guidance from professionals in Higher Education.
On behalf of the Ministry of Higher Education, Ms. Jenitha Martin invites you to participate in one of the major Education, Training & Career Development event of the country – EduTraC Oman 2019.
For stand reservations or for more information on how you can take part in the event, please contact Ms. Jenitha Martin, Project Director, Al Nimr Expo on tel. no. +968 94041616 or e-mail info@alnimrexpo.com Website: www.edutracoman.com
Looking forward to welcoming you on board the EduTraC Oman 2019.
Watch video presentation of EduTraC Oman 2018: