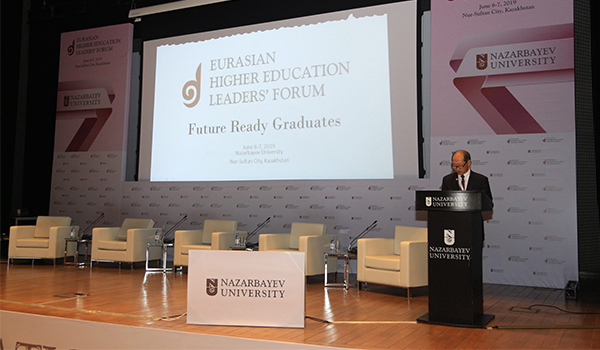 Eurasian Higher Education Leaders' Forum 2019 was held on June 6-7, 2019 at the Nazarbayev University. The event included interesting sessions, discussions and seminars related to the main subject of the forum "Future Ready Graduates". About 300 delegates from 12 countries took part in the Forum. The opening ceremony was accompanied by the welcoming speech of the Deputy Prime Minister of the Republic of Kazakhstan Gulshara Abdykalikova and the President of the Nazarbayev University Shigeo Katsu.
During plenary sessions, the participants discussed the universities' ability to prepare students to a changing labor market, and an opportunity to develop the potential of future leaders and responsible citizens. Today universities should commit to internationalization of learning experience, provide opportunities for students to participate in research and lifelong learning, and build reliable partnership relations with leading educational institutions. As part of the event, discussions and interviews with the Forum speakers were organized.
The President of the Nazarbayev University Shigeo Katsu noted that we live in the era of digital progress, development of computer technologies, artificial intelligence, big data, when AI systems, on the one hand, replace human resources, but, on the other hand, create needs for new professions.
According to Crystal Lim-Lange, co-founder and CEO of Forest Wolf, to train highly qualified specialists, universities must perform three main functions: develop skills, expand social networks, and inform employers about the value and potential of their graduates.
The forum speaker, Director for Recruitment in Kazakhstan of the Boston Consulting Group Leyla Abdymomunova noted the attractiveness of remote professions and freelancing among the younger generation. She also added that the great challenge for educational institutions is the ability to predict and train personnel for future professions that have not even appeared today.
On the first day, the books by international and Kazakhstan authors on topical issues of higher education in Kazakhstan were presented at the Graduate School of Education. Among them are "Education Reform and Internationalization: the Case of School Reform in Kazakhstan" edited by David Bridges (2014); "Higher Education Reform and Development: the Case of Kazakhstan" edited by Matt Hartley and Alan Ruby (2017); "University Sustainability in Relation to Higher Education Funding Model in Kazakhstan in the Context of Transition Period" (2019) by the authors Ali Mhamed, Rita Kasa, Aida Sagintayeva, Hans Vossensteyn.