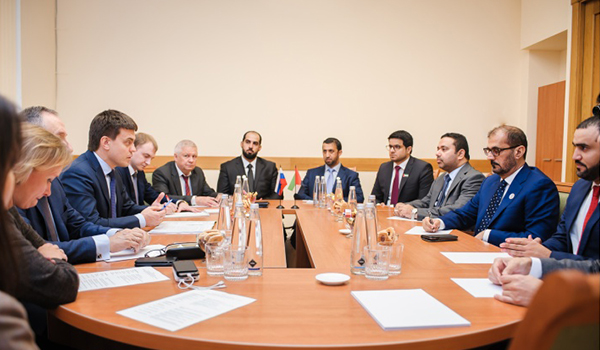 The Minister of Science and Higher Education of the Russian Federation Mikhail Kotyukov met with the delegation of the Ministry of Education of the United Arab Emirates headed by Minister Hussain bin Ibrahim Al Hammadi, who arrived in Moscow to participate in the Moscow Global Forum 'City for Education'. The meeting participants discussed important issues of Russia-UAE cooperation in the field of higher education and science.
Welcoming the guests of honor, Mikhail Kotyukov noted that the United Arab Emirates was one of the priority partners of the Russian Federation among the Middle East countries and outlined the main priorities of the Ministry's educational and scientific policy, the framework for the development of international scientific and educational cooperation of the Russian Federation, and some key objectives of this policy in the foreseeable future. The Minister paid special attention to the implementation of the Scientific and Technological Development Strategy of the Russian Federation and the national projects "Science" and "Education".
The Minister recalled that specialists for the UAE in Russian higher education institutions had been trained since 1993 and emphasized that Russian universities were ready to annually enroll up to 20 citizens of the UAE financed from the federal budget, according to the interdepartmental memorandum of understanding signed in 2014.
One of the most important platforms for the development of bilateral Russia-UAE cooperation, according to Mikhail Kotyukov, is the study of the Russian language by UAE citizens. Russia implements the targeted federal program "Russian Language" for 2016-2020, which provides a package of measures to promote and consolidate the position of the Russian language in the global cultural and civilizational space.
'As part of the activities of the Council on the Russian Language under the Government of the Russian Federation, the publicly available portal "Education in Russian" has been created where all interested UAE citizens can study Russian for free. To date, about 2,000 users from the UAE have used the portal capabilities, the number of views has exceeded 10,000,' said Mikhail Kotyukov.
The Minister of Education of the UAE, Hussain bin Ibrahim Al-Hammadi, in his turn, expressed hope for strengthening friendly relations between the two states. The Minister noted that the WorldSkills 2019 World Professional Skills Championship in Kazan he had attended was very well organized and that the level of culture and education of young people from Russia is very high. "We have similar values and attitudes, which, of course, promotes rapprochement of our states, balancing between East and West," said Hussain bin Ibrahim Al-Hammadi. The Minister stressed that the purpose of the delegation's visit was to "compare notes" and map out plans for the development of interaction between the countries.