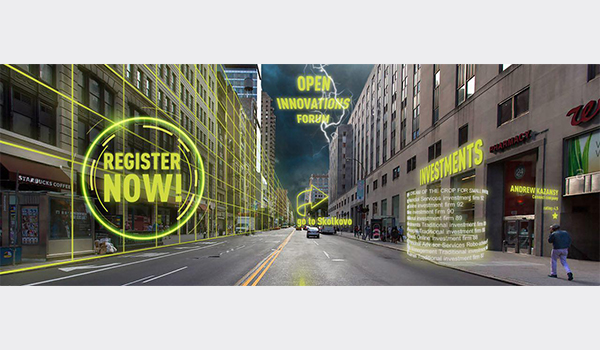 VIII International Forum for Innovative Development «Open Innovations» will take place on October 21 - 23, 2019. World-class experts such as representatives of science, business community and public authorities will meet at Skolkovo Technopark.
The theme of Forum-2019 is «Digital Nation. Leap forward to Intelligent Economy.» The program is built around three interrelated elements: digital human, intelligent economy, and future technologies. And it is a human who is at the center of this system as a basis of the digital society.
'A human is the main consumer and beneficiary of technological development and digital transformation. Digitization transforms leaders' approaches to business management, accelerates all processes, and introduction of digital platforms creates new cooperation formats. We will have a look at technologies that will have the greatest impact on economics,' says Ekaterina Inozemtseva, Director General of Skolkovo Forum.
Keynote speakers include Arkady Dvorkovich, Chairman of the Skolkovo Foundation; Anatoly Chubais, Chairman of the Executive Board of ROSNANO; Steve Crown, Vice President and Deputy General Counsel Microsoft; Sean Carney, Head of Design, Strategy&Innovation Philips, and others.
The following topics will be discussed:
Techno-optimists vs Techno-skeptics. Shaping the request for innovations
Z: Decoding profile of Generation Z consumer and behaviour
Innovation comes first. How to be trendsetter in innovations?
Digital platform for Nation 5.0

High-tech solutions, promising startups, state-of-the-art developments, and specialists creating the future today will also be presented at the Forum.
You can find detailed information and register on the website of the Open Innovations Forum: https://openinnovations.ru. There will be a press center for mass media representatives.
Official web resources of the Forum:
Official website: https://openinnovations.ru/
Official channel in Facebook: https://www.facebook.com/forinnovations.ru
Official channel in Twitter: https://twitter.com/innovationsopen
Official account in Instagram: https://www.instagram.com/openinnovations/
Official channel in VK: https://vk.com/forinnovations
Contacts for mass media:
Tel.: 8 495 226 06 96
Email: press@forinnovations.ru
Skolkovo Forum is the Fund's subsidiary specializing in organizing and conducting technological events. Skolkovo Forum's portfolio includes creating a program, organizing and conducting such events as Start-Up Tour Open Innovations (a national initiative to discover promising technological projects), annual Open Innovations Forum (a unique discussion platform for participants of the innovative ecosystem), Startup Village (the largest start-up conference for technological entrepreneurs in Russia and CIS countries).
The Open Innovations Forum, which has been held in Moscow since 2012 under the aegis of the Government of the Russian Federatiom, is Russia's largest and one of the world's most outstanding congress and exhibition evetns demonstrating the main trends and key achievements in the innovative spheres of the economy.
In 2018, the Forum held over 200 business sessions that brought together experts from over 90 countries. The total number of visitors was over 20,000 including representatives of science and education, investors, technological entrepreneurs, representatives of innovative infrastructure and corporations as well as a wide range of state administration and media representatives.