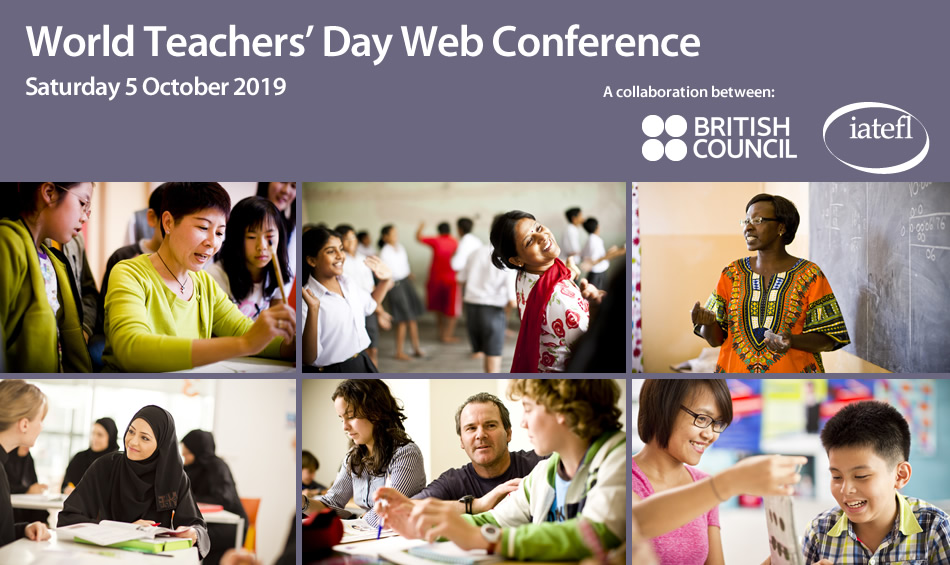 On October 5, 2019 the British Council and the International Association of Teachers of English as a Foreign Language (IATEFL) will celebrate World Teachers' Day with a large-scale one-day web conference for English language teachers worldwide.
The theme of World Teachers' Day 2019 is Young Teachers: The Future of the Profession.
The conference will start at 10.00am UK time with a introductory presentation and will run through until the evening. It will include 16 presentations and plenary discussions on a wide range of themes, focusing on key priorities in English language teaching, international exams and the education system in general, as well as the principles of the Teaching for Success approach, inclusive education and learning technologies. Eight of these presentations have been organized by the British Council and will be given by its representatives from different regions of the world.
Key topics:
• How to help students move from Intermediate (B1) to Upper Intermediate (B2);
• Assessment training for language teachers;
• Teacher professional development in low resource contexts;
• Effective use of the free online platform LearnEnglish;
• 21 century skills and their integration into teaching
The conference will also include many other interesting and useful webinars.
The web conference will provide useful and practical advice that you can apply to your own context, whether you are a teacher or a teacher educator. Attendance of the web conference is free and open to all. Sessions will also be recorded and made available after the event. For more information, please visit https://conference.iatefl.org/webconference/index.html