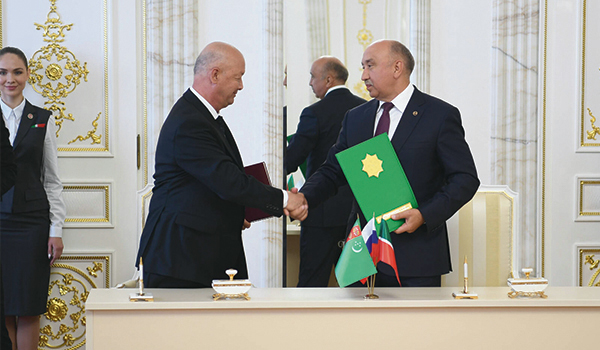 The delegation of Turkmenistani officials headed by President of Turkmenistan Gurbanguly Berdimuhamedow arrived in Kazan on June, 23.
Opening the meeting, Tatarstan President Rustam Minnikhanov thanked Gurbanguly Berdymukhamedov for his particular attention to the development of cooperation between Tatarstan and Turkmenistan and noted that Turkmenistan has always been an important strategic partner for Tatarstan.
He stressed that Tatar companies (Tatneft, KER-Holding and many others) are successfully operating and receiving support in Turkmenistan. Trade and economic contacts between the two countries must be expanded, since the potential of Turkmenistan is enormous, and it is very important for Tatarstan to be represented on this market.
It was noted that deliveries of automotive and aviation equipment, as well as cooperation in the field of science and education, could become promising areas of cooperation.
During this bilateral meeting, Ilshat Gafurov signed an agreement on cooperation between Kazan Federal University and Turkmen State Institute of Economics and Management. The document provides for the following areas of cooperation:
- development and exchange of educational literature, teaching aids, preparation of joint scientific monographs, scientific and methodological publications, popular science publications;
- reviewing scientific papers and teaching materials;
- assistance in the dissemination of information on methodological developments, training programs;
- academic exchange of specialists and students;
- exchange of experience in organizing and conducting classes;
- implementation of joint scientific and educational programs;
- joint research;
- development and implementation of advanced training programs.
In his reply, Gurbanguly Berdimuhamedov noted that the relations between Tatarstan and Turkmenistan have a very strong foundation, and the two countries maintain long-term economic and cultural ties.
Gurbanguly Berdimuhamedow said, "Russia and Tatarstan have great industrial potential. We are looking to many projects which can raise our people's wellbeing." He specified that Turkmenistan is interested in developing cooperation with Tatarstan.