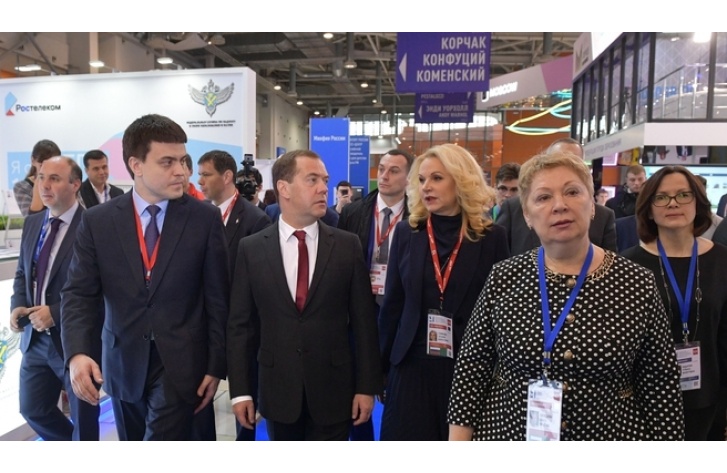 The latest results of the project to improve the competitiveness of the leading universities of the Russian Federation (Project 5-100), plans and prospects for the further development of scientific and technological research were presented to the Russian Prime Minister Dmitry Medvedev by the Minister of Science and Higher Education of the RF Mikhail Kotyukov and Andrei Volkov, Deputy Chairman of the Council on Global Competitiveness Enhancement of Leading Russian Universities among Global Research and Education Centers, Academic policy advisor of the Moscow School of Management SKOLKOVO.
The issues of integration of HEIs in solving the key tasks of national projects and the future of the Project 5-100 were in the focus. They talked about visa policy for foreign students and teachers, as well as improvement of the quality of educational programs and export of Russian education.
Dmitry Medvedev confirmed plans to expand 5-100 Project.
Mikhail Kotyukov, the RF Minister of Science and Higher Education noted that proposals on a new competitive selection of universities will be prepared in the near future. Project 5-100 to be relaunched in 2020.
By 2020, the regulatory legal framework governing the provision of such state support will be updated, including the conditions and criteria for the selection of universities. As a result, at least 30 universities will receive state support in order to implement their formed (updated) road maps, taking into account the national goals of the Russian Federation until 2024.
The group of 21 universities that represents the scientific and educational potential of the Russian regions from Kaliningrad to Vladivostok, managed to improve the quality of educational programs in the shortest possible time, entering the global educational market, and laid the foundation for a scientific and technological breakthrough by increasing its scientific and research potential.
Leading Russian universities presented a number of scientific and technological projects created, within the framework of the national projects "Science", "Education", "Health", "Digital Economy" at the booth of the Ministry of Science and Higher Education of the Russian Federation during the Moscow International Education Fair (MMCO).