When it comes to career development, one's journey starts way before he or she enters the working force. It starts in schools and universities. Career development professionals and educators must ensure that we are preparing the next generations to come for the real world. Too often, we focus on academics, but in fact, there are more important factors at play. There needs to be an integration between academics and career advising for better student outcomes. In addition, parents now often want their children to attend university to be better prepared for careers. Yet, that is not the case. There is a huge disconnect between what universities are teaching and what companies look for in a fresh talent.
The world is constantly shifting with the ever-changing dynamics of technology. With the new and promising technologies like the Internet of Things, Driverless Cars and Blockchain taking the forefront in this information age, one can only imagine what technology would be like in the decades to come. As per World Economic Forum, it is an estimate that around 65% of students entering into primary school today will be working on jobs that yet do not exist. This seems to be quite possible as most of the jobs existing today will be completely automated with the help of artificial intelligence. Thus, the question is, 'how can schools begin to prepare students for careers in the future?'
Schools and universities must integrate real hands-on experience, as well as intensive soft skills training into the curriculum. In today's institutions, career services is not something that is required for students to take part in and even if there is a course that is about career planning, the credits for it are on average 1 to 2 credits only. Career services, if at all existing in an institution, have very low weight in the students' educational journey. When looking at the future of work reports from various firms, we can easily acknowledge that soft skills such as emotional and cultural intelligences, critical thinking, stress management, resilience, and communications, just to name a few, are on top of lists of what employers look for in a talent. Yet, most schools and universities do not offer courses or extra-curricular activities on these topics. These soft skills are essential in the future world of work where technology will supplement a great deal of technical skills. What we need is to create leaders who are able to motivate, lead, inspire, create and manage, yet we keep graduating students who are lacking these skills.
Next, requiring students to get exposure to various industries and job functions is essential. Students are choosing majors and degrees of study without having any idea of what the role entitles. Schools and universities need to have regular company visits, shadow opportunities, project based or freelance work for students to have access to while studying throughout their educational journey. Today, universities mainly focus on junior or senior year students when it comes to career explorations. This is too late. By this time, if the student does an internship at that stage and realizes that they do not like their chosen degree of study, it might be too late for them to make a change. Students need to start internships, volunteering, projects, and company visits every semester (and summer) starting from 2nd year onwards. This way they can get a real insight of whether their chosen degree and future career path is the right one for them.
The first most sensible way to engage with employers is to engage alumni or parents of the students who might be working in companies who can arrange company visits, guest speaker sessions, shadow opportunities, and internships. Next, collaborating up with professional bodies and organizations can also help. Joining groups where retirees want to give back to the youth and thus can offer their expertise, coaching, or mentoring to the students. Outsourcing coaches and mentors who can give one on one career sessions or group workshops to students at different parts of their educational journeys and career explorations will be of great benefit to the students.
The diagram below summarizes what, why, how, and who can help in developing a proactive career services offering at schools and universities that can actually push students to grow, explore careers options, self-reflection, network in industries of interest, and much more.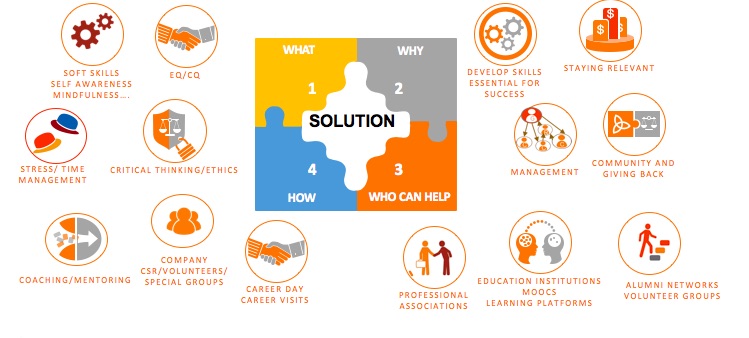 Benefits for Schools, Universities, and Educators
• Provides contextual learning
• Improves perception in the community
• Fosters community collaboration
• Forges employer relationships
• Succeeds in workforce preparedness
Benefits for Parents and Students
• A bright, secure future
• Strengthened employability skills
• Mentorship and guidance in real-world settings
• A process that works
• Confidence booster
Benefits for Employers
• Corporate Social Responsibility
• Quality talent
• Employee retention and growth
• Reverse Mentoring
Why this works? In addition to the above benefits for all involved, this approach includes all stakeholders in the process and everyone benefits in one way or another and because various parties are involved, there is an in-kind trade of services; therefore, the cost of implementing this offering at your institution is very low.
Credit to: Elena Agaragimova – Career Development Consultant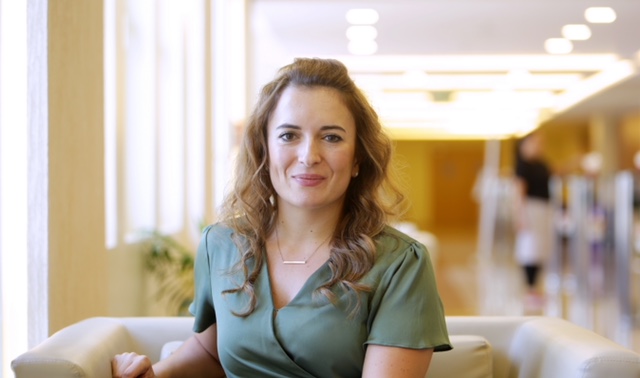 Elena Agaragimova is an engaging skilled trainer and talent development specialist, with over 10 years of experience, credited with combining operations, education, and international expertise to design and deliver programs for diverse audiences. She currently works with the University of Manchester Middle East Centre, based in Dubai, as a career consultant/coach working with mid-level to senior level managers in various industries, supporting them in achieving their professional and personal goals. She also runs a freelance consultancy where she works with private clients on helping them achieve their goals and she is a contributor to Forbes Middle East where she write on topics of career, personal and business development. Prior to making a shift to Dubai, UAE in 2014, Elena worked at various institutions and organizations, in the US. You can learn more about her by visiting her website: http://elenaagar.com/