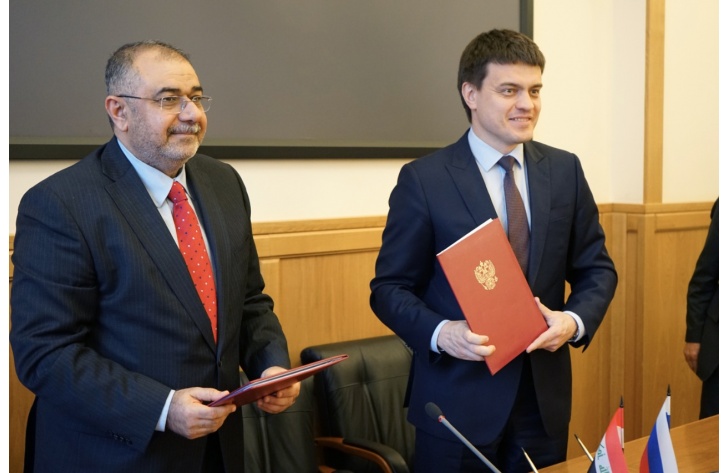 The Ministry of Science and Higher Education of the Russian Federation and the Ministry of Higher Education and Scientific Research of the Republic of Iraq have signed a Memorandum of understanding in Moscow.
The document that provides for expansion of cooperation in higher education, science and technology and innovations was signed by Minister of Science and Higher Education Mikhail Kotyukov and Minister of Higher Education and Scientific Research of the Republic of Iraq Qusay Al-Suhail.
According to Mikhail Kotyukov, cooperation in education and research is an important factor in the development of the entirety of relations between the two countries. He briefly told his colleague from Iraq about main areas of modern Russian state policy in higher education and research, noticing that Russia and Iraq have a great potential for cooperation in many of them.
The main form of educational cooperation with Iraq is training of national staff, which has been provided since 1956. Over this period, Russian and Soviet universities have trained over 4,000 specialists. Annually, Iraqi citizens are provided with an opportunity to take a course of study at Russian universities. They can be enrolled in state-funded programs within the quota established by the RF Government or study under the contracts at the expense of physical persons and (or) legal entities. In academic year 2018/19 120 Iraqi citizens were enrolled within the quota, 846 were admitted to fee-paying places in Russian universities. Direct partnership relations between Russian and Iraqi universities have been also developed over recent years.
Kotyukov noted that Russia and Iraq had common objectives to increase the number of researchers. The future of the two state will mainly depend on successful solution of these tasks, and they should focus on creating a comfortable environment for research and the required infrastructure.
Qusay Al-Suhail thanked Mikhail Kotyukov and the representatives of the Ministry of Science and Higher Education for the meeting. He noted that the Iraqi side was aimed at developing cooperation with Russia in education and research.